Best Scuba Gear:
Top Rated and Reviewed
Diving Equipment
If you are looking for the best scuba gear to buy it can be overwhelming. There are lots of choices of diving equipment available and it can be hard to know where to start and what to buy.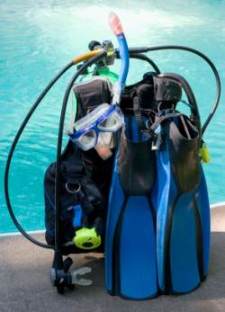 I know we spend many hours reading about equipment and their reviews when we need a new piece of gear.
To try and save you some time and to help make your choice a bit easier (and ours too when we need new gear!), we have read tons of reviews and ratings of scuba diving equipment looking for the best dive gear in many categories.
Our view is that if an overwhelming number of scuba divers have a favorable review of a piece of dive gear, chances are that you will have a good experience also.
Of course, there will always be those reviews or ratings that are either over the top good or over the top bad.
However, these are a very small minority and we pretty much disregarded them and went with the overwhelming majority of opinion.
So after many, many hours of reading reviews and ratings we are confident in recommending the following pieces of dive gear. We provide a link to our partner which will open in a new window.
(Disclosure: Many of these links are affiliate links that will earn us a small commission if you purchase through them. If you do, we absolutely appreciate it and thank you. Please note that it will not cost you anything extra to purchase through us. We only recommend companies we have dealt with and are confident in their ability to provide great products and service. If you like what you find on this site and do purchase through us, we say a heartfelt "Thanks!")
Please let us know your experience with the equipment - we would love to hear from you.
Note: Since new dive equipment comes out, older models get discontinued, etc., we are making it our goal to update our recommendations of best scuba gear every six to twelve months or so.

Some picks have stood the test of time and have made the list again while others have been replaced by newer/better scuba gear. Hopefully, it will make your decision of what scuba gear to buy a little easier. Have fun shopping.
(If you need more information on a particular category of dive equipment, we have lots of information available in our free guides to scuba diving equipment).
I will be adding more recommendations and updating our lists so check back again. Or better yet, subscribe to our blog or newsletter so you know when new info is posted.
So let's get started and complete your dive gear.
---
Best Scuba Gear
---
Best Buoyancy Compensators (BCD's)
Here we present our pick for the best scuba diving buoyancy control compensator. Depending on your budget, we present the best rated BCD in each of the following categories: high end or top end, mid-range, beginner or entry level and also the best BCD for females. For our best diving BCD's click on the link above.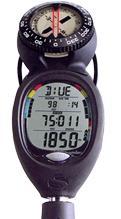 Best Scuba Computers: Equipment That Can Save Your Life
You can spend alot of money on a dive computer with all the bells and whistles or you can get a perfectly adequate one that won't break the bank. It all depends on your budget and what features you want in your computer. We make our recommendations in the following categories: top end and air integrated, mid-range and beginner or entry level. Take a look at our choices for best dive computer at the link above.

Best Scuba Equipment: Regulators
We give you our picks for the top dive regulator in the top-end, mid-range and entry levels. If you are going to splurge on one piece of diving gear, you might want to make it this piece. Take a look at our picks for best scuba diving regulator with the link above.
Best Dive Watches - Luxury and High End
If money is no object you can really indulge yourself here. Get a top of the line scuba diving watch to wear both in and out of the water. We pick watches ranging in price from $500 on up. The sky is really the limit here. Take a look - if only to drool! Use the link above to see our picks for best luxury and high end dive watches here.
Best Dive Watches - Mid-range, Inexpensive, Budget and Cheap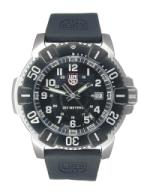 If you have a more moderate budget (like me!), we give you our picks of the best scuba diving watches with more moderate prices. These categories show you our picks for watches ranging from under $25 up to $500. These are our picks for best dive watches under $500 in the mid-range, inexpensive, budget, cheap and very cheap (yes, you read that right) categories. There are some good buys here and they look good both above and below the water. See our picks for best mid-range to budget dive watches here.
Best Scuba Diving Watches For Women
We know women sometimes want a more feminine touch than some of the unisex dive watches offer. Here we pick dive watches that are especially suited for a female. We give you our choices at all price points - from dive watches under $25 to those over $1,000. Whatever the price, she will be happy to wear it on her next dive.

Top Scuba Gear: 3mm Wetsuits - High End or Top End
If you have the money, that nice, high quality and somewhat expensive 3mm wetsuit is waiting for you. These are suits in the $200-$400 range.
Best Scuba Equipment: 3mm Wetsuits - Mid-range or inexpensive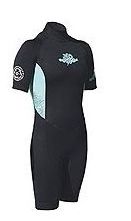 If you have a mid-range or inexpensive budget for your wetsuit, we have a few picks for you. Less money can still buy you a good wetsuit that will keep you warm during your scuba dives. These picks are in the $100-$200 range. They would make a nice addition to any collection of best scuba gear.
If money is an issue, we pick the best cheap wetsuits for men. You can keep warm and not break the bank with these choices under $100.
Best Discount Wetsuits - Women
Here we show you our picks for the best discount wetsuits for women. All under $100. The best scuba gear doesn't have to be expensive. Have some money left over while still keeping warm.
If you are looking for a way to keep your child warm while swimming, snorkeling or diving, a wetsuit is the answer. We give you info on what to look for when buying a wetsuit for your child as well as our picks for top childrens wetsuits.
Best Scuba Mask: High End or Top End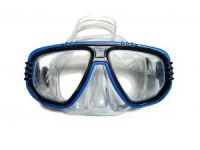 Check out our picks for the best scuba diving masks in the top of the range. These are the highest rated masks. They may cost you a bit more but reviews say they are worth your hard earned money.
Best Scuba Mask: Moderate or Mid-range
These are our picks for the best diving masks in the moderate price range category. You can get a highly rated and reviewed dive mask that is budget friendly.
Best Scuba Mask: Budget or Inexpensive
We give you our choices for the best dive mask in the budget category. We may even say cheap - in price, not quality, of course. See our choices that will leave some money in your pocket.
Now on to our last pick for best scuba gear:
Whether you are diving or snorkeling a snorkel comes in handy. Of course, there are two schools of thought on snorkels when it comes to diving. If you fall into the camp that uses a snorkel while diving (as I do), check out our recommendations for best snorkel - including recommendations for a dry snorkel and a snorkel set. Check out our picks for best snorkel at the link above.
If you are not diving at all and want a set of gear for snorkeling only, we have some picks for you. We give you our choice for best beginner snorkel set. If you want to upgrade to a higher quality set, we also have a pick for our best overall snorkel gear set. Check them out at the link above.
---
Hopefully these recommendations will help make your search for the best scuba gear a little easier. It's always fun to buy new dive equipment and a new purchase makes you want to go out and test them right away. Please let us know how you make out with your gear - we would love to hear from you and you can help fellow divers.
Have fun and great diving!
---
---
 Want to stay down longer and improve your buoyancy control and other diving skills? Our free report "Increase Your Bottom Time" along with our practical, weekly actionable tips will have you looking like a seasoned diver in no time. So come join us and see improvement on your very next dive!
(Click on the photo to join us now!)
---
---