Scuba Diving Computer:
An Introduction And Buyers Guide - Plus Our Picks For Best Computers at Different Price Points
A scuba diving computer can be the best thing since sliced bread for a scuba diver since it allows alot more safe bottom time than diving off the tables. However, there are a ton of options out there for dive computers as well as computers at all price points.
So before you buy a dive computer and make the investment in this piece of scuba diving equipment, make sure you are armed with all the information you need to know. Including what is best for you and your wallet.
To that end, I have compiled the following information to help guide you in making your buying decision. Hopefully, this will make choosing the right dive computer for you a bit easier.
We also give your our recommendations for best dive computer at four different price points to give you a start on your search. These are the best rated and reviewed dive computers we found.
Our picks range from beginner/entry level computers that go for less than $400 and go up to the very high end at over $1,000.

Also, if you are looking for other dive gear, you may also find our other scuba gear guides and equipment information helpful.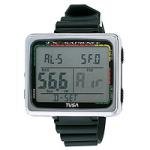 If you want to get right to the chase, you can read our recommendations for top scuba diving computers on this page. We give you our picks in the entry level, mid-range, high end and top end categories. If you want more general info on computers, keep on reading.
This page contains some basic information you need to know before choosing and using a dive computer. You'll find safety advice regarding the use of a scuba diving computer as well as the difference between diving with a dive computer and diving off tables. It also tells you what information is displayed on most dive computers. And last, but certainly not least, you will find a list of questions to ask before purchasing a computer.
Once you start looking for a scuba diving computer, you can get overwhelmed with all the choices. Which is best for you is a personal preference. Here you will find a discussion on the major types and styles and why you may or may not want that particular type of computer.
Pick what is best for you and what works for your wallet.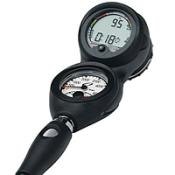 Some more information for you to consider before making that purchase. Here you'll find a discussion of the computer dive log, dive software and dive computer rentals. And, last but not least, the all important discussion on the price of dive computers. So this is definitely a page you want to read. You don't have to spend thousands of dollars on your computer. I didn't and I have had my computer for 15 years and am very happy with it.
The battery is obviously an essential part of your scuba diving computer. This page gives you information on what you should consider about the battery before purchasing your dive computer. For instance, can you change the battery yourself or does it have to go back the manufacturer/dealer for a replacement. The battery isn't something we think about alot, but some time spent considering it here will help in the future.
So there you have it. My guide to buying the right scuba diving computer for you. I hope this helps make you decision a little easier. It's a piece of scuba gear you are going to love.
Looking for more scuba diving equipment? Check out all our picks for picks for best dive gear here.

Here's to your new best friend!
---
---
 Want to stay down longer and improve your buoyancy control and other diving skills? Our free report "Increase Your Bottom Time" along with our practical, weekly actionable tips will have you looking like a seasoned diver in no time. So come join us and see improvement on your very next dive!
(Click on the photo to join us now!)
---
---