Turks & Caicos / Bahamas Scuba Diving:
Reviews of Diving in Nassau, Bimini, San Salvador, Cat Island, West Caicos, Provo And More...
Bahamas scuba diving, including the Turks & Caicos which are just at the end of the Bahamian island chain, is usually a joy.
The visibility is fantastic (under normal conditions of course), there is lots of sea life and, of course, the topsides with their wonderful beaches just adds to their appeal.

Since the Bahamas and Turks and Caicos are so easily accessible from the United States (where I live), we have traveled there many times.
There are many islands to visit in these two island chains and we eventually hope to hit them all.
Both the Bahamas and the Turks and Caicos offer lots of dive sites appropriate for a beginner yet has attractions and sights that will keep an experienced diver coming back for more.

---
Bahamas Scuba Diving

---
We looked at each other underwater, amazed. Ah, another Bahamas scuba diving trip.
The visibility was fantastic. The site pristine. No other divers around.
The joy of diving in the Out Islands of the Bahamas.
The lighthouse off of Crooked Island in the Bahamas. Does water get any better than this? The diving and visibility were fantastic.

We love the Bahamas. Especially the Out Islands. They are some of the most beautiful in the Caribbean.
We have made many trips to the Bahamas ... and hope to make many more.
The Islands of the Bahamas
There are over 700 islands in the Bahamas. One nicer than the other. The islands stretch over 750 miles and cover over 100,000 square miles of water.
Check out our maps of the Bahamas and maps of the Caribbean to see where they all are. We also have two interactive maps for you to have fun with while you are planning that scuba dive vacation.
As you can imagine, with this much water, there are a ton of diving opportunities. You can find almost any type of diving in the Bahamas:
Wreck diving
Wall diving
Blue hole diving
Cave diving
Drift diving
Shark diving
A shark and a ray in the Bahamas. The fishermen were throwing scraps in the water and attracted all sorts of marine life.

The list is pretty much endless. Whatever type of diving you want to do, it's almost guaranteed you can find it in the Bahamas.
The visibility is excellent throughout the chain of islands. Visibility of 100+ feet is not uncommon. The islands are primarily limestone and absorb most of the rainwater.
So how to choose where to do your Bahamas scuba diving?
Well, it depends on what you like.
(You can read our reviews of our dive trips to Nassau, Cat Island, Bimini, San Salvador and will be adding our reviews of our trips to Crooked Island, Eleuthera and Exuma. So come back and see what's new or, better yet, subscribe to our blog and/or newsletter so you know when new info is added.)
Developed or Not?
The two most developed islands in the Bahamas are New Providence and Grand Bahama Island.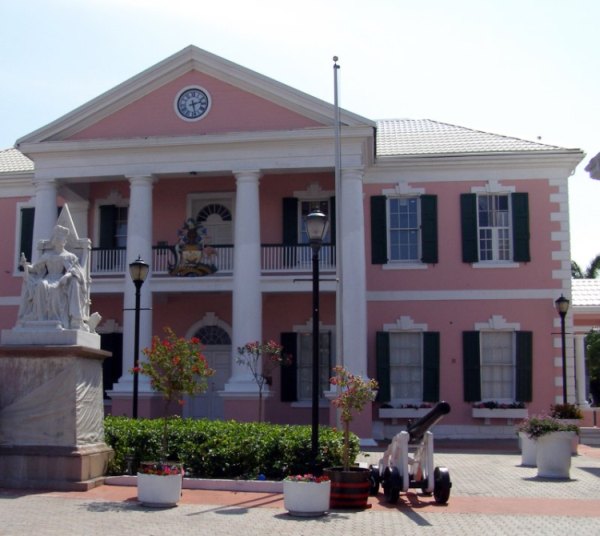 A government house in Nassau, Bahamas. Downtown Nassau has many beautifully restored old buildings.

New Providence is home to Nassau (you can read our review of Nassau scuba diving here) while Freeport is located on Grand Bahama Island.
(Chances are you've probably heard of the Atlantis Resort. With all the publicity they get, it's hard to imagine someone who hasn't heard of them. In case you're wondering, Atlantis is located on Paradise Island, which is connected to Nassau by a bridge.)
Both Nassau and Freeport have casinos, nightlife, restaurants and everything else to keep you busy topside. These two islands get the vast majority of visitors to the Bahamas.
The famous towers and bridge at the Atlantis Resort on Paradise Island, Nassau. It is a big hit with kids since they have lots of unique water attractions.

While they aren't our favorite Bahamian islands, they do offer something for everyone. We just prefer the quieter islands.
I would choose these islands if action after your day of Bahamas scuba diving is what you want.
Just be warned, though, this will probably mean more crowded dive boats.
So choose your operator carefully. You might want to ask the max amount of people they take on their boat.
I know one thing I can't stand is a cattle boat operation. For me, it takes some of the joy out of diving.
The Out Islands

The other "developed" islands of the Bahamas are considered the Out Islands of the Bahamas, or the "Family Islands". They are pretty much the opposite of Nassau and Freeport.
One of the many beautiful deserted beaches on Crooked Island. That's the sailboat we were on in the distance. It was Heaven...

Quiet. Peaceful. Small hotels and inns. No huge boatloads of cruise ship passengers (yet).
We have done almost all our Bahamas scuba diving in the Out Islands.
Our first trip to the Out Islands was to Bimini. Since it is only 50 miles off the coast of Florida, it is understandably popular (you can check out our map of Bimini here.) Like many visitors, we went over in a private boat. In this case, my brother in law's boat.
Since we had all our own equipment, we dove off of his boat and had some great dives.
We can't wait to go back there again.
We also have had some wonderful dives off of Crooked Island. The visibility was probably the best we ever had. And that is saying quite a bit.
Another Out Island that holds a special place in our memories is Cat Island. We went there on our honeymoon. And we even managed to get in some more Bahamas scuba diving!
While we only did one (very unusual) dive there, we both enjoyed the weeks we spent on Eleuthera. I guess we'll just have to go back to do more Bahamas scuba diving in Eleuthera. It'll be tough!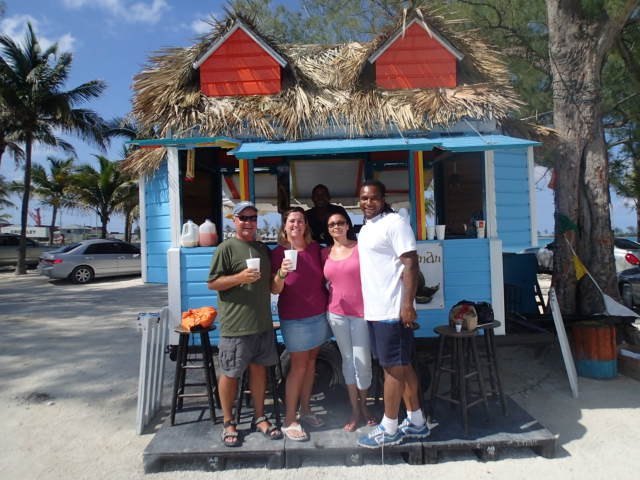 Having fun at "It Is What It Is" cart right before Arawak Cay in Nassau, Bahamas. Owner Metellus (on right) is wonderful. I highly recommend stopping here for a refreshment.

Our Bahamas Liveaboard Boat Broke
For one diving vacation to the Out Islands, we booked a liveaboard, the Nekton Pilot. We were scheduled to leave from Exuma and then cruise the Bahamas for a week.
Well I was at work one day daydreaming about the trip and browsing through scuba forums (shh!).
What do I see on the boards? The Nekton Pilot had an accident crossing over from Florida to the Bahamas. The dive platform was damaged. No trips for a few weeks.
I called the company and they confirmed the worst. Our trip was canceled.
What to do now? We already had our tickets. We had planned to go a few days early to enjoy Exuma before we boarded the boat. Time to scramble and rearrange.
Well to make a long story short, we ended up going to Exuma for a few days as originally scheduled.
Then, instead of the liveaboard, we flew to San Salvador Bahamas for a week of diving. They have some great dive sites and we really enjoyed our stay there.
You can see where it is and check out what's there on our page of maps of San Salvador.
There are not alot of hotels in San Salvador but what is there is great for a dive vacation.
Turned out to be another wonderful Bahamas scuba diving vacation! So all's well that ends well.
---
Turks and Caicos Diving

---
We love going to the Turks and Caicos. It has some wonderful diving and it has one of the most spectacular beaches in the Caribbean.
We have been there several times and we will definitely be going back. These islands too are a short hop, skip and jump from the United States.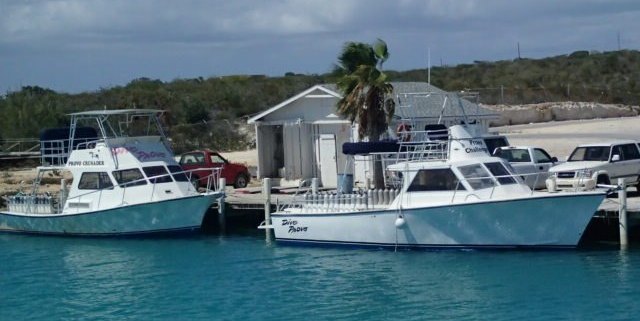 Dive boats from Dive Provo. The water was rough off of Grace Bay so they took the dive boats to the other side of the island. We dove off of West Caicos that day.

You can read all the details about our diving and general information on the islands (such as weather, locations, water temperatures and more) on our Turks & Caicos scuba diving page.
You can also find details on some of the most popular dive sites the Turks and Caicos here.

We also have some maps of Turks and Caicos  and a page on flights to Provo to help you plan your trip.
And once you get there, you will need a place to stay. You can start your research with our information on hotels and resorts in the T&C here.

If you go to the Turks and Caicos, we don't think you will regret it. You should have some wonderful diving and a nice, relaxing time.

You Can't Go Wrong

So, IMHO, no matter where you choose to do your Turks and Caicos or Bahamas scuba diving, you can't go wrong. The islands are beautiful. The people friendly. The diving spectacular.


So go and have fun. It's a short hop from the U.S., yet a world away.
You might want to check out these books and maps to help plan your Bahamas vacation:

Here's To Good Diving!
---
---
 Want to stay down longer and improve your buoyancy control and other diving skills? Our free report "Increase Your Bottom Time" along with our practical, weekly actionable tips will have you looking like a seasoned diver in no time. So come join us and see improvement on your very next dive!
(Click on the photo to join us now!)
---
---