Hotels in San Salvador Bahamas
There are not alot of hotels in San Salvador Bahamas.
In fact, when we were there there were only 2 hotels on the island. Since they were very different properties, our choice was pretty based on what you are looking for.
There are now 2 additional hotels in San Salvador, Bahamas. The new additions are Sands Resort and Guanahani Beach Club. I can't really speak to these since I never saw them when we were there. They both get good reviews that I saw when I was researching them.
Here are the choices we had (and you will have) while we were on San Salvador for a dive trip.

Hotels in San Salvador Bahamas: Riding Rock Inn

Riding Rock Inn is basically a dedicated dive resort. This is where we stayed when we went to San Salvador. Of course, you don't have to scuba dive to go here, but most of the clientele are divers.
It is a nice place but nothing fancy. Hotel rooms are basic but clean and functional. There is a lobby/dining room/bar building where most of the socializing takes place. Guests and locals hang out at the bar since there is not alot of choice on the island.
You can actually see the Riding Rock on our interactive satellite San Salvador Bahamas map. You can zoom in and see anyplace on the island. It's pretty cool, so take a look.

Riding Rock offers a package that includes room, diving and meals.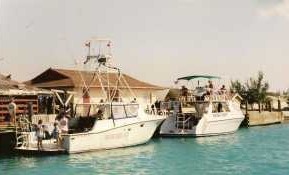 Since we weren't really going to be out and about on the island, this is the package we chose. Food was good and you always had a selection. We were there a few years ago, so for some more up-to-date reviews, you can check out reviews on Tripadvisor.
On Tripadvisor, I usually throw out the super great reviews, the super bad reviews and figure that the reviews in-between are closer to reality.
They have a full service dive operation at Riding Rock. Diving, of course, is what is all about here. We had nice divemasters/crew - all very friendly and professional. You can go out on a guided dive or go out on your own. Easy to navigate since you usually just follow the wall and come back. You go out for a 2 tank dive in the morning and a 1 tank dive in the afternoon. After that, it is happy hour time at the Driftwood Bar.
Overall, we were happy with the Riding Rock Inn and would return again. If you go for the diving and don't mind a basic hotel with a quiet atmosphere, this is the place for you. You can check out all the details on the Riding Rock Inn website.

Hotels in San Salvador Bahamas: Club Med

Club Med Columbus Isle is the other choice of hotel in San Salvador. I have never stayed here so I can't give you a first hand opinion about this resort. However, I'm sure most people are aware of the Club Med chain. So, obviously, this is a different experience than staying at the Riding Rock - at least as far as topside experiences go.
Club Med offers diving packages also and the boats I saw looked very nice and roomy. The beach there is supposed to be a beautiful 2 miles stretch of powder white sand. From what I have read, guests there are predominantly French. You can read all about the Club Med Resort here. You can check the reviews on TripAdvisor here.
Whichever one you choose, I hope you have a great time.
Top of Hotels In San Salvador Bahamas
---
---
 Want to stay down longer and improve your buoyancy control and other diving skills? Our free report "Increase Your Bottom Time" along with our practical, weekly actionable tips will have you looking like a seasoned diver in no time. So come join us and see improvement on your very next dive!
(Click on the photo to join us now!)
---
---