Scuba Diving Tips:
Tips And Advice to Improve Your Dive Skills
We all want to look like divemasters, don't we (well, most of them anyway:) )? We are here to help you achieve that goal with our dive tips.
Whether you are a beginner or just need a refresher, working on dive skills is time well spent.
We have lots of scuba diving tips and techniques on our site to help you have a better dive. Whether it's improving your air consumption or controlling your buoyancy, better diving skills will increase the enjoyment of any dive.
And enjoying ourselves underwater is what it is all about anyway, isn't it?
Waiting to board the dive boat in Bonaire. And, yes, they do have boat diving there too!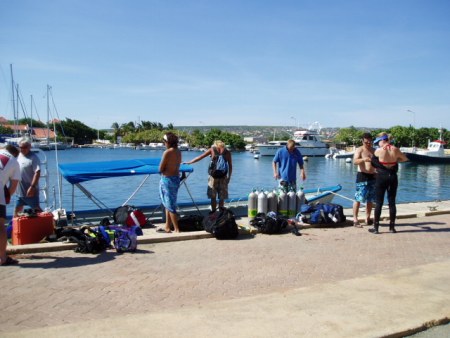 You will find tips covering a wide variety of diving issues. For instance, if you are new to diving and aren't sure what the etiquette is on a boat dive, or have questions about how much you should tip the divemaster and crew, we will answer those questions for you.
Just click on the link below to read these tips and more. We hope these diving tips will improve your underwater experience.
So go out, have fun and soon you'll be looking like a pro.

---
Scuba Diving Tips

---
Quick Video Tips For Beginner Divers:
We are putting together a new series on quick tips for beginner divers. Each video will be about 1-5 minutes in length to make them easily digestible. Quick - but effective. We will be adding to this library of video tips so be sure to check back.

---
If you've ever had to cut a dive short because you ran out of air, you know how frustrating it can be. Try these tips to help improve your air consumption and make those tanks last longer.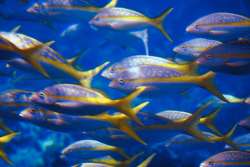 If you haven't been on a boat dive before or aren't sure what you should do on a boat dive, check these tips out. Following these tips should make your experience less stressful and your dive more enjoyable.
Tips For Not Being Intimidated on the Dive Boat
When you are doing your first boat dives, it can produce alot of anxiety and stress. You feel like everyone else knows what they are doing but you. Here are some tips to help you feel more confident and less intimidated on the dive boat.

Buoyancy Control Scuba Diving Tips
If you are going up and down like an elevator when you are underwater, these scuba tips should help you get in control of your buoyancy. From getting neutrally buoyant to how to completely dump all the air out of your BC, try these scuba diving tips so you stay level while diving.

If you have trouble equalizing or get ear pain while you are diving, this page of tips is for you. Being able to equalize properly is crucial because without equalization there is no diving (or shouldn't be). So start here to clear those ears.

If you've never done a night dive before it can be intimidating. These scuba diving tips will let you know what to expect and what to do so you are more at ease. Night diving is a great deal of fun and you'll discover a whole new world down there at night.

Tipping Scuba Dive Tips
How much should you tip the divemaster and crew? Or do you need to tip at all? If you are unsure of the etiquette, these tipping guidelines are for you.

Probably the most important page of tips. We want all your dives to be fun, enjoyable and, most importantly, safe. Follow these tips to make that dive a safe one.

You're going on a scuba dive vacation and are going to bring your scuba diving equipment. So what is the best way to pack all that equipment? Read our packing tips to make the job a bit easier.
Best Scuba Diving Locations For New Divers
Here we give you our Top 3 Picks for best beginner scuba diving locations in the Caribbean. There are alot of islands to choose from but we think that these 3 are the best suited for new divers. They all offer lots of dive sites to choose from and interesting dives appropriate for less experienced divers.

OK, a little different here but I think this may be helpful. If you are looking for more scuba diving information than you have found on this site, we give you our list of dive websites we keep returning to. Some are educational, some are fun, but we think they are all worthwhile websites.


So there you have it, our scuba diving tips to hopefully make your dive more enjoyable.
If you want some tips in an area that we haven't covered, let us know and we'll try and add it to our scuba tips page. Don't hesitate to ask because other people probably have the same issue and would benefit from the information also.
You might be interested in our scuba diving special reports full of tips and tricks on various dive skills. See a list of all our tips reports here.
OR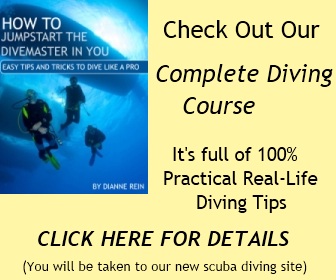 ---
---
 Want to stay down longer and improve your buoyancy control and other diving skills? Our free report "Increase Your Bottom Time" along with our practical, weekly actionable tips will have you looking like a seasoned diver in no time. So come join us and see improvement on your very next dive!
(Click on the photo to join us now!)
---
---