Scuba Diving Tips:
Tips And Advice to Improve Your Dive Skills
We all want to look like divemasters, don't we (well, most of them anyway:) )? We are here to help you achieve that goal with our scuba diving tips.
Whether you are a beginner or just need a refresher, working on dive skills is time well spent.
We have lots of scuba diving tips and techniques on our site to help you have a better dive. Whether it's improving your air consumption or controlling your buoyancy, better diving skills will increase the enjoyment of any dive.
And enjoying ourselves underwater is what it is all about anyway, isn't it?
Waiting to board the dive boat in Bonaire. And, yes, they do have boat diving there too!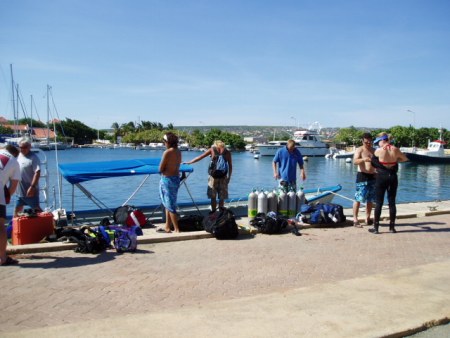 You will find tips covering a wide variety of diving issues. For instance, if you are new to diving and aren't sure what the etiquette is on a boat dive, or have questions about how much you should tip the divemaster and crew, we will answer those questions for you.
Just click on the link below to read these tips and more. We hope these diving tips will improve your underwater experience.
So go out, have fun and soon you'll be looking like a pro.
---
Scuba Diving Tips

---
You can jump to the section you are interested in by clicking on the links below:
Before You Dive: General Tips
Air Consumption Tips
Buoyancy Control Tips
3 Part Video Training Series
Boat Diving Tips
Ear Equalization Tips
Specialty Dive Tips
Dive Travel Tips
Safety Tips
Scuba Gift Ideas
---
Before You Dive: General Beginner Scuba Diving Tips
Here I share with you some videos I made about what to know before you jump in the water. These are tips and facts about scuba diving that aren't generally taught in scuba diving certification class. You learn these as you go and I wanted to save you some time - and possibly embarrassment (LOL) - by sharing them with you now.
Videos:
3 Gross Facts About Scuba Diving: First Time Scuba Diving Tips
So this video with first time scuba diving tips is more about the practical, real life realities of diving - rather than the more technical type diving tips that I usually share. However I think the practical side is equally as important as it will answer some questions you may not even know you had. But as you continue to dive, you will definitely have these questions, LOL.
Gross Facts About Scuba Diving (Part 2): Scuba Tips For Beginners
The first part of this series was so popular I had to make a Part 2! I forgot a couple of them the first time around so I remedy here :). And please excuse the use of a certain emoji :).
---
Air Consumption Tips
If you've ever had to cut a dive short because you ran out of air, you know how frustrating it can be. Try these tips to help improve your air consumption and make those tanks last longer.
Videos: 
How To Save Air Scuba Diving - Tips To Increase Your Bottom Time
Beginner scuba divers are usually the first ones back on the boat - and understandably so. No shame in it. We all started there. But these 3 easy tips will show you how to save air scuba diving on your very next dive.
Use Less Air Scuba Diving: - Don't Cut Your Dive Short
Here are 3 more quick and easy tips to use less air scuba diving and to help make that dive last longer. When we first start diving that air goes down pretty quickly. It is normal so don't stress out about it. However, there are some things you can do on your very next dive to start to see an improvement in your air consumption.
Blog Post:

List Of Tips To Save Air While Scuba Diving
Here I share with you 9 quick tips on ways to reduce your air consumption on your next dive.
---
Buoyancy Control Tips
If you are going up and down like an elevator when you are underwater, these scuba tips should help you get in control of your buoyancy. From getting neutrally buoyant to how to completely dump all the air out of your BC, try these scuba diving tips so you stay level while diving.
Videos:
3 Quick Videos On Improving Buoyancy Control (each under 4 minutes in length) to help you with your buoyancy control. In each video I share 1 quick tip so it is easily digestible and you can implement it on your next dive.
Blog Post:
List Of Tips To Help You Improve Your Buoyancy
Here I share with you 7 tips on how to improve your buoyancy and stop looking like that yo-yo!
---
3 Part  Video Training Series For New Divers
I made a 3 part video training series for new scuba divers that cover different aspects of diving. Taken as a whole, the 3 part series will help you in many aspects of diving as I share tips in such areas as air consumption, buoyancy control, equalization and more. 
Videos:
Part 1: 4 Keys To A Better Dive
In this video I share with you 4 tips to help improve your diving. I will cover one of the biggest tips to help you with  your buoyancy, an easy way to improve your air consumption, a quick tip that will have you descending painlessly and a boat diving tip that will have you making friends on the boat :). 
Part 2 and 3 are coming soon!
---
Boat Diving Tips
Boat diving can be pretty stressful for new divers. It can be intimidating getting on that boat with all those experienced (or so we think) divers. With these tips I want to help you feel less intimidated and more comfortable and confident when you walk on that boat.
Videos:
New to boat diving and unsure of what the proper etiquette is? Looking for some tips of what to do once you get on that boat? Here I explain some simple boat diving etiquette tips that will help you feel more confident and look like a more experienced diver on that boat.
Scuba Tipping Etiquette: Who, When, How, Liveaboard & More
Scuba diving tipping etiquette  can be a cause of a lot of stress for new divers. Who to tip, when to tip, how to tip and much more are questions all new divers have.
I share my experience and take on tipping etiquette when you go scuba diving. This video covers whether to tip, who to tip, when to tip, how much to tip, tipping on a liveaboard, tipping a course instructor and a private dive guide.
2 Quick Tips To Feel More Confident On The Dive Boat

In these quick videos, I share with you a tip to help you get friends on the dive boat :) and a quick safety tip on how to get safely back on that boat.
Blog Post:
12 Boat Diving Tips To Make You More Comfortable On The Boat
Not sure of what you are supposed to do? Not to worry. We have some boat scuba diving tips for you so you will feel comfortable climbing aboard. If most of your diving has been land based, diving off of a boat can be a little intimidating at first, but rest assured, follow these tips and you'll be fine.
Tips For Not Being Intimidated on the Dive Boat

When you are doing your first boat dives, it can produce alot of anxiety and stress. You feel like everyone else knows what they are doing but you. Here are some tips to help you feel more confident and less intimidated on the dive boat.
---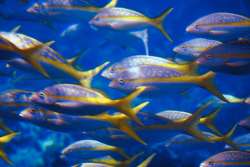 Ear Equalization Tips
Equalizing can be a pain (no pun intended) for many divers. If you ever had problems descending, you know how frustrating it can be. Here I share with you some tips on how to clear those ears so you can get down quickly and painlessly.
Videos:
My Number 1 Tip On How To Clear Those Ears
This quick video tip will show you  how to clear those ears easily and painlessly. It has worked for many divers and the next one can be you.
Blog Post:
6 Ear Clearing Tip To Help You Get Down Faster
If you have trouble equalizing or get ear pain while you are diving, this page of tips is for you. Being able to equalize properly is crucial because without equalization there is no diving (or shouldn't be). So start here to clear those ears.
---
Specialty Dive Tips
There are lots of different types of dives you will most likely encounter during your diving career. Dives such as night diving, shore diving, drift diving, wall diving, wreck diving, deep diving, etc. I will share tips with you in each of these specialty dive areas so you are more comfortable when you go to do that particular type of dive. 
Videos:
Quick Video Tips on Night Diving
This video covers night diving. Now your first night dives can be intimidating and scary since jumping in the water off a boat in the dark is not the norm :). So if you feel this way about night diving, rest assured you are not alone. To help you feel more comfortable and confident before your night dive, I have made this video with some night diving tips for you. 
Blog Post:
13 Night Diving Tips To Help You Ease Any Fear Of Diving In The Dark
If you've never done a night dive before it can be intimidating. These scuba diving tips will let you know what to expect and what to do so you are more at ease. Night diving is a great deal of fun and you'll discover a whole new world down there at night.
---
Scuba Diving Travel Tips
One of the great pleasures of scuba diving is getting to travel to all different locations to explore the underwater world. Of course, that comes with its own set of requirements. In this section, I share with you tips on ways to make your dive travel easier and more pleasurable.
Videos:
3 Quick Video Tips on Dive Travel
Here I share 3 quick videos on different aspects of dive travel. Topics include saving money and getting more room on that plane. And who wouldn't want that? Enjoy that trip!
Blog Posts:
You're going on a scuba dive vacation and are going to bring your scuba diving equipment. So what is the best way to pack all that equipment? Read our packing tips to make the job a bit easier.
How much should you tip the divemaster and crew? Or do you need to tip at all? If you are unsure of the etiquette, these tipping guidelines are for you.
---
Scuba Diving Safety Tips
As divers our #1 priority should be safety. Because if we are not safe, there will be no more diving! So this may be the most important tips I share with you. Do not skip them so you have the best chance of completing that dive safely.
Videos:
3 Quick Videos On Scuba Diving Safety
These 3 short videos will help you lessen your risk of getting DCI. They include some tips you will like - for instance, the one regarding exercise! Also you will learn to appreciate your dive buddy even more after watching video #2!
Blog Post:
8 Easy Scuba Diving Safety Tips To Keep You Out Of The Chamber
Probably the most important page of tips. We want all your dives to be fun, enjoyable and, most importantly, safe. Follow these tips to make that dive a safe one.
---
Scuba Diving Gift Ideas
As divers our #1 priority should be safety. Because if we are not safe, there will be no more diving! So this may be the most important tips I share with you. Do not skip them so you have the best chance of completing that dive safely.
Videos:
15 Useful Scuba Diving Gift Ideas Under $10
If you need a little something for the scuba diver in your life, I have you covered in this video. Here is my list of gift ideas for scuba divers  - all for under $10! These are useful gifts that your divers will be sure to use on their dives. Inexpensive (or cheap, LOL) does not equal useless!
Blog Post:
Scuba Gift Ideas For All The Divers In Your LIfe
Here is our master list of all the pages I have done to help you find the perfect gift for your favorite diver. You will find pages on scuba gifts for men, gifts for women, inexpensive gifts, moderately priced gifts, t shirts and popsockets. You are sure to find a gift that will make your diver smile!
---
Miscellaneous Tips For Scuba Divers
Best Scuba Diving Locations For New Divers

Here we give you our Top 3 Picks for best beginner scuba diving locations in the Caribbean. There are alot of islands to choose from but we think that these 3 are the best suited for new divers. They all offer lots of dive sites to choose from and interesting dives appropriate for less experienced divers.

OK, a little different here but I think this may be helpful. If you are looking for more scuba diving information than you have found on this site, we give you our list of dive websites we keep returning to. Some are educational, some are fun, but we think they are all worthwhile websites.

---
So there you have it, our scuba diving tips to hopefully make your dive more enjoyable.
If you want some tips in an area that we haven't covered, let us know and we'll try and add it to our scuba tips page. Don't hesitate to ask because other people probably have the same issue and would benefit from the information also.
You might be interested in our scuba diving special reports full of tips and tricks on various dive skills. See a list of all our tips reports here.
OR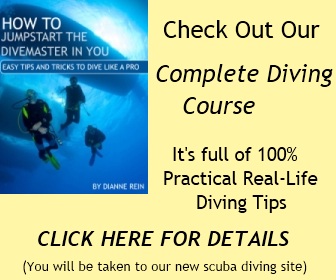 For even more tips on how beginner scuba divers can improve their diving on the very next dive, check out my YouTube channel here:
---
---
 Want to stay down longer and improve your buoyancy control and other diving skills? Our free report "Increase Your Bottom Time" along with our practical, weekly actionable tips will have you looking like a seasoned diver in no time. So come join us and see improvement on your very next dive!
(Click on the photo to join us now!)
---
---