Where is the Best Place to Scuba Dive?
Our Top Picks for Scuba Diving in the Caribbean
We get asked all the time - "Where is the best place to scuba dive?"
With all the places to choose from in the Caribbean, it's not an easy question to answer. Which is a good thing.
But we will do our best.
In answering this question, we take into account not just the scuba diving, but topside as well.
In other words, the whole package.
The appeal and fun of our non-diving time adds alot to the overall enjoyment of our dive trips and vacations overall.
After all, you can't be underwater for 24 hours a day.
The links in the list below of our top scuba diving destinations will take you to our detailed review of each location.
On our review page you will find information on location, weather, water temperatures, diving, topside attractions and more. In other words, we try and give you all the information you will need to make an informed decision if that destination is the right place for your next dive holiday.
Of course, I don't think you would be disappointed with any of these picks for "Where is the best place to scuba dive?".
Note: Since we originally wrote this list, we have done many more dives. In both new destinations and repeat visits to old haunts (including Roatan, Turks and Caicos, Grenada, Jamaica, Bahamas - and Thailand and Cambodia but that's another list since this focuses on the Caribbean :)) The original picks still stand the test of time.
So if you are thinking of doing a dive trip to the Caribbean, you might want to consider these top destinations.
So, with that being said, here's our answer to "Where is the best place to scuba dive?"
Cozumel, Mexico

I'm sure if you read our write-up on Cozumel, you know we love the place. It pretty much has it all - fantastic drift diving, cheap to reasonable prices, lots of local culture, fun nightlife, friendly people and a great island to explore.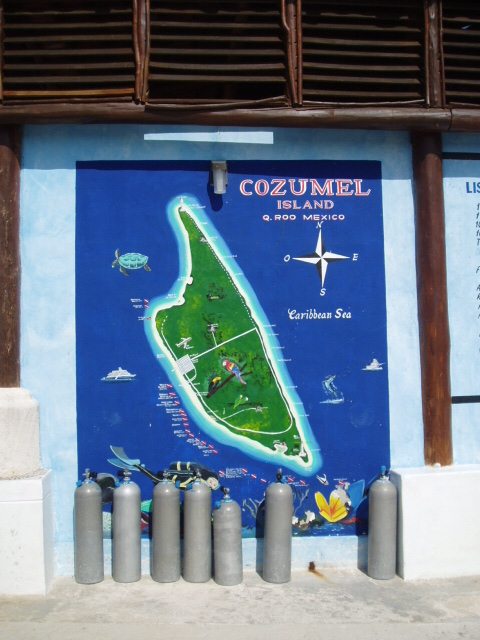 It still makes our list even with the influx of the cruise ship crowds. That's how much we love it.
We have done numerous dive trips to Cozumel - and rest assured there will be many more. We really can't get enough of this place. And I know there are many people out there who feel the same way.
You can find our guide to Cozumel scuba diving here.
You can also find a list of all our pages on scuba diving in Cozumel, Mexico here.
As you read through our pages, you will be able to see why we pick Cozumel as an answer to "Where is the best place to scuba dive?"
On to our second pick for "Where is the best place to scuba dive?"
Bimini, Bahamas
This pick is a little unusual since we go over to Bimini on my brother-in-law's boat from Florida. So it's a little different experience than flying in and staying at a resort.
Street scene after diving in Bimini
Accommodations are mostly small inns, hotels, apartments, etc. in the main town. However, a resort/vacation home complex has opened on the other end of the island.
This is an upscale project and staying there has a completely different feel than staying in one of the places in town.
Personally, I like the small, local feel of the town but this resort now gives you an alternative if you prefer more luxury.
We have had lots of good dives during our many dive trips to Bimini (OK, we'll forget about the drift dive we aborted because we were only over sand - everyone makes mistakes). The topside experience is great with lots of little local places to go to when you are not diving.
You can find our guide to Bimini here.
We have also dove in many of the other Out Islands of the Bahamas. You can read about our other experiences of scuba diving in the Bahamas here.
Our next pick:

Grand Cayman, Cayman Islands
The diving here is fantastic and is consistently rated as one of the top dive destinations in the world. And rightly so.
Stingray City dive site in Grand Cayman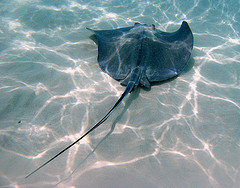 We have stayed on both ends of the island during our dive trips -the popular west coast with the gorgeous Seven Mile Beach and the more isolated, quiet East End.
Both locations have their pluses and minuses.
But one thing they do have in common is some wonderful scuba diving. It's easy to see why this is an answer to "Where is the best place to scuba dive?"
If you want a gorgeous beach and restaurants and clubs to keep you entertained at night, you will probably prefer the west coast for your dive experience. If you like a more laid back and quiet atmosphere with less crowds, you may want to give the East End a try.
On a side note, Grand Cayman has become a favorite stop for cruise ships. If you don't like crowds, you should try and avoid town when the ships are in. But if you are staying on the west coast, it really is about that great beach, so why leave it anyway?
For our recommendations on getting the most from your trip to Grand Cayman, see our Grand Cayman diving guide.
Also, for a list of all our pages on the Cayman islands, see our guide to diving in the Cayman Islands.
And now for our last pick for "where is the best place to scuba dive?"
Bonaire, Netherlands Antilles
We finally got to Bonaire and now we now why it is always rated as one of the best places to dive in the Caribbean.
We immediately added it to our list of once we returned from our dive trip.
The freedom of shore diving is what it is all about on Bonaire. And that shore diving is wonderful - plenty of marine life, healthy reefs, easy diving, warm water, good visibility, etc.
What more do you need?
Most dive packages in Bonaire include a pickup truck to make carrying around those tanks to all the dive sites a piece of cake.
What most divers do here is load up the truck in the morning with enough tanks for a 2 tank dive, pick from a long list of dive sites, go diving, head back for lunch and some new tanks, load up and do some more diving in the afternoon.
No dive boats to catch (though boat diving to Klein Bonaire can be included), no schedules, no dive time limitations, etc.
In short, it is hard to beat.
If you haven't been here, I recommend you put it near the top of your list. And you may soon be answering "Bonaire" when people ask you "where is the best place to scuba dive?"
To read our overview on Bonaire as well as a list of all our pages on Bonaire, see our scuba diving in Bonaire page.
---
So there you have it. Our answer to the question "Where is the best place to scuba dive?"
You also might be interested in our picks for top dives in the Caribbean. Interestingly enough, some of these dive sites are not located in the best destinations I chose above. So I guess one dive does not make the destination for me - it's the whole package. How about you?
We hope you enjoy these places as much as we have if your travels take you there.
Hope you have some great dives no matter where you go!
Why not write your own review of your pick for best dive destination?
We would love to hear from you.
Click here to see other readers' picks for their best scuba diving location.
What do you think is the best scuba diving location(s)?
Do you agree with our list above or not? Maybe you've been there and weren't impressed (hey, it happens). So, where do you think is the best place to scuba dive? Do you have a spot that made you think "Aahh, this is why I scuba dive!" It could be anywhere in the world - Red Sea, Asia, Caribbean, etc. There are so many place out there to dive, we would love to have your input. It could help all of us plan our next dive trip!
Read About More Great Places to Scuba Dive
Don't we all love reading about great places to dive? Even if we can't get there (yet!), we can put it in the back of our minds for future dive trips. Read about the places where other divers love to go by clicking on the links below.


---
---
 Want to stay down longer and improve your buoyancy control and other diving skills? Our free report "Increase Your Bottom Time" along with our practical, weekly actionable tips will have you looking like a seasoned diver in no time. So come join us and see improvement on your very next dive!
(Click on the photo to join us now!)
---
---