Scuba Diving Cayman Islands:
Dive Trip Reviews of Grand Cayman, Cayman Brac and Little Cayman - Plus Information on Weather, Water Temperatures, Flights, Hotels and More
Scuba diving in the Cayman Islands is on the must-do list for most divers. I know it was certainly on our list. These islands are world renowned for scuba diving and understandably so.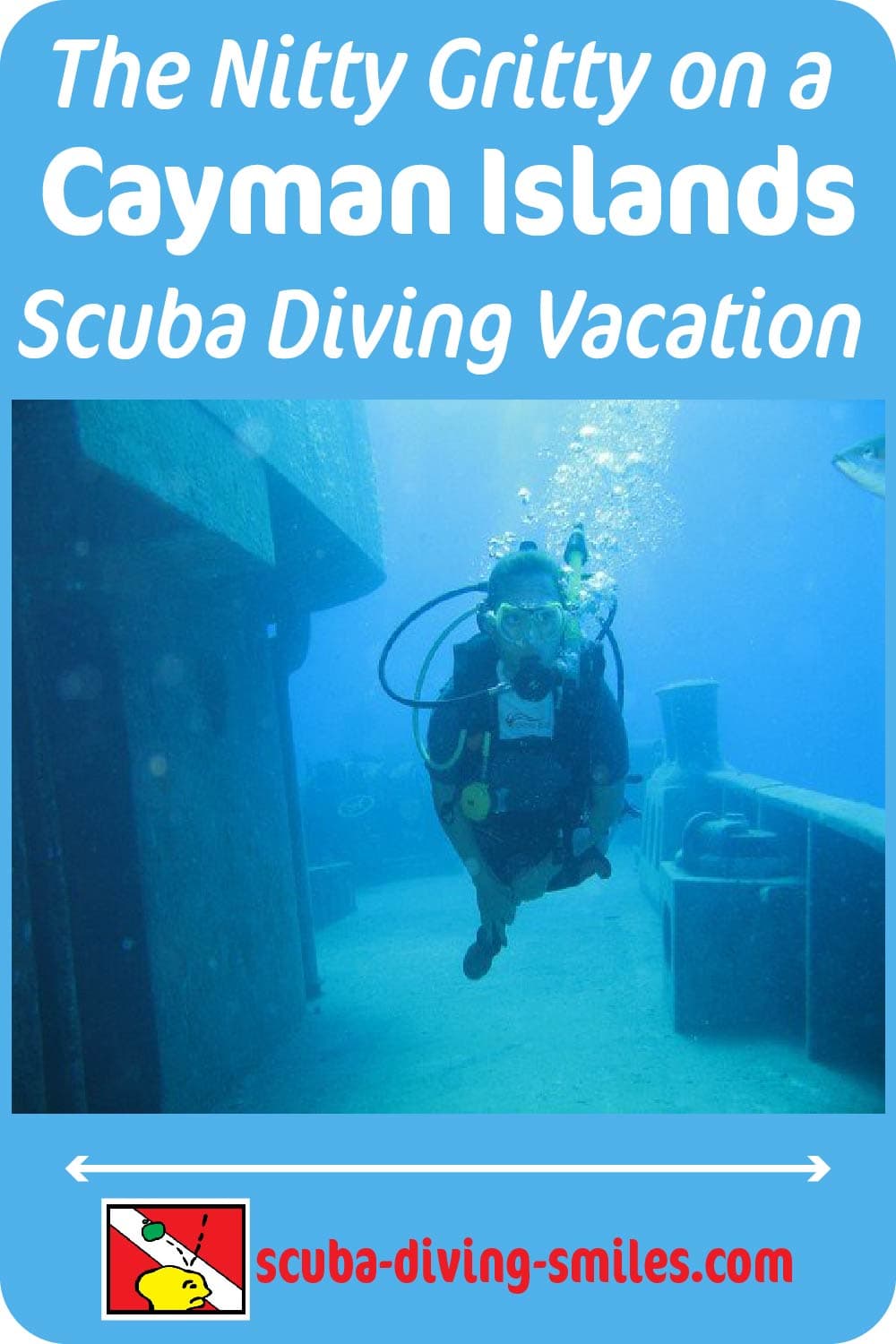 You'll find steep walls which go down over 6000 feet and visibility which can reach 200 feet. You'll also see lots of marine life to keep you entertained.
All this, along with warm water and great beaches for your topside hours, make scuba diving Cayman Islands a pleasure.
The islands themselves are basically the tops of underwater mountains located in the Caribbean. Check out our Cayman Islands maps to see where they are located. There is even an interactive map which is alot of fun to use.
There are three islands in the chain, all of which hold appeal for scuba divers:

Grand Cayman
Grand Cayman is the largest and most developed (by far) with over 150 divesites to choose from. It is an all around popular tourist destination as it a regular stop on the cruise ship itineraries (unfortunately for us scuba divers).
You can find our trip review plus information on helping you plan your dive trip here. Our reviews of some of Grand Cayman top scuba diving sites is here.
We have a page of Grand Cayman maps to help you plan your trip along with info on flights to Grand Cayman here.
We also have a readers review of their scuba diving trip to Grand Cayman here.
Cayman Brac
Cayman Brac is the second largest island in the chain and known for its caves, rumored to be the hiding place of pirate's treasure.
There are around 40 Brac dive sites to explore on Cayman Brac so you won't be bored. You can check out our guide to Cayman Brac and Cayman Brac diving here.
Also check out our Cayman Brac maps  help plan your trip.

Little Cayman
Little Cayman is the smallest island in the Cayman Islands and has very little development.
Little Cayman has about 40 divesites including the fabulous Bloody Bay Wall (we dove the Bloody Bay Wall from Cayman Brac; the 2 islands are only 7 miles apart). You can read our review in the Cayman Brac guide linked above.
A reader also wrote an excellent review of his dive trip to Little Cayman. You can read it here.
So where to do your scuba diving in the Cayman Islands?
Well, it all depends on what you like. If nightlife, restaurants and a range of luxurious accommodations are important, Grand Cayman would be ideal for you. Little Cayman is just the opposite, with less than 200 residents and a few resorts catering to divers. It is a true getaway with some fabulous diving. Cayman Brac is somewhere in between.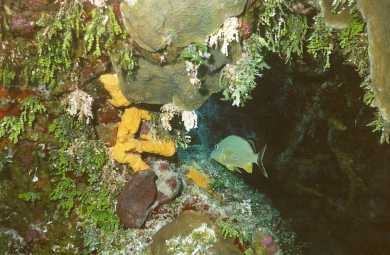 Each island had something to draw the scuba diver in. It is really a matter of personal preference.
I will say however, that based on all I have read and the dives I did near Little Cayman, that Little Cayman is probably the best for overall diving. So that would be a great choice if scuba diving is your only criteria. 
If you have other considerations such as people in your group that don't dive, like to shop, etc. another island would probably be a better choice.
As you can tell, we've been to both Grand Cayman and Cayman Brac. We loved the diving on both islands. Oddly enough, the dive that we rated the best - Bloody Bay Wall - (and made our list of top dives) is usually associated with Little Cayman. We dove there while we were staying on Cayman Brac.
We haven't stayed on Little Cayman yet but it is on the list of places to go. Especially after reading the review by our reader (linked to above).
Scuba Diving Cayman Islands: Marine Regulations
With the increase in tourism to the Caymans, the government has rightfully established laws and regulations to protect the underwater environment that attracted most of the tourists to the islands in the first place.

There are permanent moorings at all the popular dive sites to protect the coral. In addition, diving with gloves is prohibited so divers are not tempted to touch anything.
The reefs have also been divided into 3 zones:
Marine Park Zones - This encompasses a large area where much of the diving is done. No taking of any marine life, dead or alive, is permitted during diving. Boats must use the fixed moorings and no anchoring is allowed (except boats of less than 60 feet may anchor in sand). Commercial operations must have a license from the Marine Conservation Board to use the Bloody Bay Marine Park.
Replenishment Zone - Covers mostly shallow water lagoons and sounds where the taking of conch and lobster is prohibited. Anchoring is permitted but nothing can touch the coral. Spear guns, pole spears, fish traps and nets are prohibited.
Environmental Zones - These are the most restrictive areas. Taking of any marine life, dead or alive, is prohibited with no exceptions. No anchoring is allowed and no in water activities, including diving, is allowed. This protects the breeding ground for fish and other marine life.
The regulations appear to be working. With so many tourists coming for the sole purpose of doing some scuba diving in the Cayman Islands, the government has a vested interest in keeping the reefs and marine life healthy. As divers, we certainly benefit from this protection.
So, wherever you go to do your scuba diving in the Cayman Islands, you should not be disappointed. From our experience, diving on Grand Cayman with all its' dive sites and Cayman Brac is world class. So go and enjoy and you'll see why these islands are on most divers must-do list.
Have a great trip!
Here are some books and maps you might want to check out to help you plan your trip to the Cayman Islands:
My Picks:
---
---
 Want to stay down longer and improve your buoyancy control and other diving skills? Our free report "Increase Your Bottom Time" along with our practical, weekly actionable tips will have you looking like a seasoned diver in no time. So come join us and see improvement on your very next dive!
(Click on the photo to join us now!)
---
---