Grand Cayman Trip Report
April 2019
This Grand Cayman trip report was written by one of our readers. All credit and thanks for the detailed info, picture and video goes out to Tim Hooker. I love reading his scuba diving reports - even if it does make me a bit jealous :). Thanks again Tim and enjoy the review everyone!
Tim's Dive Trip Review
April 6, 2019, we traveled to Grand Cayman and stayed with Cobalt Coast dive resort.  The reason primarily being that this is the sister site to Cayman Brac and Little Cayman Beach resorts and diving operations is run by Reef Divers at all three sites.  We were impressed with the service on the sister islands so it was a logical choice on the big island, and yet again Reef Divers did not disappoint. 
Accommodations:
Cobalt Coast Review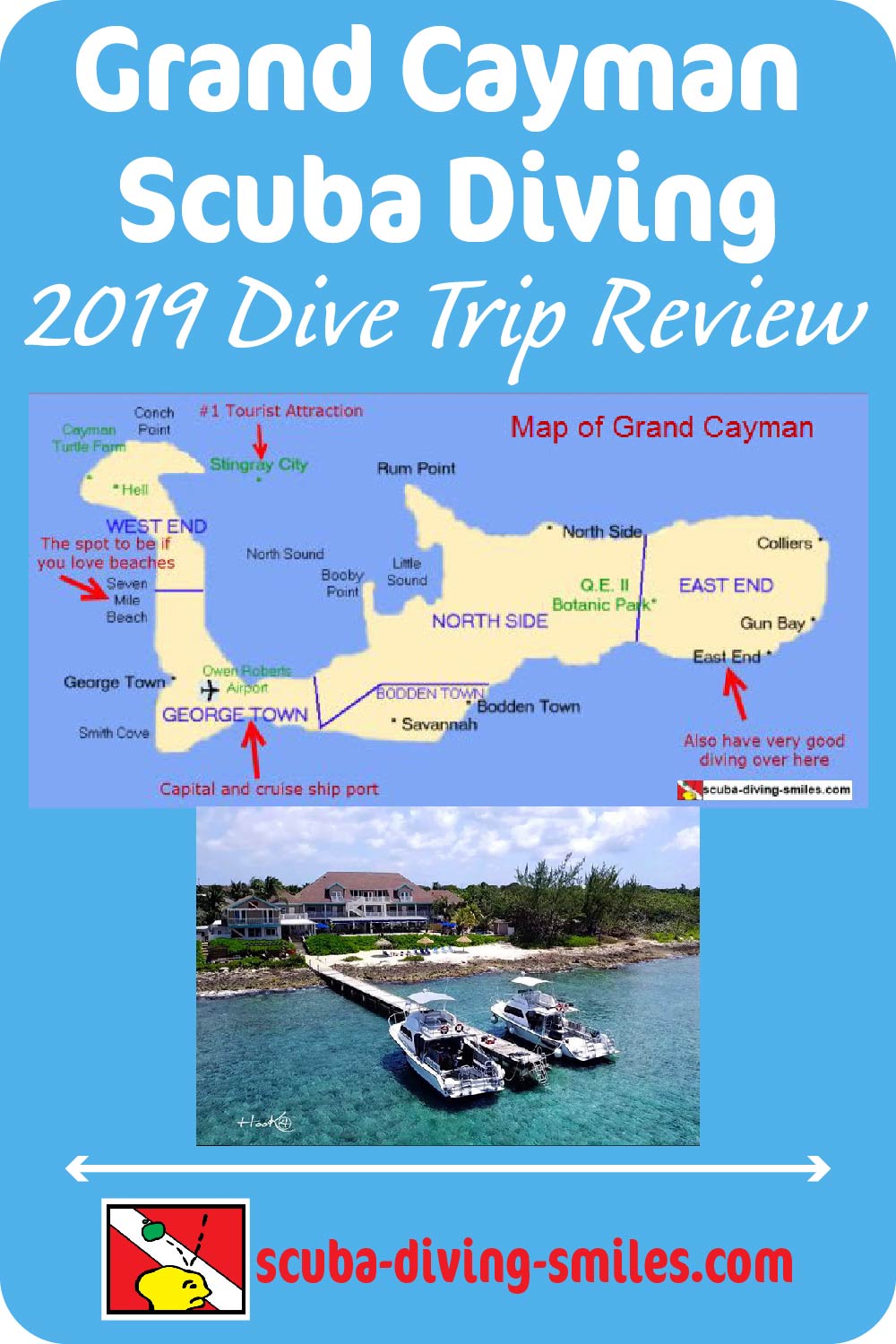 Cobalt Coast is a cozy, no frills resort situated in West Bay on the north side of the Island.  There is absolutely nothing to do there when you are not diving, in the pool or hot tub, hanging out on the small beach, or snorkeling. 
There is nothing in proximity to the resort so if you want entertainment or wish to be absorbed in shopping and typical tourist stuff, you will have to take a taxi elsewhere.  A $35.00 one way 15 minute trip will get you there. 
The rooms are comfortable and spacious. The beds are a bit on the hard side. Having a hot shower is a crap shoot. I think I had hot water three times the entire week. 
There is cable TV with a good selection of channels and a mini fridge. Wifi is available throughout the site and has a strong enough connection to stream shows if need be.  

There is no enclosed gathering space. Most hang out at the pool or bar. Seating for every meal is Al Fresco with a beautiful view of the ocean. 
It can get very hot here but, with almost constant trade winds and ceiling fans overhead we were never uncomfortable. 
The food to be quite honest is outstanding. Breakfast, served at 6:30 am and lunch, served at 12:30pm are buffet style.  Dinner is served at 6:30pm and menu style and you will never tire or be disappointed in anything served.  
(You can find info on Cobalt Coast here.)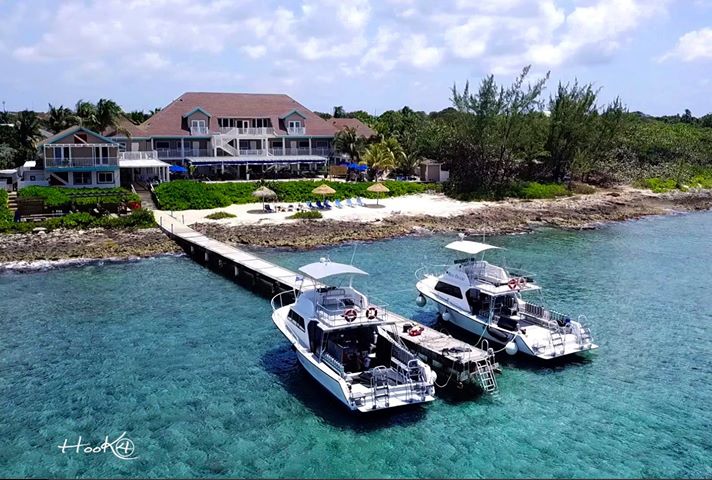 Grand Cayman Trip Report:
Scuba Diving
The dive shop is on the premises. They were working two 42' Newton dive boats that are spacious and comfortable. If your booking 3 tank days they push off the dock at 7:45 am do two tanks, then you come in for lunch about noon.  The 3rd tank goes out at 1:45pm.  There are also tanks stowed outside near the dock and available for unlimited shore diving as well.  
There are over 200 marked sites around the island. Most of our dives were on the North side some of which were a quick 3 minutes, and a few were about a 30-minute trip. Average depths were 60 to 80 feet, but we also hit some of those plunging deep walls the Cayman's are so famous for and did a few 100+ dives. 
Ambient temperatures during the day were in mid 80's and upper 70's at night.  Water Temp averaged 80 degrees.  We only had one day of overcast skies and several quick squalls moved in and out on a few days. For the most part seas were relatively calm with only one day I would call a bit rough. 
Visibility was not good at all averaging only 50-60 feet with maybe the best day hitting 80. I asked if this was normal and got no real solid answer.  
Service on the boat was top-notch. DM's were very knowledgeable about sites giving very detailed briefings.  They did not however, do much in the way of pointing anything of interest out.  This in perhaps because the majority of the boat consisted of well-seasoned divers, and most ventured on their own.  
My opinion as well as the overall general consensus was that diving was disappointing to put it mildly.  The reef seemed to be generally healthy. The walls particularly exhibited impressive barrels an tubes. 
However, fish species were grossly lacking.  There were limited small and very scattered schools but, nothing at that impressed. This unfortunately fell very short compared to the sister islands.  This is why you wont see many fish on my video.  
I can't say I was not warned.  In short, if the areas we dove are indicative of the rest of the island I would say Grand Cayman is a great place to get your feet wet as a diver but, don't have high expectations for a vast plethora of marine life. 
Grand Cayman Trip Report:
Stingray City Review
FYI, Stingray city, is way over rated.  You sit in 12 feet of water in a circle while a DM feeds them.  All the while divers and the waves are kicking up sand and ruining visibility, which makes for pretty much unusable footage or photography.  I did have one land on my head and try to suck my brains out which was interesting, but no one was impressed with the circus.

Grand Cayman Scuba Diving Trip Video
Tim also put together a video of his Grand Cayman trip. He does a great job with his scuba diving videos. I hope you enjoy.
Dianne here. Thanks so much for your Grand Cayman trip review Tim. It is truly appreciated. I love reading others people's experiences and dive reviews. I haven't been to Grand Cayman in a while now so it is good to get a updated perspective. My last trip to the Caymans we stayed on Cayman Brac and really enjoyed the diving there. After reading your review, my next stop in the Cayman Islands will probably be Little Cayman :). FYI, Tim also did an excellent review of his dive trip to Little Cayman. You can read his review here.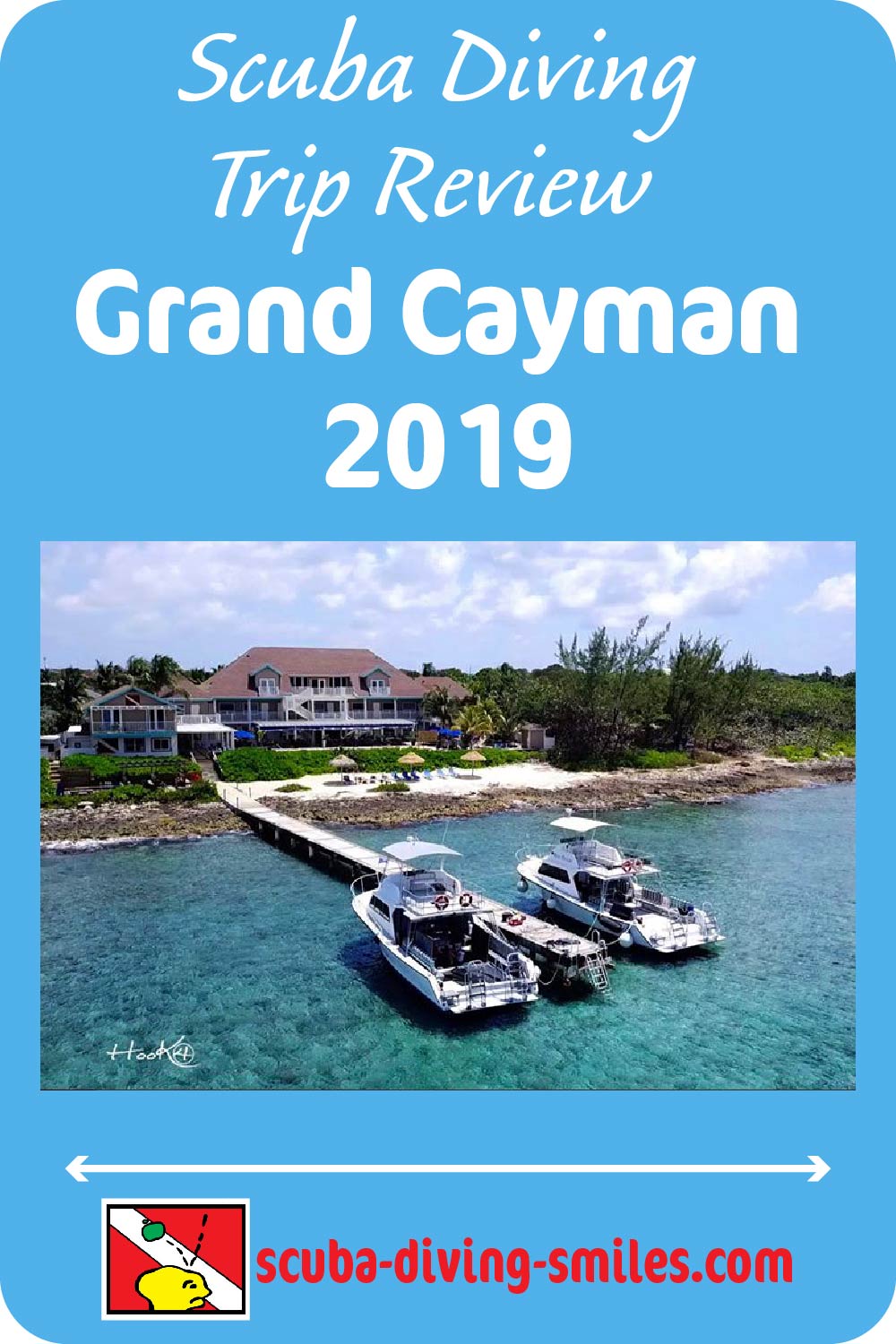 ---
---
 Want to stay down longer and improve your buoyancy control and other diving skills? Our free report "Increase Your Bottom Time" along with our practical, weekly actionable tips will have you looking like a seasoned diver in no time. So come join us and see improvement on your very next dive!
(Click on the photo to join us now!)
---
---