Scuba Diving Mexico:
Some of the Best Diving Anywhere - Review, Dive Trip Reports and Guide to Scuba Diving in Cozumel and Riviera Maya, Mexico
Scuba diving Mexico - If you want some great diving along with reasonable prices and local culture, you should give it a try.
Mexico's Yucatan Peninsula, bordered by the Caribbean Sea, and home to Cozumel and the Riviera Maya offers some of the best diving anywhere.
We have been on several scuba dive vacations to Mexico and we plan on many more.
The diving is excellent, the prices reasonable and the abundance of local culture will keep you occupied topside. What more can you ask for?
We have lots of information on scuba diving in Mexico. On our pages listed below you should find everything you need to start planning your own dive vacation. Our guides have information on location, weather, water temperatures, hotels, flights, dive sites and much more.
So let's get started (to get an overview of the country first, you may want to take a look at our page of maps of Mexico).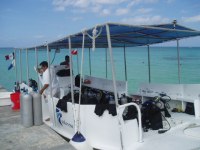 This is it, Mexico scuba diving at its best.
Cozumel is consistently rated one of the top dive destinations in the world and rightly so.
This is a good place to start if you are planning on scuba diving in Mexico. You'll find all the basic information you need here - geography, location, weather, water temperatures, boat ride info and much, much more.
So if you want to scuba dive in Cozumel just click on the link above and get started. We also have Cozumel maps to help you with your trip planning.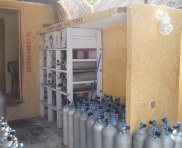 There are so many dive sites to choose from in Cozumel, it's hard to know where to start. Not a bad problem to have, is it?
We've listed some of the top Cozumel dive sites you may see while on your own vacation scuba diving Mexico. These are some of the sites we've enjoyed the most. So skip over to our page on Cozumel dive sites (link above) and start thinking about your next dive trip.
We've taken several scuba dive vacations to Mexico. You can read about our trip scuba diving in Cozumel, Mexico in this dive trip report.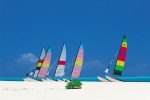 It was our first time back since Hurricane Wilma hit so we didn't know what to expect. Not to worry, it still stays on our list of the best place to scuba.
(How would you answer the question "Where is the best place to scuba?" Where can't you wait to get back to? Why don't you share with us so we can live through you? Also read about the best scuba locations as voted by other readers - found after our list at the above link.)
Scuba diving in Cozumel, Mexico is all about drift diving. If you have never done a drift dive before, I explain what to expect and how a drift dive works.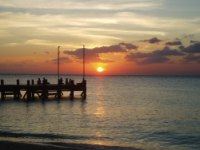 It may sound intimidating at first, but you'll soon get the hang of it. I also talk about our experiences during one of our Cozumel scuba diving vacations.
So if you are ready for some scuba diving Mexico, you'll be prepared to do some drift diving in Cozumel. Of course, as I talk about in the next page listed, the current in Cozumel was nothing compared to what we experienced while we were diving in the Riviera Maya, Mexico. It was different and unexpected.
Scuba diving Mexico is a blast.
And scuba diving Mexico off the Riviera Maya is a FAST blast.
The currents we experienced here during our last scuba dive vacation in Mexico were much stronger than anything we had experienced while drift diving in Cozumel.
Read all about our last dive trip scuba diving in the Riviera Maya, Mexico. You can also check out our Riviera Maya maps and our page on Riviera Maya resorts to help you plan your trip.
We hope this information will help you plan your trip if you plan on doing some scuba diving Mexico. We don't think you will regret it.
Books About Mexico
Here are some books you might also want to check out for your trip. One book I highly recommend is The People's Guide to Mexico. It isn't your typical travel guidebook - I had tears running down my face I was laughing so hard in places. Even if you don't travel to Mexico, it's a great armchair read. Let me know if you enjoy it as much as I did.
---
---
 Want to stay down longer and improve your buoyancy control and other diving skills? Our free report "Increase Your Bottom Time" along with our practical, weekly actionable tips will have you looking like a seasoned diver in no time. So come join us and see improvement on your very next dive!
(Click on the photo to join us now!)
---
---