Scuba Diving Clip Art, Cartoons
Pictures and More!
If you like looking at scuba diving clip art and/or pictures, laughing at some dive cartoons or browsing some clipart of palm trees, etc. you've come to the right place.
I know I enjoy browsing through these collections when I'm missing the Caribbean (which is almost always the case) to bring me back to that island state of mind.
Looking at scuba diving clip art and dive pictures or enjoying a cartoon can put you underwater again.
It' a great feeling. I hope you enjoy looking at this collection.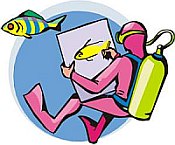 Clip art is a fun way to take a look at scuba diving. It can keep you entertained for a long time. I put together some of my favorite scuba diving clip art pieces for you to take a look at. I have lots more in my collection but I had to stop somewhere! So take at look at my scuba clipart page. I hope it puts a smile on your face.
We have cartoons made for us by the renowned cartoonist Jerry King. If you want a little laugh to brighten up your day, take a look at this page. I absolutely love his work. I hope you do to. Enjoy!

If you liked the scuba diving clip art, hopefully you will enjoy this page. Palm trees always remind me of that beautiful Caribbean beach and turquoise blue water that is waiting for us. In my opinion, clipart of palm trees just goes naturally with scuba diving since the vast majority of my diving has been done in waters fringed by palm trees. It doesn't get much better than that.


Tired of looking at that boring background on your computer? Here are some free scuba diving wallpapers for your computer. There are some great shots here, my two favorites are ones of the scuba diver with a manta ray. Unbelievable! So make looking at that computer more enjoyable with these free scuba diving wallpapers.

---
I hope you had fun browsing through this collection and our scuba diving clip art. Island fever is here!
Here's to smiling faces!
---
---
 Want to stay down longer and improve your buoyancy control and other diving skills? Our free report "Increase Your Bottom Time" along with our practical, weekly actionable tips will have you looking like a seasoned diver in no time. So come join us and see improvement on your very next dive!
(Click on the photo to join us now!)
---
---