Scuba BCD:
A Buyer's Guide - Plus Our Picks For Best Buoyancy Compensators at Different Price Points
After your scuba regulator, a scuba BCD will probably be your biggest investment in a piece of scuba gear.
And not an unimportant one.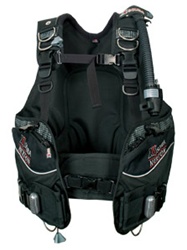 After all, BC's let us stay neutrally buoyant and enjoy a nice, comfortable dive. And that's what we all strive for, isn't it?
So how do you choose the right buoyancy compensator for you?
We put together this buyer's guide to help make that purchase easier. We cover all the basics of a bcd, the different types of bcd's available and the different parts of a bcd. We also give you our picks for the best bcd at different price points and care and maintenance tips so you can take care of your investment.
The BCD is your home port - it is what all your other dive gear is attached to one way or another. So you want one that is comfortable and easy for you to use and access its' features.
We get asked alot what we think is the best scuba BC to buy. As I say throughout our buyer's guide, it has alot to do with personal preference.
Nevertheless in order to try and answer this often asked question, we are going to give you our recommendations after reading countless reviews and descriptions of buoyancy compensators.
We pick the best scuba diving BC's in several categories so it will be easier for you to find one that suits your budget.
We also give you our picks for best BCD for women and best traval BC.
It all starts here. Just what is a BC anyway - and what the heck does it stand for? We also explain the major types of dive bcds to choose from and which one is right for your type of diving.
Understanding all the different parts of buoyancy compensators is a big step in finding the right scuba dive bcd for you. It's not rocket science but there are quite a few parts. We explain them here.
You know the basics and now you are looking to buy a scuba BCD. Just what do you look for before making that purchase? We describe the features to consider before putting your hard earned money down.
You've made the investment and purchased a BCD. Now what steps do you need to follow to protect that investment? Follow these BC care and maintenance types and your BC should last for many years to come.
So there it is. Our buyer's guide to getting the right scuba BCD for you. We hope this information will make your purchase a bit easier. And we especially hope you have a nice, comfortable dive in your new buoyancy compensator.
Have a great dive!
Looking for more scuba diving equipment? Check out all our picks for best scuba diving gear here.
---
---
 Want to stay down longer and improve your buoyancy control and other diving skills? Our free report "Increase Your Bottom Time" along with our practical, weekly actionable tips will have you looking like a seasoned diver in no time. So come join us and see improvement on your very next dive!
(Click on the photo to join us now!)
---
---