Scuba Diving Wetsuits:
A Buyers Guide - Plus Our Picks For Best Dive Wetsuits At Different Price Points
Scuba diving wetsuits can help make your dive more enjoyable. Who wants to be shivering underwater? Here's a complete wetsuit buyers guide to ensure you get the best wetsuit for you.
We also give you our picks for best dive wetsuits in different price categories. Most divers wear a wetsuit and the choices out there can be overwhelming. 
We try and narrow down your search a little by giving you our list of best rated and reviewed scuba wetsuits in both high end and budget level categories.
So whatever your budget may be, hopefully you can find a wetsuit that fits your needs and your wallet.
Buyers Guide
This portion of the guide lists all the major things you should consider when purchasing a scuba diving wetsuit. Among other things, you will find a discussion on styles and the quality of construction of a suit. It's a great start to boning up on all you need to know before making the plunge and investment in this piece of scuba gear.
How to Put It On 
It may seem obvious, but there is a certain art to putting on scuba diving wetsuits. Especially if you don't want to put a hole through the material! This page will give you step by step instructions on how to put on a wetsuit correctly. You'll look like a pro on the boat.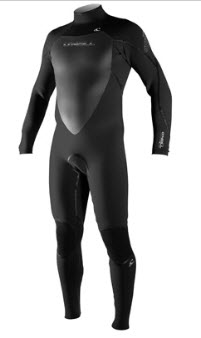 It's bound to happen sooner or later - you get a rip in your suit. There may be no need to get a new suit if you can repair that tear. Fixing rips and tears in scuba diving wetsuits isn't rocket science. Actually, it is pretty easy especially with the help of this guide.
Wet Suit Care
Wetsuits can be a pricey investment, up to $800+ for some custom made suits. So you will want to protect your investment and make sure your suit lasts for many dives to come. Proper wet suit care can prolong the life of your suit. It is pretty easy and straightforward so it's no big deal.
Material Guide
So what is that material keeping you warm underwater? Good 'ol neoprene. Here's a discussion on what neoprene is and the different types and qualities of neoprene you may find in scuba diving wetsuits.
Guide to Sizes and Fit
A wetsuit isn't going to do you much good if it doesn't fit properly. Of course, the first time you try on a wetsuit you will probably think it doesn't fit. But it probably does. This portion of the guide will give you all the information you need to find the right wetsuit size for you.
Wetsuit Thickness Guide
You want to keep warm during your dive but yet you don't want to roast. Which wetsuit thickness is the right one for you? This page will let you know what thickness will be best for the type of diving you do.
Childrens Wetsuits Guide
Tips on choosing and buying the right kids wetsuit. What to look for in a childs wetsuit to make sure your child stays warm and comfortable. All without breaking the bank.
---
Our Picks For Best Scuba Diving Wetsuits
---
Best 3mm Wetsuits: High End or Top End
Our picks for the best wetsuits in the $200-$400 range. If you can afford it - why not?
Best 3mm Wetsuits: Mid-range or inexpensive
If you have a little lower budget, you can still get a nice wetsuit. See our picks for the best 3mm wetsuit in the $100-$200 range.
Cheap/Discount Suits for Men
We found some inexpensive wetsuits for men that will not break the bank - all under $100. Check them out here.
Cheap/Discount Suits for Women
We also searched for inexpensive wetsuits for women - all under $100. See what we found here.
---
Hopefully this guide to scuba diving wetsuits has helped make choosing the right one for you a bit easier. After all, it's great to have a wetsuit since it can help make your dive more enjoyable.
If you are looking to buy a wetsuit, we have many different types of wetsuits available in our Gear Store.
Looking to buy other scuba diving equipment? Check out our picks for best dive gear here.
---
---
 Want to stay down longer and improve your buoyancy control and other diving skills? Our free report "Increase Your Bottom Time" along with our practical, weekly actionable tips will have you looking like a seasoned diver in no time. So come join us and see improvement on your very next dive!
(Click on the photo to join us now!)
---
---