How to Buy a Wetsuit: 
Tips on Getting The Best Wetsuit For You
How to buy a wetsuit? It can be a bit confusing with all the styles, thicknesses and qualities to choose from.
Not to mention price ranges.
But buying a wetsuit can only mean good things. You are going underwater soon - hopefully for a dive vacation!
At least I try and think of it this way to make the process of figuring out how to buy a wetsuit less painful.
Let's admit it, trying on a wet suit in a store is not the most pleasant thing to do. It's on par with trying on bathing suits under fluorescent lights (for all the females out there).
Anyway, let's get started on how to buy a wetsuit.
When you are buying a wetsuit here are the items you should look for:
Take a look at our wetsuit buyers guide for a complete list of all of the pages and information we have on wetsuits.
Thickness
The thickness is probably the most important factor that will determine your comfort underwater.
Choose the thickness based on the type of water and diving you will be doing. For the Caribbean, a 3mm should be sufficient for most people. Take a look at my page on wetsuit thickness for more detail and to read about the levels of thickness available and what might be best for you.
Style
There are several choices to make here. Do you want a full wet suit or a shortie (has short arms (usually) and legs that end just above the knee)?
Do you want a farmer john or jane (a two piece suit - one piece has long legs with a sleeveless top; it is usually worn with a covering jacket)? Do you need a hood?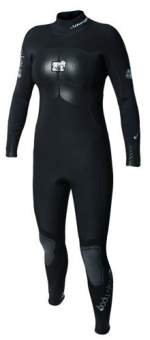 A shortie is for warm water diving and is what I wear when I need more than a skin (mine is 2mm). It does leave your arms and legs exposed to the water so you have to decide if it will be warm enough for you.
Of course, if the water is warm enough, you won't need to know how to buy a wetsuit since you won't need one!
A full scuba diving wet suit is probably the most common/popular and is what I see the most while diving in the Caribbean. This style is one piece and has long arms and legs.
Buying a wetsuit hood is not necessary (for most people) for diving in warm water. It is more for cold water diving.
However, it is all up to you and how cold you get while diving. If you still get cold while diving in tropical water, a hood might be just the thing to keep you warm.
Let's continue with more tips on how to buy a wetsuit:
Quality of Construction
This will determine how long that scuba diving wet suit will last. Most importantly, you need to check the seams of the wet suit.
The cheapest and least strong is a glued stitch. It will sometimes have a piece of glued tape over the seams which will help with comfort. While it is adequate, it will probably give out the quickest of all the seams.
Another of the basic stitches found mostly in "bargain" and "cheap" wet suits is the over-lock stitch which joins the neoprene a the seam by stitching the edges together.
The ridge is on the inside of the suit which can become uncomfortable. If this seam is stretched to its limit the seam may open up and let in some water.
At the other extreme of construction quality, is the blind stitch. Here the material is first glued and then stitched on one side. However, the stitch doesn't pierce the material which would give an entry point for water.
The same stitch is then done on the reverse side and interlocks with the first stitch. This gives the strongest seam. Of course, as you would guess, this type of construction is found on the more expensive scuba diving wet suit.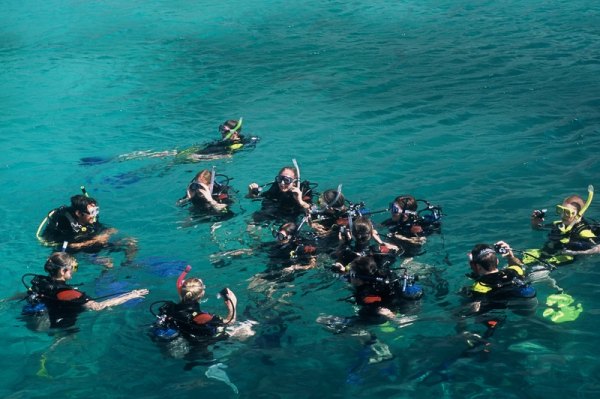 In between is the flatlock stitching which you will find in many warm water wet suits (mine included). The two pieces of neoprene overlap and are joined together. Unlike the over-lock stitch, the seam lays flat making it more comfortable for the diver.
While water can sometimes seep through these seams when stretched, it will be much less than with an over-lock stitch. Taped seams, with any of these stitches, helps prevent water leaking through the seams.
It also helps the comfort factor, making the scuba diving wet suit more comfortable against the skin. How to buy a wetsuit continues:
Fit
Obviously another important factor when buying a wetsuit. If it is too loose and water runs freely through your suit, you will be cold. Read my tips for finding the proper size and fit here. 
Neoprene
The type of neoprene your scuba diving wet suit is made of affects the quality of the suit and, of course the price. You can read more about neoprene on my page about wetsuit material.
The highest quality neoprene is gas blown and made with thousands of little bubbles of nitrogen gas. While it will compress and eventually wear out like all neoprene, it is the most durable type of neoprene. A chemical blown wetsuit feels softer but will not be as durable.
---
So there, you have, my advice for how to buy a wetsuit. Hopefully it will make your purchase easier.
For more information, check out our free Complete Guide to Scuba Diving Wetsuits. 
You might also want to check out our pages on best high end 3mm wetsuits and best 3mm mid-range wetsuits. 
---
---
 Want to stay down longer and improve your buoyancy control and other diving skills? Our free report "Increase Your Bottom Time" along with our practical, weekly actionable tips will have you looking like a seasoned diver in no time. So come join us and see improvement on your very next dive!
(Click on the photo to join us now!)
---
---