Wet Suit Material:
What is That Keeping You Warm?
What is that wet suit material that is keeping you warm? You are at the right place to find out.
Scuba diving wetsuits are made of neoprene which is a synthetic rubber foam. The neoprene has thousands of tiny bubbles for insulation. The material is then typically laminated with a nylon based material. Once this elastic fabric dries, the neoprene becomes pliable and flexible.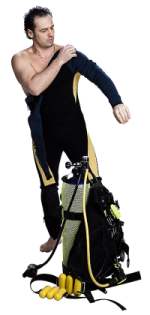 The type of neoprene your scuba diving wet suit is made of affects the quality of the suit and, of course the price.
The highest quality neoprene is gas blown and made with thousands of little bubbles of nitrogen gas. While it will compress and eventually wear out like all neoprene, it is the most durable type of neoprene. A chemical blown wetsuit feels softer but will not be as durable.
A wetsuit works by trapping a thin layer of water between the skin and the neoprene material. The body heat from the diver warms the water and thus keeps the scuba diver warm.
You can also now buy scuba diving wetsuits made with Titanium lining. This addition to the typical wet suit material is put in place between the neoprene and the interior nylon lining. Alternatively, the titanium is woven in among the the threads of the wetsuit.
The titanium reflects heat back to the diver, giving it better thermal qualities. It is said to be about 20%+ more efficient than normal neoprene. We personally haven't tried a titanium suit yet, but I have read many positive reviews. Of course, you guessed it - it is more expensive than the normal scuba diving wetsuits.
You now see wetsuits in all colors and designs. Pick your favorite - it'll make you easier to spot underwater (like my husband's pink mask and orange fins). It sure has come a long way from the basic black.
If you need more information on wetsuits, we have lots of pages to help you out. Just click on the section where you want more info.
Scuba Diving Wetsuits Introduction //How to Buy a Wetsuit //How to Put on a Scuba Diving Wetsuit //Scuba Diving Wetsuit Repair Guide //Wetsuit Care //Guide to Wetsuit Sizes and Fit //Wetsuit Thickness Guide //Best 3mm Wetsuits - High End or Top End//Best 3mm Wetsuits - Mid-range or inexpensive//Cheap Wetsuits - Men//Cheap Wetsuits - Women//Kids Wetsuits
Thanks for looking and enjoy that wetsuit!
---
---
 Want to stay down longer and improve your buoyancy control and other diving skills? Our free report "Increase Your Bottom Time" along with our practical, weekly actionable tips will have you looking like a seasoned diver in no time. So come join us and see improvement on your very next dive!
(Click on the photo to join us now!)
---
---