Best 3MM Wetsuits:
Top Rated and Reviewed Scuba Diving Wetsuits -
High End or Top End Categories ($200-$400)

Looking to buy one of the best 3mm wetsuits out there? As you know if you've done any research, there are a ton of scuba diving wetsuits to choose from.
To give you some guidance, we give you our pick of the best divesuits in the high end or top end category that should keep you warm for many dives to come.
Of course, everyone is different and which of the top rated wetsuits is best for you depends on your budget and what you want in a suit.
We have divided our picks into the following categories based on price:
Top end or high end ($200-$400; this page)
Here we present our picks for the top end category.
Since we do not have the resources to use all these 3mm wetsuits ourselves, we went to the next best source - users.
To make our list they had to have overwhelmingly positive reviews from users. We believe that if the vast majority of buyers give the wetsuit a high rating, chances are that it will work for you too.
We spent many hours combing through websites and reviews to pick the ones we believe will be worth your hard earned money.
The links will open in a new window to our partner's website. From there, you can read more of the detailed reviews and features and see if that wetsuit will fit your needs.
(Disclosure: Many of these links are affiliate links that will earn us a small commission if you purchase through them. If you do, we absolutely appreciate it and thank you. Please note that it will not cost you anything extra to purchase through us. We only recommend companies we have dealt with and are confident in their ability to provide great products and service. If you like what you find on this site and do purchase through us, we say a heartfelt "Thanks!")
Please let us know how you like your new 3mm wetsuit if you purchase one - we and your fellow divers would love to hear your experience.
We aim to update this page every 6-12 months to make sure we stay current with any new 3mm wetsuits coming out. 
(If you need more information on wetsuit features and what to look for in a wetsuit, check out our free buyers guide to dive wetsuits.)
---
Best 3mm Wetsuits
High End or Top End - $200-$400
---
Choice #1:
We have a new winner for best 3mm wetsuits this year with this Bare model getting rave reviews from all users. It earned a stellar 4.8 out of 5.0. Can't get much better than that!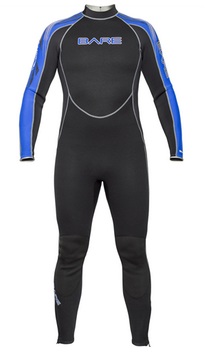 This suit receives glowing reviews for its comfort and fit. To achieve that the company uses what they call progressive stretch  where they put full stretch panels of varying degrees in specific areas to improve comfort and fit.
In addition, they use different fabrics in various panels for an even more comfortable fit. Reading what people have to say about it, it appears to be working.
Of course this suit has flat seams for extra strength and uses seamless underarm construction.
It also features back and ankle zippers, an adjustable collar and rolled wrist and ankle seals.

All in all, this new entrant is a winner and appears to be poised to stay at the top for some time to come.
The pros and cons of this Bare suit are:
Pros:
Great fit
Very comfortable, nice stretch
Easy to get on/off
Flexible
Excellent workmanship
Durable
Large range of sizes
Cons:
Awkward to put on (1 reviewer)
A little long in the arms (1 reviewer)

---
Choice #2:
Our second pick for 3mm wetsuits was knocked out of first place this year but it is still a solid choice. Our second pick goes to a Henderson model. I guess it is not that much of a surprise since Henderson is such a big player in this field.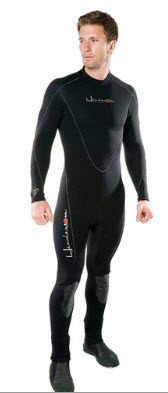 This suit is made from Thermoprene which is a neoprene but it has 75% more stretch than your average wetsuit material. This makes it much more comfortable to wear than those suits that have little to no stretch.
An you know how much fun those wetsuits are to put on.
This material appears to deliver as the vast majority of reviews stated how comfortable this suit was. The seams on this suit are glued and blind-stitched making for a higher quality suit.
This suit has a back zipper and an adjustable collar.
All in all, this is a nice solid suit which should help you stay comfortable during your dive.
Pros:
Comfortable - all reviews cited how comfortable the suit was
Easy On/Off - almost all wearers said it had good stretch and a breeze to put on and off - even when wet
Good quality - product felt well made and felt it would last
Good fit - most wearers said it felt true to size
Cons:
One reviewer felt it was hard to put on/off

One reviewer said it ran a little large (contrary to the majority of users)
---
Choice #3:
Our next pick is a Waterproof wetsuit. I have cheated a little bit here as this is actually a 3.5mm wetsuit and not a 3mil. I thought it was close enough that it shouldn't make a huge difference.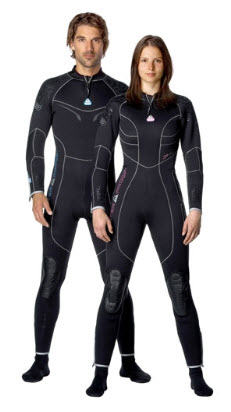 This is a nice higher end suit with lots of good features.
This suit is actually gender specific for a better fit (you can see the women's model here  - although it is not as highly rated as the men's model. Go figure).
Another feature of this suit is that the arms and legs are pre-bent so it is easier to move your limbs.
Seams on this suit are double stitched.
The Waterproof model also has zippers at the neck, wrist and ankles for an easier and more comfortable fit.
The main zipper is down the back but there is a ahort front neck zipper to give you some freedom, especially when waiting on the surface. I think that is a great touch and very functional. There is an extra seal at these points to keep the water at bay.
The company has also put some rubber cutouts on the shoulders and around the wrist which give traction and help your BC and dive watch stay in place. I can see that being useful feature.
A nice, well made suit with some extra touches
Pros:
Comfortable - cited by all reviews I read

Excellent Workmanship - high quality cited

Zippers at neck, wrists and ankles - very functional

Pre-bent arms and legs - added comfort

Gender specific styling for better fit

Cons:
---
Choice #4:
Our last pick of the best 3mm wetsuits is from yet another manufacturer - O'Neill. This pick is a full wetsuit and it is actually a 3/2 rather than a straight 3mm.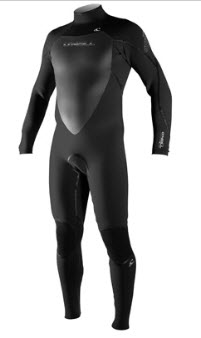 If you are not familiar with this term, a 3/2 wetsuit means it is made of 2 different densities of neoprene - 3mm and 2mm. The 3mm, thicker portion usually covers the body and legs and the 2mm portion usually covers the arms and sometimes the crotch area.
This configuration allows the body to retain heat from the core area and yet give some more flexibility in other areas. It is a popular style with surfers as well as divers.
Seams on this suit are glued and blindstitched which is what you are looking for in a high quality wetsuit (see the link above to our free guide for a more detailed explanation).
This suit made from a stretchy neoprene (technically the Ultraflex DS Neoprene) so it is easier to get on and off and offers more comfort underwater. It is said to have about 30% more stretch than typical neoprene.
This suit was also made with less seams so it increases flexibility.

A quirky little feature on this suit is an external key pocket located along the lower leg inseam. It also features and "exclusive urethane coated webbing taht reduces water entry."
The pros and cons of this pick for best 3mm wetsuits are:


Pros:
Comfort - the flexible neoprene gives it a leg up on comfort

Easy on/off - great mobility

Warm - taped seams and openings kept water from going in/out

Well constructed

Heavy duty zipper and watertight
Cons:
One reviewer said zipper needed breaking in to work easily
When not in use, velcro on the neck clasp sticks to the fleece lining, making it tear
A couple of reviewers said it was not easy to get on/off
Read all about the O'Neill model here.
---
We hope these picks for best 3mm wetsuits will help make your shopping a little easier.
Please let us know how you like your new suit (whatever it may be) - we would all love to hear your experience.
Have a good and warm dive!
For more information (including more pick of 3mm wetsuits in different price categories), check out our other pages on wetsuits:
Wetsuit Introduction //How to Buy a Wetsuit //How to Put on a Wetsuit //Repair Guide //Wetsuit Care //Material Guide //Thickness Guide //Best 3mm - Mid-range or inexpensive//Inexpensive Wetsuits - Men//Inexpensive Wetsuits - Women
---
---
 Want to stay down longer and improve your buoyancy control and other diving skills? Our free report "Increase Your Bottom Time" along with our practical, weekly actionable tips will have you looking like a seasoned diver in no time. So come join us and see improvement on your very next dive!
(Click on the photo to join us now!)
---
---