Best 3MM Wetsuit:

Top Rated and Reviewed Scuba Diving Wetsuits
Mid-range or Inexpensive Categories ($100-$200)

Finding the best 3mm wetsuit that doesn't break your bank can be daunting with all the choices out there.
We have done alot of the legwork for you to help you sort through all the choices. We give you our pick of the best wetsuits in the mid-range or inexpensive category.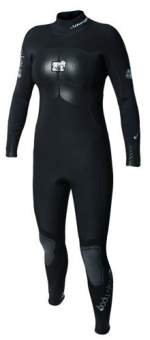 As we did our research, we found a nice selection of 3mm wetsuits that won't break the bank. You can keep warm while you dive and still have money left for some refreshments after that dive!
To make our list of best wetsuits, these suits must have a significant number of reviews from users. And those reviews must be strongly positive.
Since we can't test all the wetsuits ourselves, we believe that if there are a good number of users that have tried the suit and the strong consensus is for a thumbs up, chances are that the suit will work for you also.
To this end, we spent many hours combing through websites and reviews to pick the ones we believe will be worth your hard earned money.
We provide links for all our picks that will open in a new window to our partner's website. From there, you can read more of the detailed reviews and features and see if that wetsuit will fit your needs.

Please let us know how you like your new 3mm wetsuit if you purchase one - we and your fellow divers would love to hear your experience.
(You can also check out our picks for best top end or high end wetsuits here.)
If you need more information on wetsuit features and what to look for in a wetsuit, check out our free buyers guide to scuba diving wetsuits.)
---
Best 3mm Wetsuits
Mid-range or Inexpensive - $100-$200
---
Choice #1:

Our pick for the best mid-range men's full 3mm wetsuit goes to a Pinnacle suit. Pinnacle has many wetsuits that garner top grades from users and this category is no exception.

This top rated 3mm wetsuit features titanium lined construction which is unusual at this price point. This construction lends itself to easy on and off and easy movements.
Many reviewers noted the suits durability. It features flat-lock stitching and a zipper made of marine grade brass so it will last in the salt water environment.
This is a great wetsuit for warm water diving.
Pros:
Comfortable/Good fit
Easy on/off either wet or dry
Good value
Durable (almost all reviewers)
Keeps you warm
Dries quickly
Cons:
Can't zip up by yourself (1 reviewer)
Not durable - damaged by rocks and barnacles (1 reviewer)
---
Choice #2:
Our next choice for best budget wetsuit is an Akona model.
This suit has many satisfied wearers. It is another full wetsuit and this suit features glued and blind stitched seams. It also has a brass zipper to withstand the effects of salt water.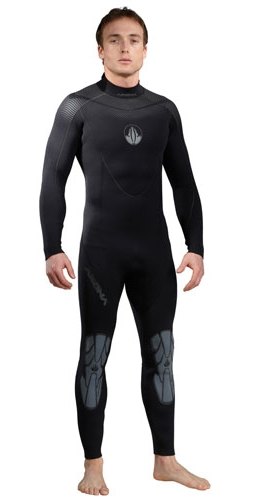 Akona has a unique zipper design that has 2 rubber strips to seal the opening and keep the water out. Knee pads are flexible unlike some wetsuits.
Another feature which I thought was pretty nice is the "grab shoulders." The material on the shoulders is designed to grip your BC so it doesn't shift around. An added benefit is that this material also prevents excessive stretching when it is on a hanger. If you have ever had the pointy shoulders like I have, you can appreciate this feature.
This suit is available in 9 sizes so you should be able to get a very good fit.

Pros:
Sturdy/well made

 

Excellent fit

 

Dries quickly
Grip on shoulders keeps BC in place

 

Sleek design

 

Warm
Cons:
·

Zipper catches (2 reviewers)

 

Bit too hot on land (1 review)
---
Choice #3:
Our next choice is a shorty style 3 mm suit in case you don't want to wear a full wetsuit. This suit is made by the well known firm of Henderson.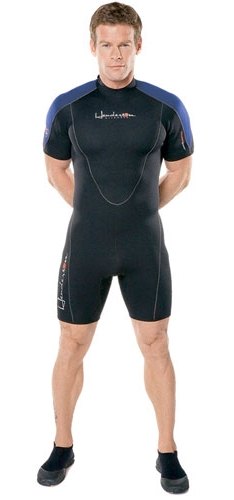 This wetsuit is made from Thermoprene which is a type of neoprene that has 75% more stretch than the standard wetsuit material (according to the company). I know that reading reviews, users do rave about how flexible and comfortable this suit is.
The seams are glued and blind-stiched and the collar is adjustable. This suit comes in a choice of colors.
Pros:
Very comfortable

 

Flexible and stretchy/great fit
Easy on/off
Well made, quality construction

 

Seals well
Cons:
Tight arms (1 reviewer)
Zipper seam bunches up (1 reviewer)
---
We hope these picks for best 3mm wetsuits will help make your shopping a little easier. Please let us know how you like your new suit (whatever it may be) - we would all love to hear your experience.
Have a good and warm dive!
Check here for all of our picks for best scuba diving gear.
---
---
 Want to stay down longer and improve your buoyancy control and other diving skills? Our free report "Increase Your Bottom Time" along with our practical, weekly actionable tips will have you looking like a seasoned diver in no time. So come join us and see improvement on your very next dive!
(Click on the photo to join us now!)
---
---