A Guide to Scuba Diving Jobs 
Scuba diving jobs can seem like a dream come true. After all, you are now getting paid for something that you used to pay to do.
But how do you get one of these jobs? And what types of dive jobs are available and how much will you get paid? What are the disadvantages of working in this industry? 
This guide will attempt to answer those questions, and more, about starting that dive career. We hope we help you land the job of your dreams.
Recreational Dive Jobs
This page discusses some of the more popular recreational divng jobs. You will find information on dive jobs on liveaboards, cruise ships and other scuba job opportunities. We also begin our discussion on jobs in the retail and resort industries (we have more information on these segments below.) This is a good place to start your research on scuba diving employment in the recreational sector.
Resort Jobs
This page gives you the lowdown on resort dive jobs. You will find information on things to consider before accepting employment, what to expect in the job, whether you should take a course or not to increase your chances of landing a job and what type of salary you can expect. Read this page for more information on scuba dive job opportunities in the resort industry.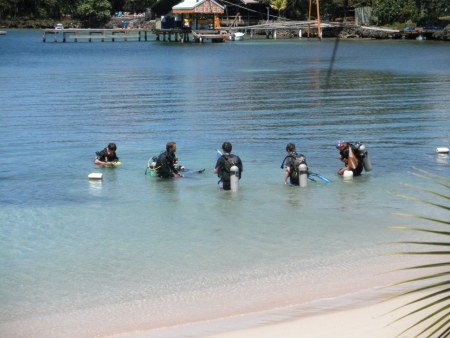 Teaching a scuba diving class in West End, Roatan, Honduras

Retail Jobs
This is probably the most common beginning of a career in scuba. Even if it is just the first step to another job you want in the industry, what are the advantages and disadvantages of working in the retail dive industry? And, perhaps most importantly, what type of salary will you receive? So start here for information on retail scuba diving jobs.
Commercial Diving Jobs
Ready to get into some heavy duty diving? How about a commercial diving job? There are alot of choices among commercial diver jobs and the pay can be extremely lucrative. Check out your options as a commercial diver and see what type of salary you can expect.
Resources For Finding A Dive Job
No matter what type of dive job you are interested in, this page is for you. Here we discuss the best way to get a dive job, whether you should use school as a path to get in the industry and, definitely most importantly, a list of resources for diving jobs. The pickins' of online resources are slim but we give you the best of what we found. So take a look here for scuba diving employment resources.


Hopefully this guide will help you land the scuba diving jobs you want. It can be a great way to earn money while doing something you love. That's not something alot of people can claim. So good luck with your job search and have fun.
Happy dive job hunting!
---
---
 Want to stay down longer and improve your buoyancy control and other diving skills? Our free report "Increase Your Bottom Time" along with our practical, weekly actionable tips will have you looking like a seasoned diver in no time. So come join us and see improvement on your very next dive!
(Click on the photo to join us now!)
---
---