Scuba Dive Job Opportunities at Resorts
There are many scuba dive job opportunities in resorts. Going this route (working in a resort that offers scuba diving) is a popular avenue to a scuba diving job. With resorts popping up all over warm water destinations, there is plenty of opportunity out there.
An instructor at a resort is probably the most popular scuba job at a resort. However, just like in a retail dive shop, an instructor typically does more than just lead dives or teach classes. Other tasks that a dive instructor may have to fulfill is working the retail shop, filling tanks, handing out gear, loading gear, rinsing gear, captaining a boat, repairing/maintaining scuba equipment, etc. What responsibilities a dive instructor may have of course depends on the particular operation you work for.
For instance, one shop may have the captain of the boat (or repair technician, tank handler, etc.) as a separate scuba job, while another shop may require the divemaster to captain the boat.
I have seen both. It really depends on the size, complexity and profits of the dive shop. The bigger the dive shop, the more jobs available. This could mean you may not have to have all the skills that may be required in a smaller operation. People holding scuba dive jobs in smaller operations are usually more of a jack of all trades.
It goes without saying that the more skills you can offer a potential employer, the better you will land one of those scuba dive job opportunities. For instance, while you need a license to operate a dive boat in the US, sometimes the regulations are not as strict in foreign countries. Thus your summers spent out on the lake taking the boat fishing can give you an advantage in obtaining a scuba dive job. If you are handy, give examples of the things are able to do or things you have fixed.
The majority of the time of a scuba dive instructor will usually be taken up by teaching classes and leading dives. Most resorts offer the full gamut of dive classes so an instructor may be teaching open water classes, advanced dive classes, specialty dive classes and the like.
A popular option for guests is the scuba diving resort course. These are typically offered everyday at resorts (at least during the high season) so alot of time may be spent teaching these beginners. Whether this appeals to you, of course, is a personal choice but one aspect of the job to be aware of.


Resort Scuba Dive Job Opportunities:
Things to Consider
When you are working at a resort, housing and meals may be provided. Again, it differs from operation to operation. If your room and board are included, you can expect to receive less in salary.

Another aspect to consider when looking at scuba dive job opportunities at a resort is your marital status. Some resorts may give preference to singles while others may not be able to accommodate a spouse or significant other. Something to consider before you get too far in the process.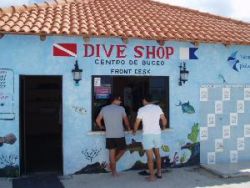 A work permit is usually required to work in a foreign country. Your employer will be your sponsor to allow you to work in the country. A permit, of course, costs money. So you need to clarify who will be paying for the work permit - you or your employer. And any necessary extensions. In some resorts, the worker will pay the fees initially and then be reimbursed by the employer on a monthly basis.
The time it takes to get a permit varies by country. In some countries it only requires a matter of days before you can get your permit, while in other countries it may take weeks before you can start working. A valid passport will also be required.
You should also be aware that many resorts hire out dive operations. That is, the dive shop at the resort you work at is a separate entity than the resort. It may be an extension of a dive operator in town. Thus you are working directly for that dive shop and not the resort. This is the reason why many times you can not charge your dives to your room at the resort. So don't go looking for that discount if you stay at the same resort chain in another location.

Resort Scuba Dive Job Opportunities:
Take a Course or Not?
It is also possible to take an extensive training course in diving business and operations.  Currently, Hall's Diving Center operates a Professional Store and Resort Instructor Training Program which may help you get a leg up on the competition.
PADI has also gotten in on the action and now offers a Resort Operations Specialty. It is usually offered  to complement the curriculum and practical workshops of PADI Divemaster and Instructor Development courses. The Resort Operations course is designed to give practical experience and formal training in the marina and resort operations of a dive resort.
While you don't need these specialties to obtain a job in the industry but it sure can't hurt!
Scuba Dive Job Opportunities: Salary
Salaries for a scuba diving resort job will vary depending on the resort, responsibilities, location, etc. However, no matter where you go, tips can comprise a significant portion of an employee's salary at a resort.
How the tips are handled varies by resort. Some resorts pool their tips and split it among the staff. Others allow individual employees to keep the tips to themselves. Tips can sometimes equal or exceed the base salary of the worker. So good customer relation skills are an essential part of these dive jobs. It appears that an "average" starting salary in the dive resort industry is in the mid to high teens, say $14-$18,000.

For instructors, potential salaries with no experience can be in the $18,000-$22,000 range. Instructors with a resort operation type degree can expect a salary increase of $2,000 to $3,000. In addition, management positions starting salaries are in the $25,000 and up range.
I've seen some scuba training schools quote a somewhat lower range of starting salaries to expect (i.e., $15-$18,000 for new instructor and $18-$24,000 for management to start). Whatever the exact number is, these figures are a good general guide to start with.
So good luck and find some great scuba dive job opportunities that are perfect for you.
For more information, check our other pages on scuba dive job opportunities:
Scuba Diving Jobs Introduction //Scuba Diving Employment: Recreational Dive Jobs //Retail Scuba Dive Jobs //Scuba Diving Employment Resources //Commercial Diving Jobs
---
---
 Want to stay down longer and improve your buoyancy control and other diving skills? Our free report "Increase Your Bottom Time" along with our practical, weekly actionable tips will have you looking like a seasoned diver in no time. So come join us and see improvement on your very next dive!
(Click on the photo to join us now!)
---
---