Bonaire Scuba Diving:
Dive Trip Review - Plus Information on Weather, Water Temperatures, Flights to Bonaire, Hotels And More
We finally did a Bonaire scuba diving trip. My only regret was that we didn't do it sooner. We will definitely be going back.
It certainly met all expectations and lives up to its reputation as one of the top dive destinations in the Caribbean.
There is nothing like the freedom that Bonaire scuba diving offers. Just load up your truck, pick a dive site and go. It is shore diving heaven.
No waiting for the boat to leave, everything to make it onto the boat, rigid bottom times, etc.
It's going to make going back to those rigid boat schedules all that much harder!
If you are thinking about doing some Bonaire scuba diving, I say go for it. It was a great experience and I can't imagine you wouldn't enjoy it either. We will definitely be going back.
Below you will find the information you will need to start planning that Bonaire dive trip.
Lay of the Land
When you think of a Caribbean island, you usually think of miles of beautiful white sand beaches and palm trees. This is not Bonaire.
Bonaire is pretty much an arid and scrubby island. You don't come here for the beautiful beaches. For the most part, the shoreline here is rocky and rough.
Aerial view of Bonaire and Kralendijk; Klein Bonaire is right offshore

However, the lack of sand and runoff is what makes Bonaire scuba diving so spectacular. I'll give up the beaches (on one island anyway!) for the diving.
As you drive around the island, you'll see cacti, salt ponds, mostly flat land and other desert like geography.
The island itself is fairly small at 112 square miles. It is 24 miles long and about 7 miles across at its widest point so it is easy to explore during your down time.
Washington-Slagbaii National Park occupies the northern part of the island. You'll find lots of cacti, small hills, divi-divi trees and lots of wildlife - including the famed pink flamingos.
Some of the pink flamingos in Washington-Slagbaii National Par. You usually can't get too close to them or they will fly off.
In the very flat southern part of the island you will find the salt flats and former slave huts. The capital, Kralendijk, is located on the west coast almost midway on the island.
Klein Bonaire is an island located just off the west coast of Bonaire - probably about a half mile or so offshore. It is also arid and scrubby and has no development. If you do some boat diving while you are here, most of the dives will probably be off of Klein Bonaire.
As of 2012, Bonaire only had a little over 16,000 inhabitants making for lots of wide open spaces.
Location
Bonaire is located in the southern Caribbean. Take a look at our page of Bonaire maps to pinpoint its' location.
It is only 50 miles north of Venezuela and about 85 miles from its popular sister island, Aruba (for more info on Aruba, check out our pages on Aruba scuba diving).
Flights to Bonaire

Welcome to Bonaire. This is the welcoming sign at Flamingo International Airport.

Bonaire is served by several airlines. You can find which airlines fly to Bonaire, which have non stop flights, where you can get connections to the island and more on our page on getting to Bonaire.
We also show you which airfare search engine tool we use the most to find cheap flights to Bonaire - and everywhere else we go.
(You might want to check out our #1 tip for cheap airfare to the Caribbean as well as our other tips for cheap airfare to help make your trip more affordable.)
Bonaire Hotels
For such an undeveloped island, you still have a choice of quite a few hotels on Bonaire. You won't find the mega resorts of other Caribbean islands, but that's not what we go to Bonaire for, is it?
Whatever your taste, you are sure to find something that will suit you.
Just like the island itself, Bonaire hotels are largely laid back and casual establishments. Which makes for a nice relaxing break from all that Bonaire scuba diving.
Unlike its sister island, Aruba, you won't find any big all inclusive Bonaire resorts. Accommodations here are generally 1-3 stories high, not the tall towers you will find on other Caribbean islands.
When we went to Bonaire, we stayed at the Sand Dollar Condominium Resort.
As I said in our trip report, while we liked the Sand Dollar, we will probably try out the Buddy Dive Resort during our next trip.
It just had more amenities and seemed liked it would be a more social place to stay.
Not that Sand Dollar was bad, far from it in fact, but it was pretty quiet and there was no social interaction to speak of.
Which hotel on Bonaire you would like the best is, of course, all a matter of personal preference. You can find a small B&B type lodging, a private villa/apartment or you can go the more traditional resort type accommodation - like Buddy Dive.
It's all up to you - and your wallet, of course. 
Loading up to do some scuba diving in Bonaire at Buddy Dive Resort. Notice the divers going down the ladder for a shore dive. We stayed next door at the Sand Dollar condos.

Weather

Bonaire is located a little bit north of the equator so it does not get alot of variation in weather. Perfect for a Bonaire scuba diving vacation.
Temperatures year round average in the 80-82F degree range with only a few degrees difference between summer and winter. (Ah, if we could only say that in the Northeast US!). Temperatures at night usually fall to the mid-70's.
We were there in September and the temps were in the mid-80's or so. The island usually is cooled by tradewinds but when we were there the winds stopped one day and I will say it felt alot hotter. We were glad when the winds came back. Not that they were strong winds, but you could tell a difference.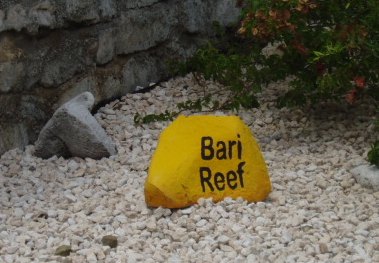 One of the many easily recognizable shore dive site markers on Bonaire.

As I said before, Bonaire is an arid island with an average rainfall of only around 20 inches. Most of the rainfall occurs during October-January though, even then, it is nothing like the rainy season on other Caribbean islands. We had one morning of rain while we were there so it was fine.
Bonaire is located south of the hurricane belt so it is not pummeled like many other Caribbean islands. However, it can get brushed by hurricanes and has been affected in the past. Most recently, Hurricane Felix past just north and the island experienced heavy winds and some flooding (source: hurricanecity.com).
One thing to note - while it is not located in the hurricane belt, you have to pass through the hurricane belt to get there from the U.S.
A fact which we were made well aware of as we there were 2 hurricanes we had to get by to reach Bonaire in September. We were especially sweating our transfer in Puerto Rico since a hurricane was close to the island. Luckily, we were able to reach Bonaire with few delays. Just something to consider when planning your Bonaire scuba diving trip.
Water Temperature and Visibility
Water temperatures are pretty pleasant year round with an average temperature of around 82F. During the winter, temperatures can fall to 78F so you might want to consider a wetsuit for your Bonaire scuba diving trip if you go in the winter.
This Bonaire license plate says it all.

During the summer months, water temperatures can reach a balmy 85F.
We were there in September and the water temperature was a consistent 84-85F degrees. It was heaven.
I don't tend to get cold easily so I wore a diveskin the whole week and was comfortable for the most part. I could have used my 2mm for the 5th dive of the day or the night dives but it still wasn't bad.
Visibility can get to 100+ feet. Unfortunately, we didn't see that kind of visibility during our Bonaire scuba diving trip. Our visibility was more in the 60-80 foot range. Not too bad at any rate.
Reefs and Rides
This is one of the pleasures of Bonaire scuba diving. If you decide to do some boat dives while you are here, you will not be on the boat very long (see our page on boat scuba diving for tips if you are not familiar with boat diving).
Most boat dives are done off of Klein Bonaire which is located about a 1/2 mile from the shore. Most boat rides are in the 10-15 minute range. It doesn't get much better than that.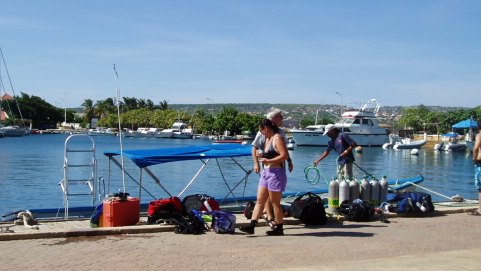 Waiting to load up the boat for the short trip to do some diving off Klein Bonaire.

Of course, shore diving is what is Bonaire is known for and the only ride you'll have is in your truck to get to the site.
From Kralendijk to the most northern dive site before the Slagbaai National Park is about a 15-20 minute ride. Similarly, from Kralendijk to the most southern dive site is also in the 15-20 minute ride.
So there really isn't alot of driving to do to get to most of the shore diving sites. We usually did 2 dives in the morning then went back to the hotel for some lunch and to load up some fresh tanks. Then it was off to do some afternoon dives.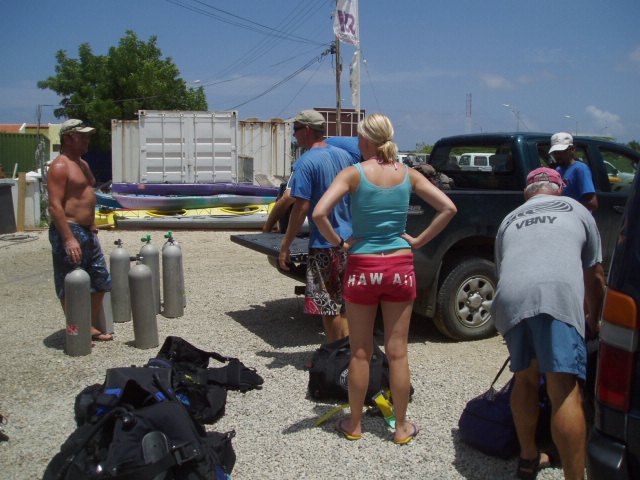 Loading up some fresh tanks onto the Jeeps. Most places have jeeps since they are so convenient for carrying tanks and equipment.

If you decide to go into the Washington Slagbaai National Park to do some more Bonaire diving, it will take quite a bit longer.
Once you reach the entrance of the park (which is northwest of Rincon), you still have some driving to do. While the distance isn't that far, the roads are rutty and it is slow going.
It'll take about 30 minutes or so to reach the first dive sites in the park. Only the short road was open when we were there so the first site you could dive using these roads was Playa Funchi.
You have to leave the most southern site (Boka Slagbaii) by 4:00 pm so take this into consideration if you plan on doing some Bonaire scuba diving here.
Since it takes awhile to drive through the park, the latest you can enter the park is 2:45 pm. We didn't know this but we just manage to make it in at 2:00. We would have like to have stayed longer but what can you do? Next time.
Bonaire Scuba Diving
So, the bottom line: Does Bonaire scuba diving live up to its reputation?
In a word: Yes
We've all heard about Bonaire diving and how it is consistently rated one of the top places to dive in the Caribbean - if not the world.
That's alot to live up to but Bonaire scuba diving manages to do it. It is all about the shore diving and the freedom this gives divers.
Dives are done primarily on the calmer west side of the island and off of Klein Bonaire. Most of the east side is not suitable for diving due to the rough water.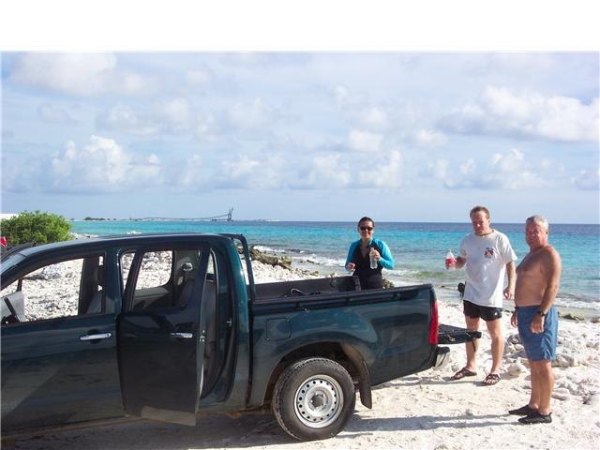 Enjoying some cold water after an afternoon shore dive on Bonaire. Notice the rocky entrance. Many of the shore diving entrances are like this.

However, there is an operation called Larry's Wild Side Diving that offers dive trips on the eastern coast.
We didn't do any dives on the East side but I have read lots of good reviews of Larry's Wild Side so if you're up for it - go for it and let us know how it goes.
All the waters around Bonaire were declared a marine sanctuary in 1979 which has preserved the health of the reefs. The park incorporates all the waters around Bonaire and Klein Bonaire from the high water mark down to 200 feet.
The fact that the island is outside of the hurricane belt has also contributed to the health of the reefs. In addition, since there is little rainfall on the island, runoff is kept to a minimum helping with visibility.
To help preserve the reefs, Bonaire requires that all divers attend an orientation course and do a check out dive to check their buoyancy control and ensure proper weighting.
Our orientation took about an 1 1/2 hours or so and then we did a check out dive on the house reef (we stayed at Sanddollar Condominiums). We did the check out dive by ourselves, you are not required to be accompanied by a divemaster.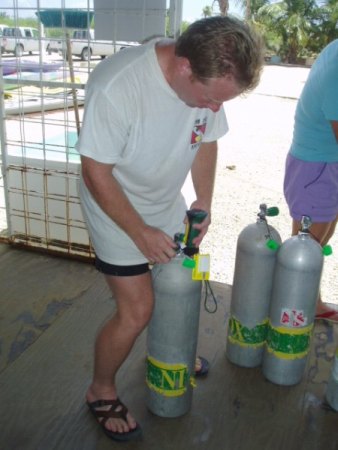 My friend Paul checking the nitrox level before we head out for some more dives.

All divers must also purchase a marine tag ($25 for one year) in order to do some Bonaire scuba diving. The marine police did check our tags while we were diving one day so be sure to attach it to your BC so you don't forget it.
There are over 80 marked Bonaire dive sites to choose from. The shore dives are each marked with a yellow boulder with the dive site name painted in black. Just follow the road along the west coast and you will not be able to miss them.
The two publications which I recommended in previous pages (see below) are invaluable in helping you plan your diving day.
The two books are Bonaire Shore Diving Made Easy by Susan Porter and a free pamphlet called Bonaire Dive Guide (available free where you pick up your luggage at Bonaire's airport or downloadable for free here.)
I've written pages about Bonaire scuba diving so take a look at my other articles for lots more detailed information:
Town Pier Night Dive in Bonaire
Topside
There's not the fancy, glitzy casino resorts here like some other islands. Bonaire is a very laid back, casual island.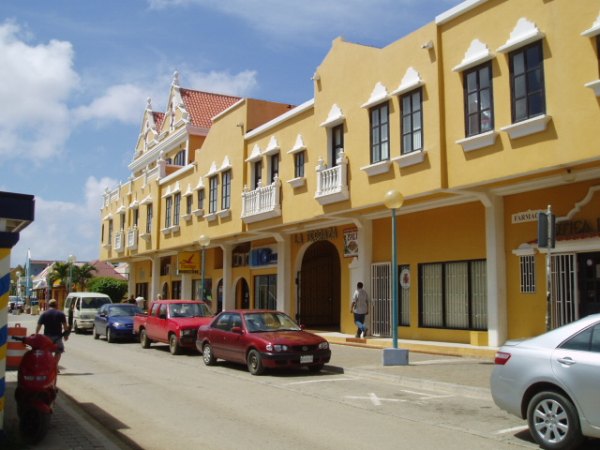 Downtown Kralendijk, Bonaire. It is a nice and clean city with a good selection of restaurants and bars to try out.

On our last day, when we didn't do any Bonaire scuba diving, we drove around the island and took in the sights.
We shopped for souvenirs in Kralendijk, got up close with the flamingos (at Gotomeer Lake in the northern part of the island) and the donkeys, toured through Washington Slagbaai National Park (we will dive there next time), had lunch at Rose Inn in Rincon (recommended), went to the lookout at Seru Largu and generally just enjoyed the island.
If you feel like more activity, you can always go kayaking, landsailing, kiteboarding or windsurfing. Whatever floats your boat. You are bound to have a good time.
Relax and enjoy - you are on vacation. Have a great Bonaire scuba diving trip!

Here are some books you might want to check out to help plan your trip to Bonaire:
---
---
 Want to stay down longer and improve your buoyancy control and other diving skills? Our free report "Increase Your Bottom Time" along with our practical, weekly actionable tips will have you looking like a seasoned diver in no time. So come join us and see improvement on your very next dive!
(Click on the photo to join us now!)
---
---
Top of Bonaire Scuba Diving
Return to Scuba Diving Home