Flights to Bonaire:
Getting You On Vacation With The Cheapest Airfare
Looking for flights to Bonaire? We have all the general information you need to get you on your way to a great dive vacation in Bonaire.
Bonaire Airport
Bonaire's airport is the Flamingo International Airport. It is located about 3 miles south of the capital Kralendijk so it is a short drive into town.
Departing from Flamingo International Airport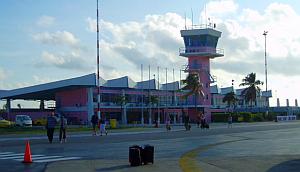 Bonaire charges a US$35 airport tax which is included in the price of international tickets.  (if your final destination is Curaçao, St. Maarten, St. Eustatius, Saba or Aruba the tax is US$9).
The airport code for Bonaire is BON. 
Flights to Bonaire From the US and Canada

Bonaire is served by several airlines. Some flights are seasonal so be sure to check the airline's website for the latest information.
Non-stop flights are offered weekly by Delta and Continental.
Delta offers a direct flight to Bonaire on Saturdays from Atlanta (airport code ATL). If it is high season they typically offer an additional non-stop flight.
They have also offered nonstop flight to Bonaire from JFK (New York city) on Saturdays.
United also offers weekly non-stop flights from both Newark (airport code EWR) and Houston (HOU) to Bonaire. Be forewarned - the Newark flight is a red-eye flight and departs Newark at 11:55 pm on Saturday evening and arrives in Bonaire at 5:40 am on Sundays. The return flight is on Sundays at 6:50 am.
American offers non-stop flight from Miami on Saturdays. Additional flights are planned for the 2018-2019 high season.
Checking in for American Airlines
Another option is to fly into either Curacao or Aruba (which offers the most flight options from the United States) and take a connecting flight to Bonaire. For more information, you can check our page on flights to Aruba. Flights from Aruba to Bonaire takes about 15 minutes.
Airlines offering connecting service from these Aruba are Divi Divi and Aruba Air. Connecting flights from Curacao are offered by Divi Divi and Insel Air. Flights from Curacao to Bonaire take about 15 minutes.
If you are looking for Bonaire flights from Canada, Sunwing seems to be the only option for non-stop flights. This flight was on a Sunday schedule last I checked. 
You could first fly into one of the gateways in the US and take one of the direct flights listed above. Alternatively, you could fly into either Aruba or Curacao and take a connecting flight as outlined previously.

Flights to Bonaire From Europe

KLM flies nonstop from Amsterdam to Bonaire several times a week. This Bonaire flight takes just under 10 hours. KLM also flies direct to Aruba where you could take one of the connecting flights listed above.
During the high season, TUI Airlines (formerly Arkefly) also offers service to Bonaire from Amsterdam.

Bonaire Flights From Other Points

KLM offers a flight from Quito, Ecuador to Bonaire. This flight then continues on to Amsterdam.
Transaven flies from Caracas and Valencia, Venezuels to Bonaire.
Avianca flies from Bogota, Colombia to both Aruba and Curacao. They also offer flights from Rio De Janeiro and Sao Paulo, Brazil to Aruba. You could then take one of the connecting flights outlined above.
Varig also flies from Rio de Janeiro and Sao Paulo, Brazil to Aruba. From there you would also take one of the connecting flights listed above.

You might also find our other pages on Bonaire useful for your trip planning:
Bonaire Scuba Diving Trip Report
Bonaire Southern Dive Sites Scuba