Diving in Bonaire:
Klein Bonaire Dive Sites
When people mention diving in Bonaire, shore diving is what probably comes to most people's minds. After all, this is Bonaire's claim to fame - and rightly so.
However, Bonaire also offers boat diving with Klein Bonaire being the main destination.
Klein Bonaire is located right off the shore of Bonaire and many boat rides to the dive sites are only about 10-20 minutes, depending on the site.
Many Bonaire dive packages offer the option of including some boat dives along with unlimited shore diving. We chose this option and added 6 boat dives to our dive package.
We ended up only using 5 of the boat dives so we could do more shore diving (there were some special circumstances however - dock being worked on, had to travel to a marina to get boat, boat schedule cut back, etc.).
Our decision to do less boat dives wasn't a reflection of the quality of the diving off of Klein Bonaire - rather a reflection of the special circumstances mentioned above.
That being said, would we add boat dives to our package when we go back diving in Bonaire? Probably not - or not as many anyway. Rather we will probably just add a boat dive or two when we feel like it.
While the ease and convenience of a boat dive is a nice break from all that shore diving, on our Bonaire dive trip fitting in all the boat dives felt almost inconvenient (of course, alot was due to the circumstances noted above).
So next time, I'm thinking we will just play it by ear. We'll do some boat dives, just not as many.
Klein Bonaire does have some nice diving and if you haven't been there, I would recommend checking it out.


Diving in Bonaire:
Klein Bonaire Dive Sites

These are the boat dives off of Klein Bonaire we did while on our diving vacation.
There are more than 20 dive sites off of Klein Bonaire so you have alot to choose from.
We left from the Harbour Village Marina and all of these sites were within a 20 minute boat ride. Nice and convenient for diving in Bonaire.
Carl's Hill

This was about a 15 minute boat ride from the marina. On this dive, we swam along the wall to the point and then turned back.

We saw some great things on this dive. Our first frogfish. The divemaster pointed out this red frogfish - I know I never would have seen it. We also saw a large seahorse making it a Bonaire double (seeing a frogfish and seahorse on the same dive).

Pretty neat and definitely a highlight of diving in Bonaire.

We also saw huge trumpet, lots of small eels, purple cleaner shrimp, flounder, school of black durgeons, arrow crabs and more.

A very nice dive overall. Max depth was 73 feet and visibility was about 75-80 feet.

Knife

Unfortunately, we had a bad divemaster on this dive who really didn't do anything to enhance the dive. Annoying.

We swam around a point here and the current was pretty strong. You could also feel the temperature drop (felt like a 10 degree drop but I'm sure it was less).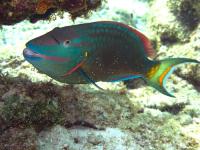 Really nice formations on this dive. Among other things we saw horse-eyed jacks, porcupine fish, brittle stars, and more. A highlight was the squid at the end of the dive.
Max depth here was 77 feet and visibility was around 70 feet or so.
Mi Dushi
This was an OK dive, not the best diving in Bonaire we did off of Klein. A highlight was our second frogfish of the trip. The divemaster pointed this one out also and this time it was a yellow frogfish. A great find.
During this dive we saw lobster, eel, cleaner shrimp, school of blue tangs, huge trumpet, queen angel and more.
Unfortunately, we also had a "crazed" photographer on the dive with us. You know the kind - kicking and banging into everything with no idea what she was doing. Had no concept of where her fins were. She got on the boat before us and hopefully the divemaster had something to say to her.
Maximum depth on this dive was 71 feet with visibility of around 80 feet.
Jerry's Sponge
We did this dive a couple days later and lo and behold, the crazed photographer was with us again. Same unbelievable behavior. This divemaster tried to tell her but she was pretty oblivious.
There was a huge bluish barracuda hanging out while we descended. I never saw a bluish barracuda before and it was pretty neat.
The highlight of this dive were the turtles (which I love watching). We saw at least 4 of them during the dive. At one point they were all around us which was great.
We also saw drumfish, sand diver, spotted eel out on reef, huge school of blue tangs (actually there were lots of schools of fish) and more. This site is also known for elephant ear sponges.
Another highlight were the dolphins we saw on the way back. I've seen lots of dolphins before but this group had spinner dolphins which jumped out of the water, spun around and splashed back down. A great sight to see.
Max depth on this dive was 71 feet with visibility about 70 feet.
So there you have it, the dives we did off of Klein Bonaire. If you haven't done so, recommend doing a dive or two (or more) here - it is a nice break from the shore diving. And it offers good diving in it's own right.
Have fun diving in Bonaire - whether you do shore dives or boat dives.
(For more information on scuba diving in Bonaire, see our introductory page on Bonaire scuba diving as well as our Bonaire scuba diving trip report, Bonaire shore diving tips and our Bonaire map.
We also have pages of reviews of dive sites on Bonaire:
Photos by Ronaldo L Cavichiolli. Thanks!
Top of Diving in Bonaire

Return to Scuba Diving Home