Bonaire Map:
Find Your Way to Some Great Diving
Although Bonaire isn't a huge island, a Bonaire map comes in handy to get a feel for where everything is. As you'll see, most development and dive sites are located along the western coast and that's where you will probably spend most of your time.
The capital, Kralendijk, is also located on the western coast, a little south of the midpoint. Usually when we went to do some shore diving, we would head either north or south of the capital for the morning (or afternoon as the case may be).
Finding dive sites on Bonaire is easy - just stay on the road along the coast and look for the yellow painted rock with the name of your dive site on it. So a map of Bonaire isn't a total necessity, though it is nice to have.
Of course, a dive map of Bonaire helps you know when your dive site is coming up. I have some good resources below, in addition to the Bonaire maps shown, which should help make your trip planning and time on Bonaire go easier.
These are the resources I used when we went on our Bonaire scuba diving trip.
The first map below is just to show where Bonaire is located in the Caribbean in case you didn't know. Next is a general map of Bonaire, showing it in relation to its sister island, Curacao, and the rest of the Netherland Antilles.
Then comes the fun part, interactive maps of Bonaire. Just click on the arrows to zoom in on the area you want to see. Give it a try - it is alot of fun!


Bonaire Maps
You can locate Bonaire right off the coast of Venezuela on the following map.

This shows Bonaire in relation to its sister island, Curacao.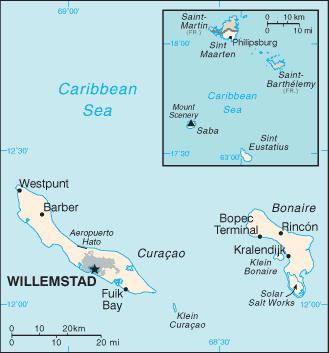 This map is courtesy of Worldatlas.com

These are the fun interactive maps of Bonaire I was talking about earlier. Just click on the +/- buttons to zoom in on the area you want to see in detail. Give it a try - it's fun! 

This first interactive Bonaire map is your standard version of a map. It will show you what you need to know.
This  next one is the really fun one. An interactive satellite map of Bonaire. Here you can see where you are actually going to go. I find this type of map addictive! Have fun with it.
Bonaire Map Resources
If you would like some more detailed maps of Bonaire, here are two great ones that are available free on the internet. I picked up hard copies of these two Bonaire maps when we were on the island and they were more than enough to get around for the week.
This first map of Bonaire has an island map, road map and town maps for you to use. It may not seem very detailed, but it is really all you are going to need: Bonaire Island Map.
The next resourse is a map of dive sites on Bonaire. We used this extensively while we were on Bonaire. It is free to download. Alternatively, you can pick up a hard copy in the airport when you arrive on Bonaire - it's located right next to where you pick up your luggage. Bonaire Dive Site Map.
---
If you want some more info on Bonaire, take a look at some of our pages including our trip report and dive site reviews:
Bonaire Island & Scuba Diving Overview
Bonaire Scuba Diving Trip Report
Bonaire Shore Diving
Northern Dive Sites
Southern Dive Sites
Town Pier Night Dive
Klein bonaire Dive Sites
---
---
 Want to stay down longer and improve your buoyancy control and other diving skills? Our free report "Increase Your Bottom Time" along with our practical, weekly actionable tips will have you looking like a seasoned diver in no time. So come join us and see improvement on your very next dive!
(Click on the photo to join us now!)
---
---