Scuba Dive Vacations:
Guide to Planning Your Holiday - Information on All-Inclusives, Scuba Diving Vacation Packages, Family Dive Vacations And More
Scuba dive vacations. Can any other words put such a big smile on your face?
The anticipation. The excitement. The discoveries. The fun.
We love taking dive vacations. Every chance we get, we go. It has been like this since we got certified 18 years ago.
Sometimes we go alone. Sometimes we go with other diving friends. No matter who you go with, or for how long, it is hard not to have a fun time on a dive trip.
I usually do quite a bit of research before we go on our dive trips. It can be pain sometimes, but then, don't they say that half the fun is in planning your trip?
The circumstances of that particular trip will dictate what type of dive vacation we will plan.
Whether we are going alone or with a small group of friends, if the price is right, I'll choose a scuba diving vacation package.
Taking off for a dive vacation - where jets can't land. Love that.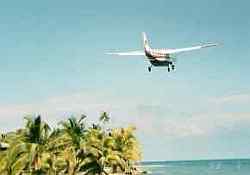 It tends to be cheaper than purchasing everything separately.
However, sometimes you can get a better deal if there are some airfare and/or hotel sales going on. If you do end up purchasing everything separately, you might find our tips on getting cheap airfare to the Caribbean helpful.
Whether we choose a scuba diving vacation package or book everything separately, if we go with our diving friends, we typically choose a dedicated dive resort. All the diving is included and they are usually in great locations. Dive sites are usually close and many offer unlimited shore diving.
These are the trips where we are doing about 4 to 5 dives a day. Diving is the focus and we get plenty of time underwater. These usually aren't the best choice when you have non-diving friends since everyone appears obsessed with diving :).
If we have a fairly large group of people and not all of them dive, we typically choose to go the all inclusive scuba diving vacation .
There are plenty of activities to keep the non-diving friends happy and many times they can take a resort course (see below). It will give them a feel for diving and, who knows, maybe they will want to join you underwater.


---
My husband and I got married in Antigua. Seventy people flew down to the wedding. It was a week long open bar reception!
People had so much fun, I now plan a group trip every two years (or less). We've done 7 of these trips so far - group sizes have been between 25-60 people. With that size of a group, I find that all-inclusives are the easiest way to go (especially if you don't want to worry about who bought the last round of drinks).
Part of our group before climbing up Dunns River Falls in Jamaica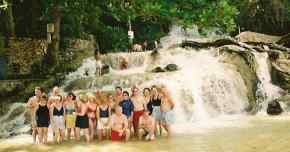 ---
Scuba dive vacations are also a fun option for your family vacations. It adds a new activity and new dimension to your child's travel experience. If the kids have never dove before, they can even test out diving with a scuba diving resort course.

As you can probably tell, we have taken alot of dive vacations in the Caribbean. We have put together our reviews and guides to the destinations we have visited.
For our dive vacation guides, take a look at our Caribbean dive travel page. For each location we give you our take on the locale plus information on weather, location, water temperatures, flights, hotels, dive sites and more.
No matter how many times we go though, I will say that there is one thing I don't like about scuba dive vacations.
Packing.
I like to travel light but that's impossible when I'm lugging all that equipment. It is a necessary evil, though, if you want your own equipment. So if you are taking your own equipment, here are our tips for packing your gear for flying.
I usually do take all my scuba gear if we are going on a dedicated scuba dive vacation. If we only plan on doing one or two days of diving, the BC's and regulators usually stay home.
However, we always take our mask, fins and snorkels. We usually do quite a bit of snorkeling no matter where we are so we want to have our own equipment. We have seen some nasty rental gear! No thanks.

Hopefully you have found our information on planning your scuba dive vacations helpful. It is always fun to get away and get some time underwater.
So go, have a great vacation and do some great diving!

---
---
 Want to stay down longer and improve your buoyancy control and other diving skills? Our free report "Increase Your Bottom Time" along with our practical, weekly actionable tips will have you looking like a seasoned diver in no time. So come join us and see improvement on your very next dive!
(Click on the photo to join us now!)
---
---