Scuba Diving Vacation Packages 
Options to Consider for an Affordable Dive Trip
Lucy you! You're ready to go on a dive vacation.
Scuba diving vacation packages could make it a more affordable choice. They also make booking that dive trip easier and more convenient.
Let's face it. Scuba diving isn't cheap. Sometimes prices can even border on the obscene. 
Dive packages can often bring the price down to an "easier to digest" level. Still not very cheap but a bit easier on the wallet anyway.
There are several variations of packages you can choose from:
Vacation package with air
Vacation package without air
Package that includes meals at the resort
All inclusive packages that offer (or include) scuba diving
Unlimited diving or set number of dives a day  
Air or No Air?

If you purchase land and air together through an airline, the price can be significantly less than if you had purchased them separately.
However, I have found that it is not uncommon for some dive resorts not to be offered in the airline's vacation packages. In that case, you have to purchase them separately or go through an travel agency (online or off).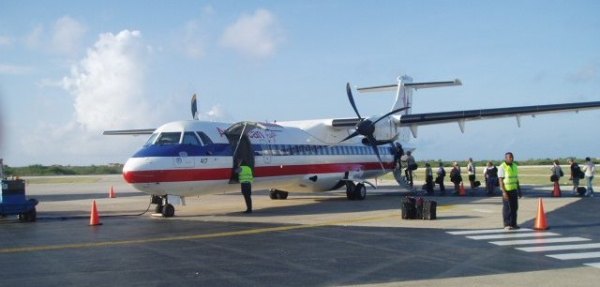 I couldn't wait to get on that plane and start our dive vacation (we were headed to Bonaire).
If you go through a travel agency, preferably it would be one that specializes in scuba diving. Most likely this will be an online presence, rather than an agency in your backyard.
They know all the specials the resorts are offering and can sometimes get you good prices on air too.
One on-line agency we have used is Island Dreams Travel. They've been around for 20 years, are very knowledgeable and offer scuba diving vacation packages all over the world. If nothing else, you can call them up for a quote to compare prices. While they don't offer all the islands in the Caribbean, they do offer scuba diving vacation packages to all the top dive spots ( Caymans, Cozumel, Belize ( Ambergris Caye and Caye Caulker), Bonaire, etc.).
If you have to purchase air and land separately, here is my #1 tip for cheap airfare to the Caribbean. Or if you can't swing that, here are some of my other tips for cheap airfare to the Caribbean.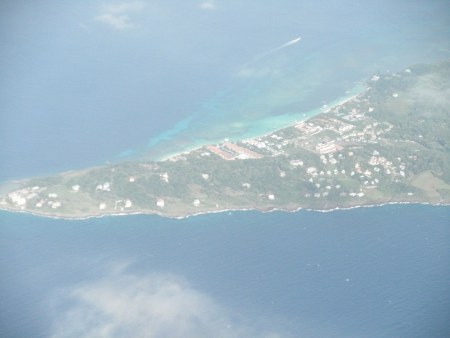 View of West Bay, Roatan, Honduras. Our vacation was over.
Unlimited Diving or Dive Packages

Scuba diving vacation packages usually offer either unlimited diving or a set number of dives per day. It all depends on the resort.
Many dedicated dive resorts offer unlimited diving. It typically includes 2-4 boat dives per day plus unlimited shore diving.
These are a great option if you want to do alot of diving on the trip.
One that we really loved was CocoView Resort in Roatan, Honduras (will take you to our review of Roatan). Since the time we stayed there, Coco View has continued to get rave reviews from divers.
We have since spent several months on Roatan (since we were there for months the last few times, we rented an apartment instead of staying at CocoView) and no one had anything but praise for CocoView. You can read what other travelers had to say about Coco  View here  (link will open in our partner's window).
We can also recommend Buddy Dive and Sand Dollar Condominium in Bonaire (links will open in our partner's website) for places that offer unlimited scuba diving. Buddy gets somewhat higher marks and that is probably where we will stay on our next trip.
(You can read our review of Bonaire here.)
Scuba diving vacation packages that offer a set number of dives per day will also save you money.
Some resorts even offer choices on the number of dives per day (i.e., 2 boat dives in the morning; 2 in the morning, 1 in the afternoon, etc.). These options are nice because you can customize it and only pay for what you want to do.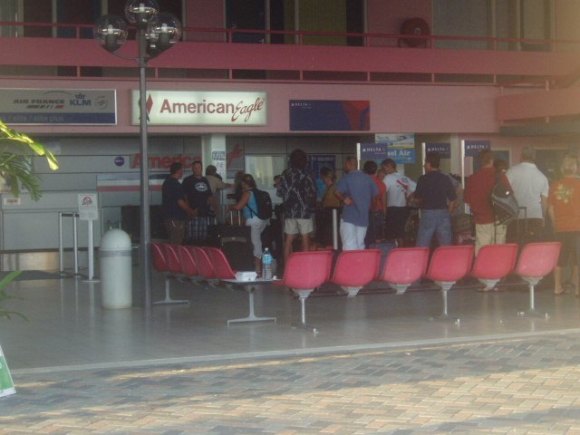 Now the bad part about vacations - checking in to leave. Unfortunately,  it has to happen. We were leaving Bonaire here.
Also, some resorts that are not dedicated to diving also include scuba diving in their prices. Two chains that I know of that include diving in their prices are Beaches and Sandals (they are owned by the same company).
Two resorts that we recently stayed at were the Sandals Grande Riviera in Ocho Rios, Jamaica and Sandals Montego Bay.
Granted, it is not the best diving in Jamaica but it can be a good choice, especially if you have someone that is not a diver in your group.
You can read our our in depth review of Sandals Grande Riviera here and our detailed review of Sandals Montego Bay Jamaica here.

Meals or no Meals?

Meal plan options vary depending on the resort. Some include 3 meals per day in all packages, some include breakfast, others include no meals and still others let you choose your meal plan.
Meals are usually a decent value. Breakfast is a good one to include since you don't want to be running to find breakfast before your 8:00 am dive boat leaves (well, at least I don't).
It's all up to you. Personally, I like to go out and explore a bit and support some local businesses. Not to mention having a little variety after a week of eating at the same place.
Of course, there are the many all inclusive chains that include all meals and all drinks. You can find our take on all inclusives here.
Search for reviews of the resort and see what people have to say about the resort and the food. It may help you decide which option to choose. I usually start my search for reviews at TripAdvisor (whether it is related to scuba diving vacation packages or not).
They usually have enough reviews that you can get a good feel for a place. I typically disregard over-the-top reviews and whining reviews. Somewhere in between is usually closer to reality. 
Questions to Ask

Some questions you may want to ask before you sign up for your scuba diving vacation packages:
Is rental equipment included?
How much does equipment rental cost?
How many dives per day are included?
Are they

boat dives

or shore dives?
How many people are on each boat?
What type of diving is usually done (reef, wreck, wall,

drift diving

, etc.)?
Do they offer

night diving

How long does it take to get to the dive sites?
Wherever you go or whichever package you choose, we hope you have a great trip!
---
---
 Want to stay down longer and improve your buoyancy control and other diving skills? Our free report "Increase Your Bottom Time" along with our practical, weekly actionable tips will have you looking like a seasoned diver in no time. So come join us and see improvement on your very next dive!
(Click on the photo to join us now!)
---
---
Top of Scuba Diving Vacation Packages