Scuba Diving Belize:
General Information And Reviews of Diving in Ambergis Caye, Caye Caulker and Placencia.
Scuba diving Belize is on or near the top of most divers "must do" list. Between the great diving, laid back atmosphere and topside attractions, it's easy to see why.
Belize has really grown in popularity over the last few years - among divers and non-divers alike.
When you see Ambergris on HGTV as a place for a new home search, you know it's on the radar. So go there now and get some Belize diving in before it becomes overrun.
Wherever you go scuba diving Belize I think you will enjoy it. Each of the destinations we've been to has its' own unique appeal.
We've gone scuba diving in Ambergris Caye, diving in Caye Caulker, and diving in Placencia. All three are worth a dive trip IMHO.
Which one you go to depends on what you are looking for. So read about each spot and decide which one will fit the bill for your next dive vacation.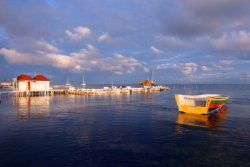 You can also check out our Belize maps to help plan your vacation. We even have a couple of interactive maps for you to use. Check them out, they're alot of fun.
Scuba Diving Belize: Ambergris Caye
This is the most popular of the Belize diving destinations.
And understandably so.
The second largest barrier reef is right offshore so you have a 2 minute boat ride to some of the best dive sites anywhere. Check our reviews of some of the most popular dive sites in Ambergris.
The town on Ambergris is bustling and there are a range of accommodations to fit any budget. We give you our experience on our overview of Ambergris Caye page (link just below).
For more information, see our introduction to Ambergris page for an overview of Ambergris and dive information. It should help you determine if this is the spot for you to go and dive Belize.
You can also check out our Ambergris Caye maps to get a feel for the island and our
Scuba Diving Belize: Caye Caulker
Caye Caulker is right next door to Ambergris but has a different feel. Caye Caulker is much quieter and more laid-back than Ambergris (and that is saying something).
You dive many of the same sites as people staying on Ambergris since the 2 islands are so close. You can read about the dive sites in Caye Caulker we dove on this page.
So it's really a choice of which topside appeals to you the most. You can find our writeup on general information on Caye Caulker and diving in Caye Caulker here.
We also have Caye Caulker maps and information on Caye Caulker hotels for you to help plan your trip.
Scuba Dive Belize: Placencia
Placencia is a different ballgame than Ambergris Caye and Caye Caulker. It's located in southern Belize and is at the end of a peninsula.
The reef is further offshore in this part of Belize so you have longer boat rides to the dive sites. However, the town is charming (IMHO) and has alot to offer.
For our overview of Placencia and diving in Placencia see this page. It should help you decide if scuba diving in Placencia, Belize is for you.
If you are thinking about doing some scuba diving in Belize, hopefully one of these dive destinations appealed to you. I really don't think you will regret going to anyone of the places I've talked about. The diving is very good and the topside is nice and relaxing. What more do you need in a dive vacation?
But before you go and dive Belize, don't forget to get some scuba diving insurance (I explain the nitty gritty here).
Wherever you go, I hope you have a great dive trip!
---
---
---
 Want to stay down longer and improve your buoyancy control and other diving skills? Our free report "Increase Your Bottom Time" along with our practical, weekly actionable tips will have you looking like a seasoned diver in no time. So come join us and see improvement on your very next dive!
(Click on the photo to join us now!)
---
---