Caye Caulker Map
Are you heading to Belize and looking for a Caye Caulker map? You'll find some here.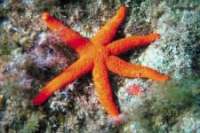 Caye Caulker is a great little island. It's hard to get lost on the island since it is so small - as you'll see from the maps. But maps are fun to look at anyway. Especially the interactive map we have below.
Caye Caulker is actually 2 islands, separated by the "split" or the "cut" which is a small channel of water. The southern part is the "developed" portion of the caye and most of the northern part is now a marine reserve. The island was actually split in 2 by Hurricane Hattie in 1961.

There is some great scuba diving off of Caye Caulker and the town is a fun place to hang out when you are not diving. I don't think anyone would regret a scuba dive vacation - or any type of vacation for the matter - to Caye Caulker.
We had a great time here. It was very relaxing and laid back. And best of all, there are many dive sites just a short boat ride away (see below for links to our write-ups on the island).
So let's get started and look at the maps.

Caye Caulker Belize Maps
These first couple of  maps are to give a broad overview of where Caye Caulker is located in the world and then within Central America.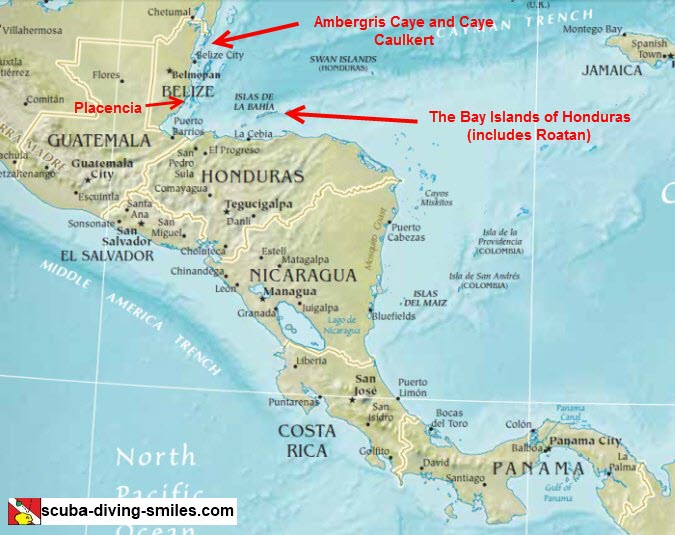 Now zooming in on Belize. Caye Caulker is located just south of Ambergris Caye (San Pedro, Ambergis is shown on the map).
This map of Caye Caulker itself gives you a good idea of the size of the island and how it would be hard to get lost here. This map is courtesy of travel-center.com
Interactive Caye Caulker Map
These are the fun interactive maps of Caye Caulker. Just click on the +/- to zoom in on any area. As you get closer, the place names show up. It's alot of fun - give it a try.

This is my favorite map of Caye Caulker - an interactive satellite map. Zoom in on it and you can see where you are going before you get there. I could spend hours on this type of map.
Hopefully these maps have helped you with planning your Caye Caulker travels. It is on my list to go back too. So go and have fun and have a great Caye Caulker vacation!
Our other Caye Caulker pages may be helpful for you too:
---
---
 Want to stay down longer and improve your buoyancy control and other diving skills? Our free report "Increase Your Bottom Time" along with our practical, weekly actionable tips will have you looking like a seasoned diver in no time. So come join us and see improvement on your very next dive!
(Click on the photo to join us now!)
---
---