Scuba Diving in Belize
Caye Caulker Dive Sites
If you want to try some scuba diving in Belize, Caye Caulker is a great place to start. It's a nice, laid-back island and much quieter than it's sister island Ambergris Caye.
I'll discuss some of the Caye Caulker Belize dive sites here, but you can get all the details about the specifics of Caye Caulker (such as location, weather, water temp, reefs, etc.) on my main scuba diving in Belize Caye Caulker page.
As I stated on the Ambergris Caye scuba diving sites page, all of these sites can be reached whether you are staying on Caye Caulker or Ambergris. I needed some system to separate the dive sites so I am listing the dive sites based on what island I was staying on at the time I did the dive. Hey, I needed to do it some way.
So on to scuba diving in Belize Caye Caulker:
Blue Hole I have to start with this one. The Blue Hole is the most famous dive site in Belize and one of the most famous anywhere. Since it is so popular, I had to list it here and on my Ambergris dive site page. The only difference is a slight change in price and time to get to the site. You can expect to pay about $150-$200 plus a $40 park fee to dive the Blue Hole (this is typically a 3 tank dive with lunch included). The ride out to the Blue Hole is about 1 1/2 to 2 hours. So for all the rest of the details of diving the Blue Hole, go to my Ambergris Caye scuba diving sites page.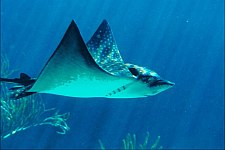 Located close to Ambergris, this site is located at the Hol Chan Marine Reserve. I loved this dive and can see why it got its' name. We saw 6 Eagle Rays during our dive here and we got to look at them for quite a while.
We also saw huge groupers, with one at a cleaning station. Also saw small nurse shark and large snappers among other fish. Nice coral formations.
This dive is typically between 60-80 feet. Our deepest depth was 71 feet and visibility while we were there was about 80 feet. Overall, a really good dive.
Turneffe Reef Atoll
This is one of 3 atolls further off of Caye Caulker which offer some great scuba diving. Since it is further out the boat ride longer and the price is higher. I forgot to write down the price, but we paid somewhere in the range of $100 for the day (includes 3 tank dives and lunch).
Unfortunately, we didn't have great weather when we went to Turneffe. Our ride took about an hour over some rough water. It was a rainy, bumpy and uncomfortable dive. But we got out there and the weather started clearing a bit after the first dive.
The sites we dove were Sunset Wall, Black Coral Mountain and Vincents. We had three really good dives. As Sunset and at Black Coral we saw 3 eagle rays. On the dives we also saw some huge crab and lobster, trunkfish, rockfish, angelfish, moray eel, brittle stars, banded shrimp and barracuda among other things.
There were some huge barrel sponges and neat formations on the dives. And yes, we did see black coral.
Our deepest depths were 72 feet (Sunset Wall), 63 feet (Black Coral Mountain) and 57 feet (Vincents). Visibility on the dives was about 60-70 feet.
And now one more dive sites you can visit while scuba diving in Belize Caye Caulker:
Cypress Tunnel
This dive is in the Hol Chan Marine Reserve. It gets it's name from, you guessed it, a tunnel that you dive through. It was a long, narrow tunnel that started in about 50 feet of water and ends in about 70 feet of water.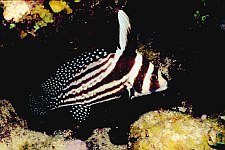 We saw huge groupers, cleaning station and a variety of fish. Our deepest depth on this dive was 71 feet and the visibility was around 50 feet. We listed this as an OK dive, nothing spectacular.
For the surface interval during these dives we went to Ambergris Caye and walked around a bit. We also stopped at Shark-Ray Alley on the way back (see below).
Two areas that are very often visited while scuba diving Belize Caye Caulker are the Hol Chan Marine Reserve and Shark Ray Alley. You can read my writeup about these two areas on my Ambergris Caye scuba diving sites page.
Wherever you go diving in Belize, whether it be Ambergris, Placencia or Caye Caulker Belize, you are bound to enjoy yourself.
So go and have fun and have some great dives while scuba diving in Belize Caye Caulker!


Top of Scuba Diving in Belize Caye Caulker

Go to main Scuba Diving Belize page
Go to Main Central America Diving Page
Return to Scuba Diving Home
---
---
 Want to stay down longer and improve your buoyancy control and other diving skills? Our free report "Increase Your Bottom Time" along with our practical, weekly actionable tips will have you looking like a seasoned diver in no time. So come join us and see improvement on your very next dive!
(Click on the photo to join us now!)
---
---