Scuba Diving In Central America

Reviews and Information on our Top Places to
Dive in Belize and Honduras

We love scuba diving in Central America. We have gone on many vacations there (including months long stays on Roatan) and plan on doing many more.
It is one of the cheaper places to dive, not to mention to get your certification. We have met many divers that have gone to Central America to get certified and/or become a divemaster. If that is your plan, you shouldn't be disappointed and will have many places to choose from.
We have done most of our diving here in Belize and Honduras. We also did a couple of dives in Little Corn Island in Nicaragua (review to come). While we have been to Costa Rica, another popular dive destination, we didn't dive there.
We will just have to go back and fix that.
Diving here makes many lists of top dive destinations. And we agree.
Below you will find links to all our pages on scuba diving in Central America.
We first give a general overview, including weather, water temperatures, places to stay, etc. for each location then move onto more specific details.
If you go, we hope you love it as much as we do.
Scuba Diving In Central America: Belize

We have made many trips to Belize to go diving. Most of our diving while in Belize was done in 3 different locations: Ambergris Caye, Caye Caulker and Placencia.
Ambergris and Caye Caulker are islands off the northern portion of Belize while Placencia is located in the southern portion of the country.
Belize is a pretty easy country to get around with frequent flights, ferries and buses to all destinations. The native language is English so there are no language barriers if you are from the States like us. So if you do not know Spanish it might be a good choice if you want to do some scuba diving in Central America.

Ambergris Caye
Ambergris is a pretty laid back island though it is getting more and more developed. Most dive sites are a short boat ride away. You could also use this as a base to go diving at other islands/atolls (such as Glovers or Turneffe). Of course the boat rides will be longer and the price higher to dive the outer islands. Many people also use this as a base to dive the famous Blue Hole of Belize.

Map of dives sites off of Ambergris Caye, Belize. Yes, there are a heck of alot of them.

Caye Caulker
Caye Caulker is a very laid back and quiet island and a nice place to do some scuba diving in Central America. It is less developed and gets less visitors than its sister island of Ambergris. Besides diving, there is not alot to do on the island - though I am not saying that is a bad thing. You will dive many of the same sites that people staying on Ambergris dive. Therefore to choose between the two islands you may want to base it on which topside appeals to you the most. You will find our description in the overview page.

Aerial view of Caye Caulker, Belize. I did say it was a laid back island.

Placencia
Placencia is a nice, charming town on the end of a peninsula in southern Belize. It is a quiet town which has been discovered by expats. The "main street" as it is called is actually a narrow sidewalk lined by shops and homes. It is a good place to base yourself if you want to do some excursions (besides scuba diving of course) in the southern part of Belize.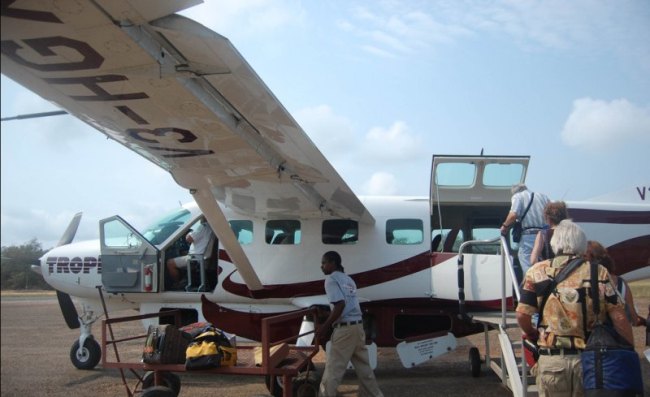 Loading up to take the "puddle jumper" flight from Placencia to Belize City. Yes, the planes really are that small. This is Tropic Air flight.

Scuba Diving in Central America: Honduras

Roatan
All of our diving in Honduras has been done in Roatan. We have yet to make it to its popular sister island of Utila, despite having spent months at a time on Roatan. Hey, we were busy - and that includes diving. There are numerous dive shops on Roatan and it is a popular spot to get your certification and also to train to become a divemaster. Diving is very good with lots of different types of dives sites to keep you coming back. (I will be adding more information on Roatan, so come on back to check)

Tim walking down the main street in West End on Roatan, Honduras. This is from our first visit, prior to the road work being done.

These are the places where we have done most of our scuba diving in Central America. I love this area of the world and will definitely be going back. The people are friendly, the cultures interesting, the diving very good and the prices cheap. What is not to love?

---
---
 Want to stay down longer and improve your buoyancy control and other diving skills? Our free report "Increase Your Bottom Time" along with our practical, weekly actionable tips will have you looking like a seasoned diver in no time. So come join us and see improvement on your very next dive!
(Click on the photo to join us now!)
---
---
Top of Scuba Diving in Central America
Photo credits: Renee Johnson, asimulator and Marc Veraart