Belize Map
Maps to Help You Plan Your Trip
Looking for a Belize map? You've come to the right place. We have several maps for you to use and start planning that scuba dive vacation. You'll even find some interactive maps to use.
Belize is a small country and it is pretty easy to find your way around. You can easily combine a trip to Abergris Caye, Caye Caulker or Placencia with a trip inland to some ruins or whatever else interests you in the country.
Belize is an English speaking country which also aids in the ease of traveling here. We have spent quite a bit of time in the country and enjoy it every time. Even away from the ocean and scuba diving! LOL.

Whatever you plan on doing here, hopefully these maps will help you with that trip.
The first map we have here is just to give you a general overview of the location of Belize. The second map shows a rough outline of Belize to get you acquainted with the country.
Now comes the fun. The interactive maps of Belize. The first interactive map is similar to your typical road map. As you zoom in where you want to go, the names of places will appear. I could spend lots of time doing this!
The next map of Belize is the most fun. This is an interactive satellite view map and you zoom in on the places you want to see. Give it a try, it is alot of fun.
Belize Maps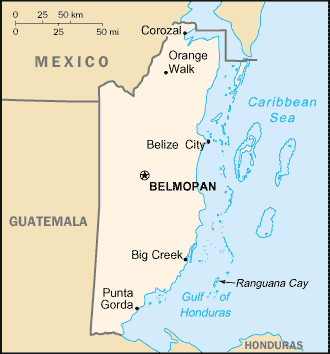 Interactive Belize Map
Just click on the +/- arrows to see the place you want. This will give you an easy idea of the road tranportion alternatives available around the country.
This is the map I love. Just click on the +/- sign to zoom in on where you want to go. If you zoom in close, the place names will appear (such as Ramon's Village). So start clicking and have fun. See where you are going before you get there!
So go and have fun and enjoy Belize!
If you want general information about the country and information about diving, you can find all our pages about Belize and scuba diving in Ambergris, Caye Caulker and Placencia here.

Go to Main Central America Diving Page
Return to Scuba Diving Home
---
---
 Want to stay down longer and improve your buoyancy control and other diving skills? Our free report "Increase Your Bottom Time" along with our practical, weekly actionable tips will have you looking like a seasoned diver in no time. So come join us and see improvement on your very next dive!
(Click on the photo to join us now!)
---
---