Scuba Diving Fins And Booties:
A Buyers Guide to Help You Find the Best Pair For You
The right pair of scuba diving fins and booties can make a big difference in your dive enjoyment. If your fins don't fit you correctly, you will spend the dive thinking about them rather than enjoying all the beautiful sights underwater.
This is one piece of scuba gear you don't want to notice once you are diving.
I remember when I used a pair of rented fins and they didn't have any left in my size so I used a smaller size.
After the dive when I took those fins off, my feet looked like they were sunburned they were so red.
Not an experience I wish to repeat and not one I want you to have.
To that end, this guide will help you choose the best pair of fins and booties for you. We have all the information you need to know about types, styles, sizing, fit and care.
(For information on other types of dive equipment, take a look at our free scuba gear guides.)
There are tons of dive fins to choose from. Which pair is the best for you?
On this page you will find a discussion of all the types and styles out there, including the pros and cons of each pair.
Finding the right size of fins for you is essential to having a comfortable and worry free dive. On this page you will learn how to correctly size a pair of fins (or scuba flippers - whatever you prefer to call them).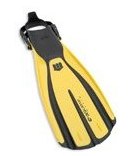 You will also find information on how to properly care for your scuba fins once you make that purchase. You can also read about straps for fins here.
If you purchase open heel fins, you will need to buy scuba booties. On this page you will find information on boot thickness, soles, cut, size, fit and care and maintenance.


Hopefully this scuba diving fin guide will help you in purchasing the right pair of diving fins for you. It's a big step to having a comfortable and worry free dive.
Some time spent here will pay off since your fins can last for many, many years. You want the right pair since they could last longer than your scuba diving career!
Take a look at our Fin Store for all the fins we have available.
Looking for other scuba equipment and accessories? Check out our picks for best scuba gear and accessories.
Here's to a speedy dive!

---
---
 Want to stay down longer and improve your buoyancy control and other diving skills? Our free report "Increase Your Bottom Time" along with our practical, weekly actionable tips will have you looking like a seasoned diver in no time. So come join us and see improvement on your very next dive!
(Click on the photo to join us now!)
---
---