Scuba Booties
Buyers Guide to Thickness, Style, Size & Fit and
Care & Maintenance of Dive Boots
The right pair of scuba booties will help your dive be more comfortable. You don't want to have to worry about getting chaffed or your feet swimming in your dive boots while you are trying to enjoy yourself underwater.  
Before you can purchase your fins you need to buy your diving boots first. This way you will ensure you get a proper fit with the scuba fins you are using. So let's get going and read our tips on how to buy the best booties for you: 
(If you also need information on purchasing fins, take a look at our guide to buying dive fins.)
Scuba Booties: Thickness
You need to decide how thick you want your dive boots. Dive boots are made of neoprene, like a wetsuit. Most scuba diving boots come in thickness ranging from 2mm to 7mm.
It's not a requirement, but as a rule of thumb, your boots should be the same thickness as your wetsuit. This is because, similar to a wetsuit, the thickness you want is determined by what type of diving you will do.
If you are only diving in warm water, like the Caribbean, you can go with a thinner material.
A pair of 3mm high top dive boots with zipper
A dive boot of 2-5mm should be more than sufficient for warm water diving. If you are a cold water diver, you would probably want a thickness of 5+mm.
For more information, check our wetsuit thickness guide.
Scuba Booties Style: Sole and Cut
What type of sole you need is based on what type of diving you will be doing. If you plan on doing mostly shore diving, you will want a thick sole to help you go over rocks, hot sand, etc. These are sometimes referred to as monster soles.
If you only do boat diving, a thinner sole will be sufficient.
As far as the cut goes, if you are doing warm water diving a low cut or mid height is the best bet. No need to have that extra weight and buoyancy if you don't need it. However, you will need it for warmth in cold water diving so if that's what you do, choose a high cut boot.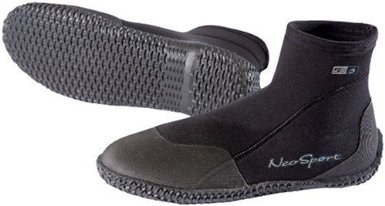 A pair of low cut pull on dive boots
Higher cut boots typically have zippers to make them easier to get on and off. Thinner boots are sometimes slipper type style - no zippers and you just pull them on and off.

Size and Fit
For the correct size, start with your shoe size. Unfortunately, scuba boots only come in whole sizes so if you are a half size, try rounding up as a start.
Sizes for scuba booties are quoted in mens sizes. So women should subtract 1 (possibly 2) size from their shoe size as a starting point (womans size 7 = mens size 6).
Scuba dive boots should fit similar to a shoe, a bit snug but not too tight and not too loose. Your toes should not be curled up in the end of the boot. If this happens, go a size up. Hopefully, your feet won't be swimming in them.
Care and Maintenance
Caring for your dive boots is pretty much the same as caring for your wetsuit.
Rinse - When you are finished diving for the day, rinse your scuba diving boots in fresh water. Most dive operators have a rinse tank for this purpose. Salt water can cause neoprene to lose its flexibility. Not to mention the nasty smell an unrinsed neoprene can have. 
Soak - Soak your scuba booties for about 15 minutes when you get back home, or better yet, back to the hotel. You can also use a special wet suit shampoo at this stage (baby shampoo is said to work just as well). You should shampoo your dive boots every once in a while for best results.
Inspect for Damage - Before you store your scuba booties for the next dive vacation, check for any rips or tears. They are much easier to fix while small (see my page on

wetsuit repair

for repair tips.)
Store Properly - Do not crumple boots up and shove them in a drawer. This can crease the boots and cause them to lose some of its insulation effectiveness
Tidbits - Do not store or dry your scuba booties in direct sunlight. Also, do not use aerosol spray near your dive boots as this can degrade the neoprene. The same goes for car exhaust so the garage is not the place to store your boots. And last but not least, do not put a dive boots in the dryer. I know it sounds obvious, but people have actually done this. You've been warned.
Hopefully this buyers guide to scuba booties will help make purchasing this piece of scuba equipment a little easier. They are one of the easier pieces to purchase so go ahead and have fun.
If you need help in choosing the right fins, you might find these pages useful:

Scuba Diving Fins Introduction //Fin Types and Styles //Fin Sizing and Care
Have a great, warm dive!

---
---
 Want to stay down longer and improve your buoyancy control and other diving skills? Our free report "Increase Your Bottom Time" along with our practical, weekly actionable tips will have you looking like a seasoned diver in no time. So come join us and see improvement on your very next dive!
(Click on the photo to join us now!)
---
---