Diving Fins For Scuba:
Size and Care
Having the proper fit for your scuba diving fins will greatly add to the enjoyment of your dive. You don't want to have to worry about kicking those fins off during a dive (definitely not a pleasant experience). 
Nor do you want them so tight that's all you can think about while you are diving.
I will show you how to size your dive fins so you don't have to think about them while you're underwater.
I'll also give you some tips on how to properly care for your diving fins for scuba so they last for many dives to come.
(For a complete list of all the pages in my free Fin and Booties Buyers Guide click here.)
So let's get you a comfortable pair of fins.
How To Size Your Fins 
Basically, sizing scuba diving fins is similar to sizing your feet for shoes. The sizes are very close.
As a general rule men should start out with a fin size the same size as their shoes. The starting point for women is usually a size smaller than their shoe size.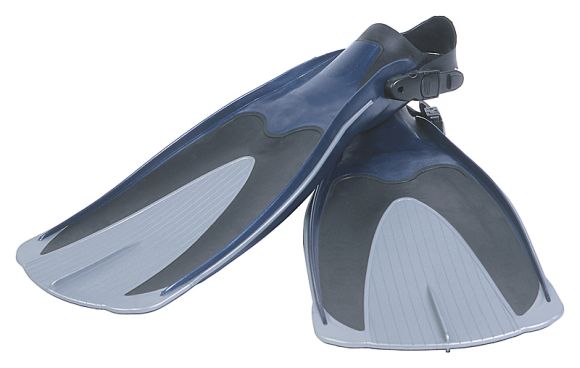 If you choose open heel fins and are going to be wearing booties with your fins, purchase the booties first. You need to have the bootie on when trying out scuba diving fins to ensure you get the proper size and fit.
So start with the fin size as outlined above. Try them on and see how they feel. If you are wearing a bootie, you might have to go one size large depending on the thickness and sole of the bootie.
Diving fins for scuba should fit like your shoes. Not too loose, not too tight. They should fit snugly without pinching anywhere.
With open heel fins, adjust the strap to the loosest position and insert your foot. Adjust the strap to fit snugly - but not a vice grip!
On the open heel fins, your foot should extend past the back of the boot heel a couple of inches or so and the upper lip should line up with your instep.

If your foot goes too far forward in the pocket, the fin is probably too large.
On the full foot dive fin, the fin should fit snugly without too much room. You shouldn't have to struggle to get them on.
For both types of fins, you should do the shake test.
Sit down and shake your foot around in all directions. The fin should feel secure but not rubbing or pinching anywhere.
If it feels too tight with no movement at all, you should try the next size up. If there is alot of movement when you shake your foot, go down a size and start again.
Follow these guidelines to fit and size your scuba diving fins and you should have a nice comfortable dive - and not have to think about your fins at all. That's having the proper fin size!
Fin Care
Scuba fin care and maintenance is pretty easy. There's not alot to do here so you should be able to use your diving fins for scuba for years to come. Some tips on fin care:
Rinse thoroughly - Rinse your fins in fresh water after each dive. The salt could start eroding the dive fins.
Dry thoroughly - Let the fins dry thoroughly before storing your fins. You don't want any unpleasant surprises when you go to pull them out for your next dive.
Keep out of direct sunlight
Store in cool, dry place - Do not store fins in the trunk of your car. The temperature in the trunk can get awfully high if it is in sunlight. Excess heat can warp the fins.
Do not store fins on the tips - The blades of the fins could distort if they are stored on their tips.
Avoid contact with oil, aerosol, chemical solvents, etc. - Coming in contact with any of these materials can cause the fins to begin to erode or degrade.
Fin Straps
Just a quick word about straps for your diving fins. The strap on fins can break so you should always carry a spare. You don't want to have to miss a dive because your strap breaks as you are gearing up on the dive boat.
Look for a strap that is solidly made. The strap for your fins should be thick with buckles that are well made and durable.
Test the buckles out and make sure they are fairly easy to use. You should also be able to loosen the strap on the fins without having to take the whole strap off the fin.
Hopefully these tips will enable you to find the right pair of scuba diving fins for you. A pair that you won't have to think about while you are diving!
Have a comfortable dive!
For more information, check out our other pages on fins and booties:
Scuba Diving Fins Introduction
---
---
 Want to stay down longer and improve your buoyancy control and other diving skills? Our free report "Increase Your Bottom Time" along with our practical, weekly actionable tips will have you looking like a seasoned diver in no time. So come join us and see improvement on your very next dive!
(Click on the photo to join us now!)
---
---