Sandals Resort in Jamaica:
Review of Sandals Grande Riviera Beach & Villa Golf Resort
A Sandals resort in Jamaica, Sandals Grande Riviera, located in Ocho Rios and formerly known as the Sandals Grande Ocho Rios, is one of seven all-inclusive Sandals branded resorts in Jamaica.
While we have stayed at many all-inclusive resorts in the Caribbean (including Jamaica) and Mexico, we had never stayed at a Sandals before. This is our review of our stay at the resort.
Most notably, this Sandals resort in Jamaica is just finishing up a $60 million upgrade to the property and it shows. Everything is fresh and new.
Instead of the brightly colored Caribbean theme with floral prints, etc. that the resort previously had, the decor is now more subdued. For instance the colors are softer and more subtle and the rooms now have hardwood/mahogany beds with white duvets, flat screen TV's and marbled bathroom, among other amenities.
In my opinion, it gives the resort a more updated, elegant feel - more of an upscale feel than some other chains. Of course, that can be reflected in the price, especially if you choose one of the high end butler service villas or rooms. As with many things in life, "you get what you pay for". But it's worth it. Read on:
Sandals Resort in Jamaica:
Grand Riviera Arrival
As soon as you clear through Immigration/Customs, your Sandals experience begins.
Sandals welcoming lounge in Sangster Airport, Montego Bay, Jamaica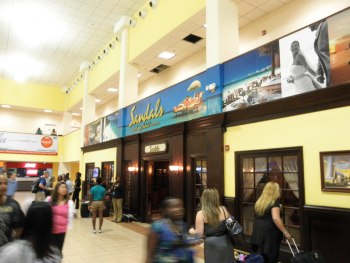 Sandals has a welcome lounge located in Sangster International Airport in Montego Bay. You can't miss it as it is located in the room directly after clearing in.
An employee will take your name and tag your bag with the name of your Sandals resort in Jamaica, along with your hotel section. That will be the last you have to handle your bags (you just have to identify them as they are transported later).
The lounge has some comfortable chairs, snacks, beverages and restrooms available for your use. Red Stripe and Red Stripe Light are on tap to help welcome you into the country. We just had a chance to use the restroom and grab a beer before we were called to go to our bus for transfer to the hotel. The welcoming lounge is a nice touch, even if you aren't there for long.
Once on the bus, we had to wait for approximately 20 minutes before we took off. Since we had time, people were able to grab something else to drink for the ride if they wanted. It would be nice if you could stay in the lounge until your bus is ready to go rather than waiting on the bus. I'm guessing the lounge would get too crowded since it isn't that big.
Transferring to Sandals Grand Riviera from Sangster Airport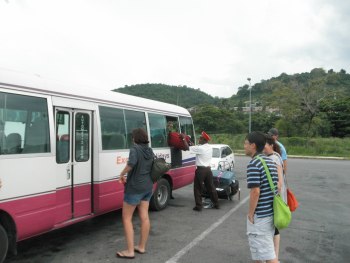 The bags were taken to the bus by a porter who is not an employee of Sandals. They actively solicits tips and we paid US$1/bag.
The ride to the the Grande Riviera Sandals resort in Jamaica took a little less than 2 hours, including a short stop at a rest area to use the facilities, grab a drink, etc.
Our driver was very good, drove safely and gave a nice informative tour along the way. It helped make the time go faster and I found I didn't mind the ride.
The driver will also suggest a gratuity if you are so inclined. We gladly tipped since he was very good.
Rest stop on bus ride from Montego Bay to Ocho Rios, Jamaica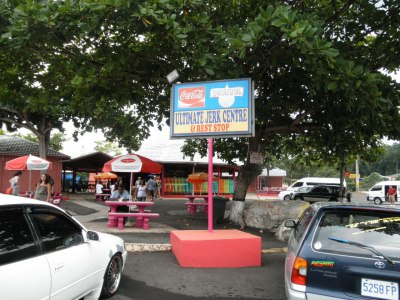 Our first stop was to drop people off at the hillside portion, followed by the beachside (see below). You were met with someone handing out wet washcloths to freshen up and then taken to an area to check-in (the area depends on what level of room you are staying in).
So now onto the review of the particulars of this Sandals resort in Jamaica:
Sandals Resort in Jamaica:
Grande Riviera Property
The first thing to realize is that this Sandals resort in Jamaica is basically comprised of two sides, a beachside and a hillside.
Arriving at Great House side of Grand Riviera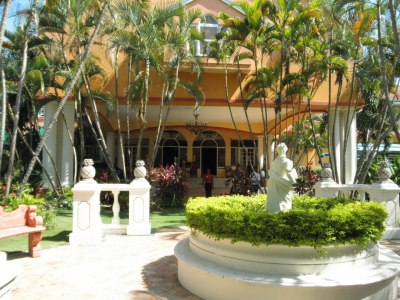 The two parts are split in two by a small two lane road which can get a bit busy at times. If you are staying on the hillside, which is comprised of The Great House and Riviera Villas, there is a jitney (with stops in various spots of the property) which will take you the couple minutes ride to the Seaside property.
You can then walk down to the beach - which is just a few minutes' walk. The jitney comes around every 10 minutes or so. It seemed many people would walk to the beach (downhill) and then take the jitney back up.
The property is covered in lush vegetation and is well maintained. Walks around the property will take you through some beautiful gardens, fountains, etc.
Sandals Resort in Jamaica:
Grand Riviera Rooms
The rooms have undergone renovation and are well appointed. (I believe all the rooms have been finished, but you may want to double check yours to make sure.) Rooms have hardwood/mahogany beds, upgraded marbled bathrooms and flat-screen TV's.
As to be expected, the higher room level you go, the more amenities you will receive.
Our room at Sandals Grande Riviera, Jamaica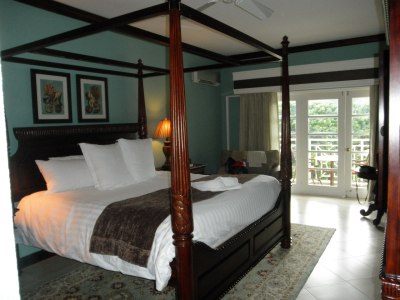 There are 24 different room categories to choose from so you can pretty much have what you want. There are villas, suites and rooms. Service categories include deluxe, concierge and butler. You can have garden view, pool view or ocean view. So many choices! Just pick what's important to you and start from there.
We had a concierge level room in the Riviera Building (seaside) with a garden view. We had a four poster bed, sitting area, mahogany cabinets and a marbled bathroom. There was also a nice sized balcony with two chairs and a table. I was very happy with the room.
Strangely, one thing that was missing in our room was any sort of resort directory. It was a bit confusing at first, but we figured it out. We never bothered to ask for directory during our stay, so that was our fault.
All rooms have a refrigerator with juices, soda and water. If you upgrade to the concierge level, your room will also have alcohol: Red Stripe beer, vodka, gin, rum and one bottle each of red wine, white wine and champagne.
The vodka, gin and rum in our room wasn't name brand as it was at the bars, but it was fine. If you upgrade to the butler level, you can pretty much have whatever you want. This Sandals resort in Jamaica has quite a few butler level accommodations.
The fridge at our concierge level room at Sandals Grande Riviera, Jamaica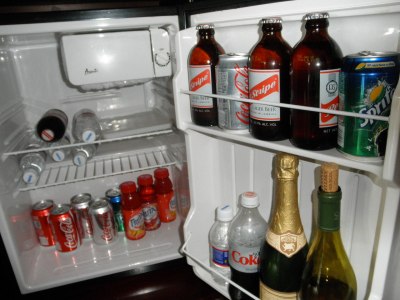 Probably one of the most important decisions you will make is if you want to be on the seaside or the hillside. If you are all about the beach, go for the seaside. There are several categories of accommodations available on that side. If the beach isn't that important to you and the idea of a private pool appeals to you, the hillside might work for you.
Private pool for villa on hillside section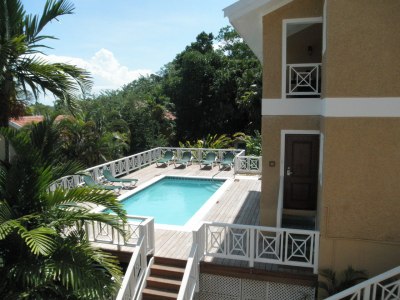 Note: Villas on the hillside have "private" pools; however that pool is shared by the villa which can have 1-4 units in it. So you may not be the only one to have access to the pool. This type of villa arrangement could be ideal for people traveling together.
Sandals Resort in Jamaica:
Grand Riviera Pools
This resort is all about the pools. If you love lounging by a pool, you should love it here.
First, there are 3 main renovated pools with swim-up bars. One up at the Great House on the hillside, another at the Beach Club main pool and the 3rd at the Riviera main pool (both of these are on the seaside).
Main pool at Sandals Great House with swim-up bar, Jamaica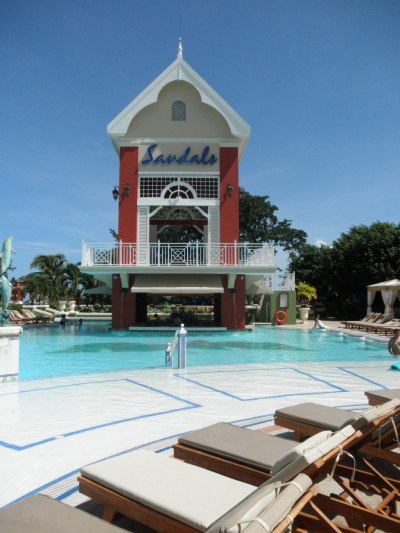 You then have the Riviera Garden pool, Riviera Hidden pool, the Manor house pool and a dedicated scuba diving pool.
This is all in addition to the 99 private/semi-private pools on the property. Like I said, this resort is all about the pools.
There were plenty of chairs for guests as well as towels. This is in contrast to some of the resorts I have stayed at where you are lucky to get a towel past 9am or a decent chair. And while we stayed here in September, the resort was close to full occupancy so I don't think the towel/chair experience will be much different during the high season.
The water was always clean and crystal clear in the pools.
Sandals Resort in Jamaica:
Grand Riviera Beaches
If there was one drawback to this Sandals resort in Jamaica, I would have to say it was the beach. Now you have to take into consideration that I am a beach person. Some people are pool people and some are beach people. I am the beach person. For most people, it would probably be fine, so take it as you will.
Beach in front of Riviera building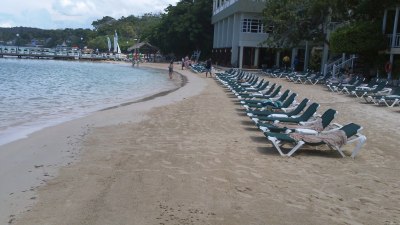 The "beaches", as I call them since they are split up, are fairly small. It is not that endless white sand beach you envision in the Caribbean.
Another view of beach in front of Riviera Building, Sandals Grande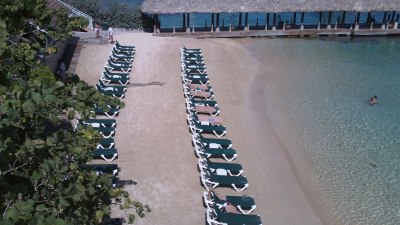 Looking back toward beach from dock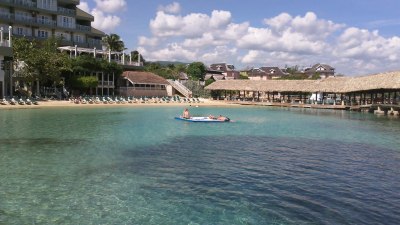 The beach area in front of the Riviera building is a main swimming area. The water has been cleared of most rocks, etc. so it is easy access and easy on the feet. The drawback, in my opinion, is that the dock forms a u-shape around the building so when you are laying on the beach or in the water, you do not have a clear view to the ocean.
There is a shady stretch of beach to the right (which leads to the watersport beach) and which does have an unobstructed view of the ocean. This is one spot we hung out since I need the shade.
Shady beach area at Sandals Grande Riviera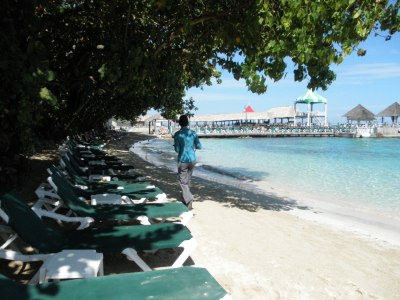 Beach club area, Sandals Grande Riviera, Jamaica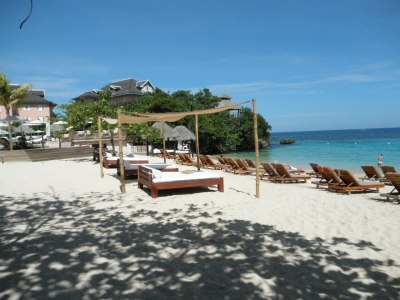 On the plus side, Sandals has also recently renovated the "Beachclub" area which has lounges, cabanas (some free, some for hire with extra amenities) and the beach club swim up bar. It is separated from the other beach area by a series of steps and walkways.
Beach club at Sandals Grande Riviera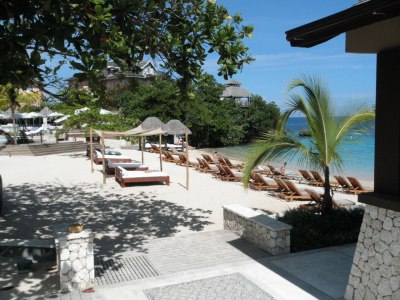 This area is very nice and feels more like the beach you come to the Caribbean for. Again, however, it is pretty small - but it wasn't very crowded when we were there which made it nice.
Beach cabanas for rent at beachclub, Sandals Grande Riviera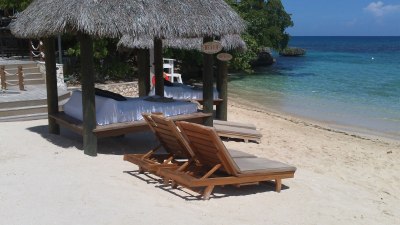 As I noted above, there are some cabanas spread around the pools and beach. Some are first come/first serve. Some, however, need to be reserved. You are charged an extra fee for these cabanas (as of this writing US$85) and they come with concierge service and a cooler with beer and water (check the details before you book in case it has changed).
Sandals Resort in Jamaica:
Grand Riviera Restaurants
One thing the resort isn't lacking in is restaurants. There is a choice of 15 dining options ranging from a seaside grill to formal attire dinner spots. Cuisine type varies from Italian, Asian, Caribbean to Mediterranean. Some restaurants require reservations, though most don't, and some have a more formal dress code (dress pants for men, shirts with sleeves and collar, etc.). It is all clearly laid out on their site.
China Doll Restaurant at Sandals Grande Riviera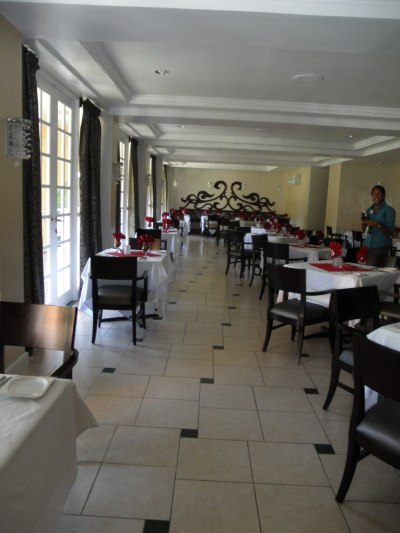 Restaurants are usually closed one or two nights a week. So if there is a certain restaurant you want to try out, plan accordingly so you don't miss out.
Breakfast is typically a buffet style meal with many choices including made to order omelets. Lunch can range from one of the two buffets available to a pizza from the wood-fired oven to a Jamaican specialty from one of the beach grills.
Neptune Beach Restaurant, Sandals Grande Riviera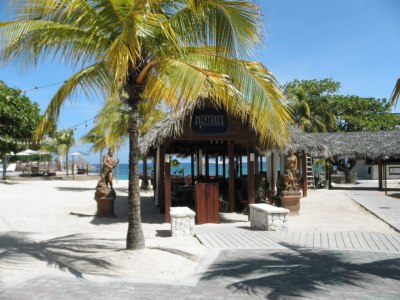 Unlike most all-inclusive resorts, at this Sandals resort in Jamaica there are no buffets for dinner. All the restaurants are a la carte at night.
If you get hungry later, there is also a grill open on both sides of the resort from 10pm-3am for late night snacks. 24 hour room service is only for the Butler Suite categories of accommodation.
We were happy with the quality of the food at this resort. I especially liked that it was easy to get into the restaurants and we didn't have to do a buffet for dinner.
Some people complain that the portions are small, and they usually are. However, you can always order more. If you think it won't be enough for you, order 2 entrees at a time so you won't have to wait for a second entree.
Dinner entree, Snapper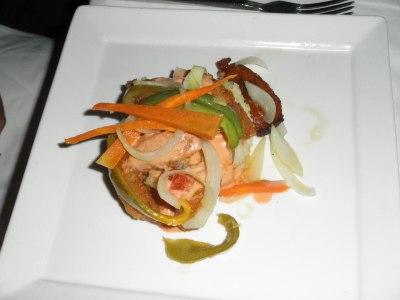 Although the portions are small, most restaurants offer an appetizer, soup, salad, entree and dessert. Even if they are small, a 5 course meal still goes a long way to filling you up. We were always satisfied and never had to order extra.
After you have your first meal, you should be able to judge if it will be enough for you. And if you are hungry later, just head to one of the late night grills.
One night a week there is a beach party complete with fire dancers, conga line, etc. They set out a buffet (which included grilled lobster) and bar on the beach.
Unfortunately, we didn't know this was happening and we were having dinner at one of the restaurants thinking "where is everyone?" As we walked over to the beach club just to check things out, we found everybody. That answered our question.
(There is a Daily Breeze newsletter that is published everyday giving you the days activities, schedules, restaurant information, etc. Unfortunately, we didn't read that issue too closely (!) or we would have known what was going on. Don't make our mistake - read the Daily Breeze.)
The resort also offers a private candlelight dinner option on the beach, pier, etc. There is an extra charge of $170/couple for this service. It seems a bit high to me but it can certainly add some romance to your stay. We, obviously, didn't take advantage of this service but it looked great and I would consider it for a special occasion.
Sandals Resort in Jamaica:
Grand Riviera Bars
You won't go thirsty at this Sandals resort in Jamaica. Besides the 3 swim-up pool bars I talked about above, you have several more options.
On the Riviera seaside, there is Jamie's Sports Bar which opens to the beach and is located in the Riviera building. You also have the Sundowner bar located in the Riviera building and overlooking the ocean and Ethel's Piano Bar which is open at night. Kimono's also has a bar and there are a couple other bars located up on the hillside.
Beach club swim-up bar, Sandals Grande Riviera, Jamaica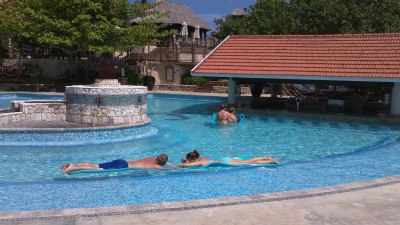 Sandals Resorts has partnered with Beringer Vineyards from Napa Valley for their house wines. This is what they will pour at the bars and restaurants and what you have in your room if you have the concierge level or higher.
There is also a premium wine list available for an extra charge. I found these house wines to be fine so we never ordered any of the premium wines. They were much better than the wines I am used to getting as house wines at the all-inclusives I have been to in the Caribbean. Of course, that may not be saying much :) but these wines really were fine.
For beer, Red Stripe is the only available beer. It is available on tap and you will also get some in bottles in your refrigerator if you have the concierge level of room or higher.
Alcohol is name brand such as Beefeater, Bombay Sapphire, Chivas, Smirnoff, Finlandia, JW Black, Cointreau, Baileys - with one glaring anomaly. The rum of all things.
Riviera building swim-up bar, Jamaica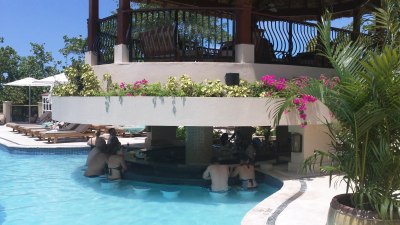 In a country known for rum, there is no Jamaican rum being poured. They serve the El Dorado brand from Guyana. While it was fine, it was still a letdown. I drink Myers and Appleton (both Jamaican rums) at home and just assumed it would be available here. Appleton used to be served at the Sandals resorts but Sandals changed the rum in 2010.
Looking around the internet, there seemed to be disagreements on both sides (Appleton tried to raise prices, etc.) - but who knows what really happened? Do we really care - we just wish you could get some Jamaican rum in Jamaica. You would think there could be a compromise and maybe serve both. But, hey, that's just me. One thing I do know, it had to be a coup for El Dorado - more power to them.
You never had to wait long for a drink and the bartenders were usually there with a smile. In addition, there were usually waiters/waitresses going around the pools, beaches and water to see if you needed anything.
Sandals Resort in Jamaica:
Grand Riviera Staff/Service
I can't say enough about the staff. Everyone was very friendly, had a smile and a hello and seemed concerned that you were having a good time. The attitude of the staff was much better than those at other resorts where we have stayed. Usually you will run into several people (or more) at a resort that just couldn't be bothered and/or were surly; here we just had one that I can remember - and that is a miracle.
A big thumbs up in this category.
Sandals Resort in Jamaica:
Grand Riviera Scuba Diving
If you are a certified diver, you are allowed to do two dives for free per day.
Dedicated scuba diving pool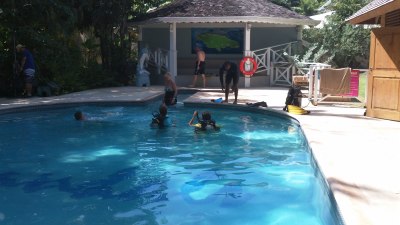 For certified divers, if you haven't dove with them before, you need to do a shallow dive with them before they will let you go out on a deep dive. There appears to be no exception - even if you are a divemaster, instructor, have 500 dives, etc. Seems a bit harsh, but those are the rules. Make sure to take this into consideration and don't leave the diving until the end if you want to get couple of deep dives in.
Sandals main scuba diving boat on right
They also offer a resort course (US$80) that allows you to do a shallow dives with them during your stay. There is a pool dedicated to scuba diving training. (For more information, see our page on scuba diving resort courses to see if this might be for you.)
Unfortunately, we didn't get a chance to go scuba diving while we were there - I know, I know, but sometimes circumstances get in the way. For what it is worth, we did talk to people who did dive here and they said it was pretty good. There were quite a bit of smaller fish, no real big fish to see. The coral was OK with some interesting formations. From people that have dove here before, it appears to be getting better which is a great sign.
But let's face it, Jamaica is not a scuba diving destination (see our page on scuba diving in Jamaica for more information.) However, you can still have a decent dive and you are getting under. Who knows, you might be pleasantly surprised so give it a go and let us know how it goes. We will get down next time we are there.
Sandals Resort in Jamaica: Grand Riviera Other
The resort also offers two Red Lane Spas where you can get pretty much any treatment you want including 10 types of massages. We didn't partake in any of the offerings but we did go through the Spa and it looked very relaxing and inviting.
You can also get massages outside under a palapa. We saw quite a few couples getting couples massages (US$240 per couple) outside - time to turn on the romance.
Loading up for Sandals cruise to Dunns River Falls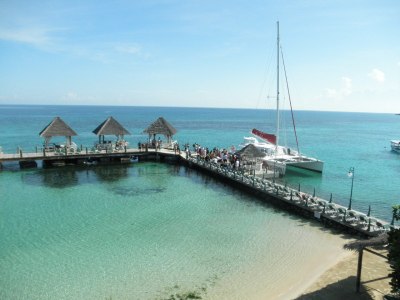 The resort also offers complimentary golf at Sandals Gold & Country Club. We didn't golf and didn't speak with anyone that did so we can't give any opinions on how good or bad the course was. Golf carts are extra as are caddies; caddies are mandatory.
Sandals Resort in Jamaica: Grand Riviera Final Words
Overall, we really enjoyed our stay at Sandals Grand Riviera. The rooms, amenities, grounds, pool, bars, restaurants and staff were all well above average and more than exceeded our expectations. The only disappointment, as I discussed above, was the beach (we will give the rum a pass :)). Obviously, this is only our opinion and you can form your own opinion about the beach from the pictures above.
With that caveat, I wouldn't hesitate to recommend this resort to anyone. You get great service at a beautiful resort so you can just sit back, relax and enjoy with your significant other.
Note: This resort is not handicap accessible. There are many stairs to get from one area to the other and there are no elevators. If you have a person with limited mobility, I think you would be better off at another Sandals resort. I was thinking of this since we often go on vacation with my mother, including to some all-inclusives in the Caribbean, Unfortunately, she will not be seeing this resort since she no longer gets around too well. She needs to use a cane/walker and/or wheelchair depending on the circumstances and she really wouldn't be able to navigate around this resort. Just a thought to keep in mind if someone in your party needs extra help in getting around.
If you need more general information on Jamaica, including location, weather, airport, etc. see our page on Jamaica general information.
Disclaimer: I am an affiliate for Sandals (as well as other companies) and, as such, I receive a commission if you book through one of my links. I also received complimentary nights at the resort so I could experience the resort first hand. However, this has not influenced my review here and I hope you can tell that.
If you have read through my site, you know I give you my honest opinion including the good and the bad, regardless of my affiliation status. I have put alot of work into this site (and into this review) and my credibility online means everything to me. I want my readers to come back - and I hope you do. But, if you didn't find value from this review, or from my site, you can always go to the Sandals site directly. No hard feelings. Either way, have a great trip and let us know how it goes.
So are you ready to get away after reading this Sandals resort review? If so, head over to Sandals where you can save up to 65% plus 1 Night Free and get a $250 Red Lane Spa Credit at Sandals Grande Riviera
And, yes, that is an affiliate link :) Have a great time!!
You may also like to read our review of another Sandals resort in Jamaica: the Sandals Montego Bay Jamaica resort.
---
---
 Want to stay down longer and improve your buoyancy control and other diving skills? Our free report "Increase Your Bottom Time" along with our practical, weekly actionable tips will have you looking like a seasoned diver in no time. So come join us and see improvement on your very next dive!
(Click on the photo to join us now!)
---
---