Scuba Diving Jamaica:
Our Dive Review - Plus Information on Location, Water Temps, Weather, Flights, Resorts and More...
Ah, Jamaica. Beautiful. Ah, scuba diving Jamaica. Not quite so beautiful.
Jamaica has alot going for it - culture, reggae music, beaches, waterfalls, coffee, etc. It is a popular island destination and with good reason.
We've had great times on Jamaica and fell in love with the island.
I am sorry to say, however, that we didn't fall in love with scuba diving in Jamaica.
The waters around the island have been overfished and some of the sites close to shore are pretty much barren. (Of course, Jamaica is not alone with being overfished as my recent sailing and diving trip through the Caribbean can sadly attest.)
Reefs around the island have also taken a hit from both humans and weather. Jamaica is thus not near the top of our list for the best scuba diving destinations.
All is not lost, however.
The island has been getting better reviews for diving - by my husband included. And if you scroll down to the end of this page, you can read some comments from vistitors to this site who disagree with my view of scuba diving Jamaica. So there is hope that life is coming back to these waters.
And, as you'll read below, the island is making efforts to restore and protect the reefs and marine life.
So while experienced divers might get bored pretty quickly while scuba diving Jamaica, it is regarded as a pretty good place for beginner divers. And while I wouldn't recommend going to Jamaica solely for scuba diving, if you are going to Jamaica on vacation you should give it a shot anyway. (If you do dive in Jamaica, please let us know what you think - we would love to hear from you).
And let's face it - it is always good to get underwater no matter what.
Friendly Jamaicans- can you beat that smile?

Use it as a refresher or a break from all those Red Stripes!
As long as you know what to expect, scuba diving Jamaica may be no problem mon. You might be pleasantly surprised.
Lay of the Land

Jamaica is one of the largest of the Caribbean islands at 4,442 square miles. It ranks in size only behind Cuba and Hispaniola. It measures about 150 mile long by 50 miles wide (at its widest point).
Unlike some of the other Caribbean Islands (such as Aruba, Curacao, and the Turks and Caicos), Jamaica is mountainous with over half of the island higher than 1,000 feet.
The island's highest point is Blue Mountain Peak at 7,402 feet.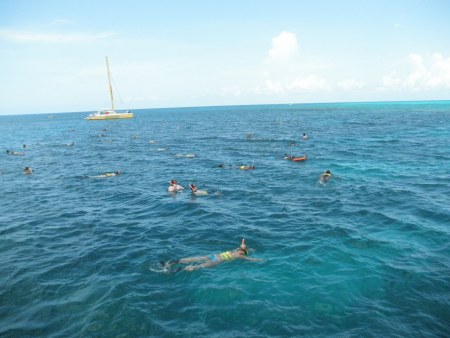 Snorkeling in Montego Bay, Jamaica - close to the ever popular Margaritaville

Over 120 rivers run from the central mountain region to the coasts. Rivers on the north side are shorter and run faster than those on the south side.
With all these rivers, the island has experienced problems with runoff which can affect water quality on the coasts and your scuba diving Jamaica experience.
The main tourist areas (Ocho Rios, Montego Bay and Negril) and popular beaches are located on the north and west sides of the island. Jamaica has some beautiful beaches and they make for a good vacation spot.
Location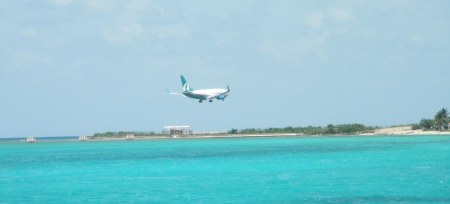 Coming in for a landing at Montego Bay airport in Jamaica. Beautiful colors - but too close for comfort?

Jamaica is located 90 miles south of Cuba and 600 miles south of Miami. From Miami it is an easy 1 1/2 - 2 hour plane ride to Jamaica.
You can also check out our maps of Jamaica, including a fun interactive map, to get more information on Jamaica's location. Give it a try - it's alot of fun!
Flights to Jamaica
Jamaica is a popular destination with tourists and there are lots of direct flights to choose from. Find out which airlines fly there direct, general information on the airport and flights and more on our page about flights to Jamaica here.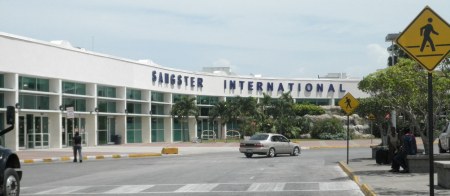 Sangster International Airport in Montego Bay, Jamaica
(You might want to also check out our #1 tip for cheap flights to the Caribbean as well as our other general tips for finding cheap airfare to help make your trip more affordable.)

Resorts in Jamaica
One thing that is not lacking in Jamaica are hotels. There are alot to choose from in all price ranges. So whether you like scuba diving Jamaica or not, you are sure to find a hotel you will like.
There are tons of resorts in Jamaica to choose from - from a boutique hotel to one of the mega all inclusive resorts that line the beaches.
Which one you choose is, of course, a personal preference. There are advantages and disadvantages to both types of hotels (you can read my take on all inclusive Caribbean resorts here).
The first time we vacationed on the island, we ended up staying at one of the all inclusive resorts in Jamaica since we went with a large group.
The Starfish Trelawny Beach Resort to be exact. It has since changed hands and is now branded as the Royalton White Sands.
This resort is located in the Falmouth area on the north coast of Jamaica. It is about a 30 minute drive from Sangster International Airport. Since we were only there for 5 days, we didn't want to have a long drive to one of the other beach areas.
Everyone had a nice time at the Starfish. It was not a top end hotel and we pretty much get what we paid for. 
You can also check out our latest reviews of our stay in Jamaica. Read our review of the Sandals Grande Riveira resort in Jamaica and our review of Sandals Montego Bay. Scuba diving is included in the price at Sandals so no worries.
Weather
The average temperature is in the high 70's/low 80's F during the winter months and closer to 90 F during the summertime. Temperatures generally fall about 10 degrees in the nighttime.
The mountains, however, can get much cooler with 40 degrees not unheard of. So plan accordingly depending on your itinerary.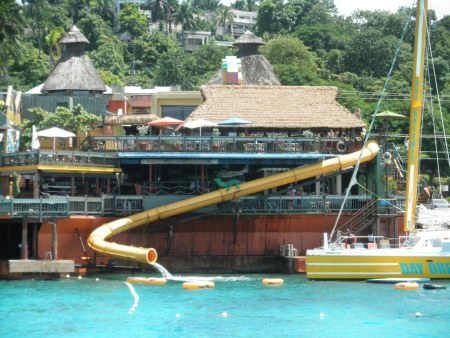 Jimmy Buffet's Margaritavill in Montego Bay, Jamaica - the weather is always right to have some fun here!
Jamaica receives about 80 inches of rainfall per year. It varies considerably over the island, however, with mountainous areas receiving close to 300 inches each year while sections on the western side may get less than 30 inches.
The rainiest months are generally May/June and October-December.
Jamaica is in the hurricane belt with hurricane season being June 1 through November 30. The most active months for hurricanes in Jamaica are typically August and September.
Water Temperatures

The water temperature in Jamaica averages about 78-80 F during the winter and 81-83 in the summer.
With these temperatures, a skin should be sufficient for checking out some dive sites and scuba diving in Jamaica in the summer. A 3mm shorty should be fine for scuba diving in Jamaica during the winter months. If you tend to get cold, you might want to wear a full wetsuit.
Visibility usually averages around 70-100 feet, although days over 100 ft. are not all that uncommon when you are scuba diving Jamaica.
Scuba Diving Jamaica

The reef is located close to shore with shallow reefs circling the island. The Cayman Trench is off of the island's north coast so there are lots of wall dives.
Diving is mostly done on the north and west coasts, which also happen to be the popular tourist areas.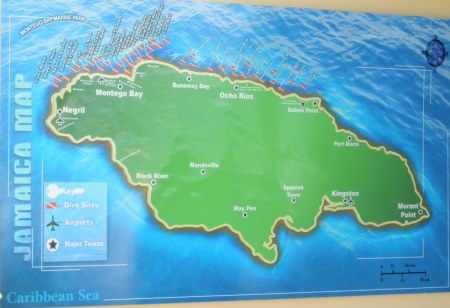 Map of dive sites in Jamaica
Negril, on the west coast, is more protected from the wind and currents than Montego Bay and Ocho Rios (both on the north coast).
Negril is widely regarded as having better diving than Montego Bay or Ocho Rios. The reefs are in better condition and there is more marine life.
Jamaica also has some wreck dives which get good marks from people that go scuba diving Jamaica.
While many of the dive sites are located close to shore, you are required to go with a guide. Most sites are a short boat ride away.
There tend to be lots of inexperienced and/or "one dive every year or two" divers in Jamaica. If you are more experienced you might want to check with the dive shop ahead of time and get an experienced group together. That way they can take you the more "challenging" sites that may not be suitable for most of the tourists diving in Jamaica.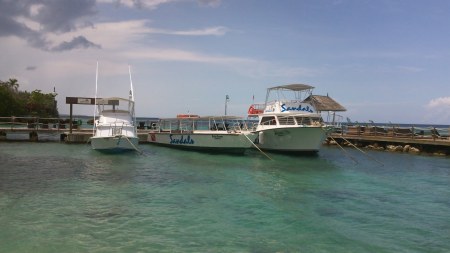 Dive boats at Sandals Grande Riviera in Ocho Rios, Jamaica
Jamaica is making efforts to restore the health of its reefs and marine life. The Montego Bay Marine Park was established in 1990 and the Negril Marine Park was officially declared in 1998.
The Montego Bay park encompasses the entire Montego Bay and covers just over 15 sq. km. It extends from the high-tide mark to the 100 metre sea depth. The Negril Marine park covers 160 sq. km. and runs from the high water mark to approximately two miles (3.2 km) out to sea.
Among other regulations, you are no longer allowed to harvest coral and you may not wear gloves in the parks. There are also some fish replenishment zones in the park area. Buoys have been put in place and sea turtles are now protected by law.
Scuba diving Jamaica can only benefit from these efforts. As I noted previously, some people say it appears to be working. We'll keep our finger crossed.
Topside
Jamaica has so much going for it topside, I will definitely be going back. There are endless beaches, great music, delicious food, beautiful waterfalls, lush mountains and wonderful people. It definitely makes up for the lackluster diving.
Besides the beaches, which are THE top attracation, Jamaica also has the hugely popular Dunns River Falls.
You are allowed to climb up these falls with or without a guide (you know you are not in the US - can't imagine what that insurance would cost). We climbed up without a guide - and that was my downfall.
Climbing Dunns River Falls in Jamaica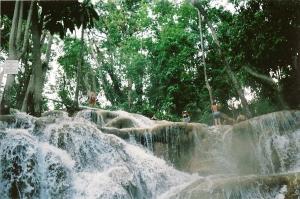 The rocks can be slippery with moss and I lost my footing going up one rock.
And what happens when you combine moss with a nylon bathing suit?
You become a rocket.
I went careening down the rocks like a bat out of hell. I saw a tree coming up so I tried to aim toward that. Because the next stop was over a waterfall. There was nothing to grab onto stop my flight so I hoped for the best. Luckily, a friend of mine was coming up behind me and stood in my path. I took him out but he stopped my slide. And neither one of us was hurt. Shaken - but OK. I am forever in his debt. Maybe I should go with a guide the next time?
Other than that, it was beautiful and unique experience!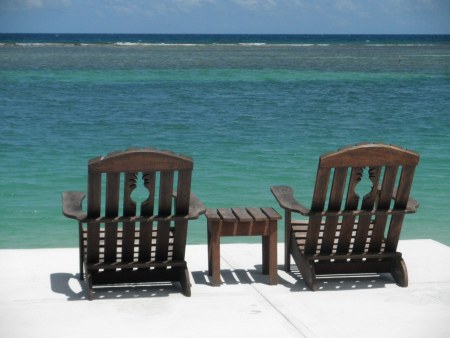 Some beach chairs in Jamaica - can't you just picture yourself here?

If you do plan on going to Jamaica, here are some books you might want to check out to help plan your trip (Note: these are affiliate links, if you do purchase through us (at no extra cost to you) we say a heartfelt "Thanks!"):
Here's to a great Jamaican vacation!
For even more help in planning your trip, check out this informative website on
Jamaica
.

Top of Scuba Diving Jamaica
---
---
 Want to stay down longer and improve your buoyancy control and other diving skills? Our free report "Increase Your Bottom Time" along with our practical, weekly actionable tips will have you looking like a seasoned diver in no time. So come join us and see improvement on your very next dive!
(Click on the photo to join us now!)
---
---