Scuba Diving in Jamaica -
Best Dive Sites
While scuba diving in Jamaica is not on par with the top Caribbean dive destinations (IMHO and as I discussed on the Jamaica home page - see below), it still offers some highlights.
There are some dive sites which consistently get rated as the best in Jamaica. If you go scuba diving in Jamaica, try and hit some of these sites:


The Throne Room

This is probably one of the most popular dives in Jamaica and is located near Negril.

The room is a 40 foot wide cave at a depth of 65 feet. You enter through a crack in the reef at about 40 feet. The crack is about 25-30 feet long and about 8 feet wide. The water is usually calm at this site.
This is the place to see sponges. Huge yellow sponges and coral cover the wall from floor to ceiling. The site got its' name from a large elephant ear sponge on the bottom that supposedly looks like a throne. You exit from the cave in about 70 feet of water.
The occasional nurse shark can be found in the room. As far as other life, you can expect to see snappers, eel, barracuda and turtles (if you're lucky).
Widowmaker's Cave
This is probably the most famous dive off of the Montego Bay area. This site got its name from the cave in the James Jones novel, Go to the Widowmaker.
The cave starts in about 35 feet of water and goes to about 80 feet. You can enter it at 80 feet and slowly rise through the cave to exit through a chimney 10 feet wide and into about 35 feet of water. You can also go in the opposite direction - entering through the chimney and exiting at 80 feet. This dive is for experienced divers only.
Expect to see sponges, barracuda, parrotfish, black coral and barracuda.
Wreck of the Kathryn
A popular dive near Ocho Rios. This wreck is an old WWII Canadian minesweeper and is 140 feet long. Fantasy Divers and Water Sports acquired the ship in 1991 and sank it to create a new artificial reef. It now sits in 50 feet of water.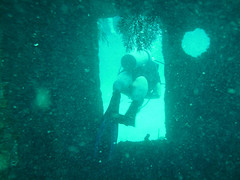 You can go into the wheel house which has an open top. There are also some swim thrus to try out about 25 yards from the wreck if you get bored (which I can be on wreck dives).

Basket Reef
Basket Reef is a popular site in the Montego Bay Area. It is named for the giant basket sponges that are found here.
This site starts at around 50 feet and drops to a depth of 150 feet (you don't want to go there). You can expect to see parrotfish, rock beauties - and the site is said to be visited by turtles and dolphins. We've never dove this site so I can't verify that (I am still waiting to swim with a dolphin. One of these dives.).
So if you go scuba diving in Jamaica, try one of these sites out. Hopefully you won't be disappointed.
Additional Information on Scuba Diving in Jamaica
For more information, see our main Jamaica page with island overview and information on Location, Water Temps, Weather, Flights, Resorts and More
For our review of our Jamaican vacations, see our review of the Grande Riviera Sandals resort in Jamaica and our review of Sandals Montego Bay. At these resorts, scuba diving is included in the price so that's a plus.
Here's to good diving!
---
---
 Want to stay down longer and improve your buoyancy control and other diving skills? Our free report "Increase Your Bottom Time" along with our practical, weekly actionable tips will have you looking like a seasoned diver in no time. So come join us and see improvement on your very next dive!
(Click on the photo to join us now!)
---
---