Flights to Jamaica:
General Info and Finding That Cheap Airfare
If you looking for flights to Jamaica, you're in luck. Jamaica is one of the most popular islands in the Caribbean so there are lots of airlines that fly there.
Since there is alot of competition among the airlines, you can frequently find some cheap flights to Jamaica also. And who doesn't like that?
The first time we went to Jamaica, we ended up flying with Air Jamaica since they had the best price. We had a positive experience with them, however they are no longer in operation.
Other times we have used frequent flyer miles on American Airlines - which, unfortunately, is getting harder and harder to do.
Airports in Jamaica
There are two major airports in Jamaica, one in Montego Bay and one in Kingston.
Most tourists will fly into the Montego Bay airport since it serves people staying in Montego Bay, Negril and Ochos Rios - the most popular beach destinations.
If you are staying in Negril or Ocho Rios you will have to transfer to your hotel via plane, taxi, bus, shuttle, etc. Unfortunately, it can add a couple hours to your travel time (see below). But just keep thinking of the beautiful beaches at the end!
The Montego Bay, Jamaica airport is called Sangster International Airport (airport code MBJ). It is located on the northwest coast of Jamaica about 2 km east of the center of Montego Bay.
Norman Manley Airport in Kingston
From Montego Bay you can opt to fly to Ocho Rios or Negril if that is your final destination.
If you are going via road, it is about 1 1/2 hours to Negril and anywhere from 1 1/2 to 2 1/2 hours to Ocho Rios (depending on where you are staying and how many people you many need to drop off enroute).
If you opt to take the short flight to Negril or Ochos Rios, both Timair and International Airlink fly from Montego Bay to Negril and Ocho Rios.
The airport in Kingston, Jamaica is called Norman Manley International Airport and is located about 10 miles southeast of Kingston. You would also use the Kingston airport if you are staying in Port Antonio. The airport code for Kingston, Jamaica is KIN.

Jamaica Flights from the US and Canada
Given its' popularity, many airlines offer nonstop flights to Jamaica from North America.

Delta offers non stop Jamaica flights from New York (JFK) and Atlanta (ATL).

Flight arriving at Sangster Airport in Montego Bay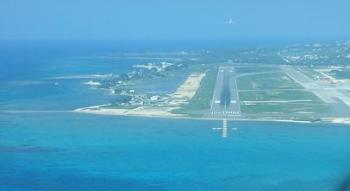 American Airlines offers direct flights to Montego Bay, Jamaica from New York (JFK), Miami (MIA) and Dallas (DFW).
JetBlue also offers a nonstop flight stop from NY (JFK) to Montego Bay.

Continental Airlines has nonstop flights to Montego Bay from Newark (EWR).

Northwest Airlines offers a direct flight to Montego Bay from Minneapolis, MN (MSP).
Spirit Airlines has non stop flights to both Kingston and Montego Bay from Fort Lauderdale, Florida.
It is a fairly short flight to Jamaica from most points in the US. Montego Bay is a little under 4 hours flight time from New York, about 1 1/2 hours from Miami and 3 1/2 hours from Dallas.
Air Canada also offers a direct flight to Montego Bay from Toronto. It is about a 4 hour flight. They also offer seasonal service from Edmonton and Vancouver to Montego Bay on a weekly basis.

Air Transat/Sunquest also offers a weekly non-stop flight from Vancouver to Montego Bay. This flight, however, is currently only operating on a seasonal basis.
West Jet has daily non-stop Jamaica bound flights from Toronto to Montego Bay during the high season with less frequent service during the off season (generally Mondays, Wednesdays, Fridays and Saturdays). 
Flights to Jamaica from Europe
Virgin Atlantic operates direct flights from London Gatwick (LGW) to Montego Bay on Tuesdays, Fridays and Saturdays.

Beautiful colors in Jamaica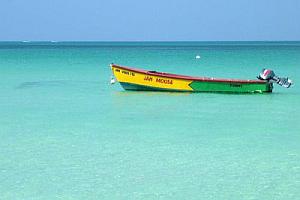 Virgin Atlantic also has flights to Kingston, Jamaica (KIN) from London Gatwick on Mondays and Thursdays.

British Airways offers non-stop flights to Kingston, Jamaica from London Gatwick on Mondays, Wednesdays and Fridays.
Condor Air operates weekly non-stop flights from Frankfurt, Germany to Montego Bay (MBJ) on Wednesdays.
Thomson Airways flies weekly on Tuesdays from London Gatwick (LGW) to Montego Bay (MBJ). They also add another flight on Wednesdays from approximately November through March.
Thomson also has flights to Jamaica from Birmingham to Montego Bay on Tuesdays. This flight changes to Thursdays for roughly the November to March period.

Flights to Jamaica From Other Points
Caribbean Airlines has non-stop flights to Kingston, Jamaica from St. Maarten and Antigua.

Cayman Airways offers direct flights from Grand Cayman to both Kingston and Montego Bay, Jamaica. 
Poster in Manley International Airport in Kingston, Jamaica
Finding Cheap Flights to Jamaica
Looking for cheap flights to Jamaica? 
As we discussed above, since Jamaica is one of the most popular destinations in the Caribbean, there are many airlines that fly there. And all that competition makes it easier to find a good deal.
Of course, there is some science and some luck in snagging that good fare. 
If you follow the suggestions below, you will increase your chances of finding that deal that doesn't bust your budget.
We will start off with some suggestions specific to finding cheap airfare to Jamaica:
Use Charter Flights

Since Jamaica is such a popular island, you can usually find a charter airline that flies to Jamaica. And charter airfare is invariably much cheaper than regularly scheduled airline flights.

Of course, the drawback to a charter plane is less flexibility and potentially significant delays if there is a problem with the plane as a backup plane or another flight may not be available.

One of the larger charter companies is USA3000 which is used by the popular Apple Vacations.

Book a Package

If you book your airfare and hotel together it can save you significant amounts of money over booking a hotel and plane separately. Whether you do this online or with a travel agent, it is certainly worth a look.
Sangster International Airport in Montego Bay, Jamaica 
Jamaica has a ton of hotels to choose from - from small boutiques to massive all-inclusives. You can find a hotel to suit every budget. Try and book both together to bring your cost down significantly.

We almost always book a package so we can save money. About the only time we don't book a flight and hotel together is if we are using our frequent flier miles (THE cheapest way to get cheap flights to Jamaica) or staying in a house, apartment, etc.

At the very least, price it both ways to see which comes out less expensive. I know where I will put my money.

Travel Off Season

Prices fall significantly in the off-season for most Caribbean destinations. The high season for Jamaica is from mid-December to mid-April. The highest prices are usually found around the Christmas/New Years period (what a surprise, right?).

Even in you travel in the shoulder season (those months falling right before and right after high season), you can usually find some cheap flights to Jamaica.

Personally, I like traveling in the shoulder season since the weather is still usually great and you have less crowds - with the added bonus of cheaper prices. What's not to like?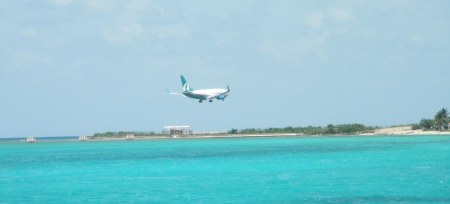 Plane coming in for a landing at Sangster in Montego Bay
Be Willing To Transfer

Many times if you transfer to a major hub city, like New York or Miami, you will be able to find a cheaper airfare than flying direct. There are many flights out of major cities to Jamaica so your chance of finding a cheaper flight increases.

Although we live in New York, we have flown to Miami to go to the Caribbean many times since that option was cheaper. It can be a pain, but the savings are usually worth it. You make the decision.

Get Airfare Alerts 

There are several websites that will alert you to when there is a good deal on airfare. It will help if you have your dates in mind but it isn't a requirement.

I usually use these and find them to be a good resource:
Check Our General Cheap Airfare Tips

We have more general tips on finding cheap airfare here. Use them in conjunction with the above tips and you should be well on your way to finding an affordable airfare to Jamaica.
I hope this helps you find the best price on flights to Jamaica. Let us know how it goes - we would love to hear from you. Have a great trip.
You might also find our other pages on Jamaica helpful when planning your trip:
Jamaica Scuba Diving & Island Overview
Return to Main Caribbean Diving Page
Return to Scuba Diving Home
Photos by David G., Ack Ook and Dubdemsoundsystem. Thanks!
---
---
 Want to stay down longer and improve your buoyancy control and other diving skills? Our free report "Increase Your Bottom Time" along with our practical, weekly actionable tips will have you looking like a seasoned diver in no time. So come join us and see improvement on your very next dive!
(Click on the photo to join us now!)
---
---