All Inclusive Caribbean
Scuba Diving
Our Experiences at These Resorts
There are many places that are all inclusive in the Caribbean with scuba diving. They can be great money savers and party starters.
My husband and I have been to many all inclusives in the Caribbean. It all started when we got married in Antigua. We chose an all inclusive so everyone would know the cost up front. And no one would have to worry about who bought the last round of drinks!
Well, we got a great group price and 70 of our friends and family flew down for the wedding. It was a week long open bar reception. Talk about fun.
Everyone had such a good time, I now have to plan a big group trip every other February (plus smaller group trips in between). Thus far, we have planned 9 of these trips.
And, yes, we have been to an all inclusive in the Caribbean that included scuba diving in the price (see below).
While my husband and I prefer renting a house/apartment or staying in a smaller hotel if we travel by ourselves, we prefer the all inclusives when we travel with a big group. And by big, I mean our groups usually range from 30-60 people. Not having to take out your wallet just makes it so much easier for everyone involved.
Getting ready to do some scuba diving at our all inclusive resort in Cozumel, Mexico. This was at the Occidental Grande hotel.
So the bottom line, from our experiences, this is our list of pros and cons of staying at an all inclusive in the Caribbean with scuba diving:
Pros
Don't have to worry about money while you are there
Usually cheaper than purchasing everything separately
Stress free: No decisions to make about where to go for drinks, dinner or diving
Usually a party atmosphere (can be a con too)
Security
Activities and entertainment are included (sometimes diving is included also)
Cons
Usually big resorts; grounds and

dive boats

can be crowded (ever have to go out at 6 am to reserve a lounge on the beach?)
No incentive to leave the resort and experience the local culture
Have unexpected expense of going out if you don't like the food and/or drink
Service is sometimes lacking since

tips

are already included (we always tip anyway, even if the policy is supposedly not to
Not all islands have all inclusives, so island choice is limited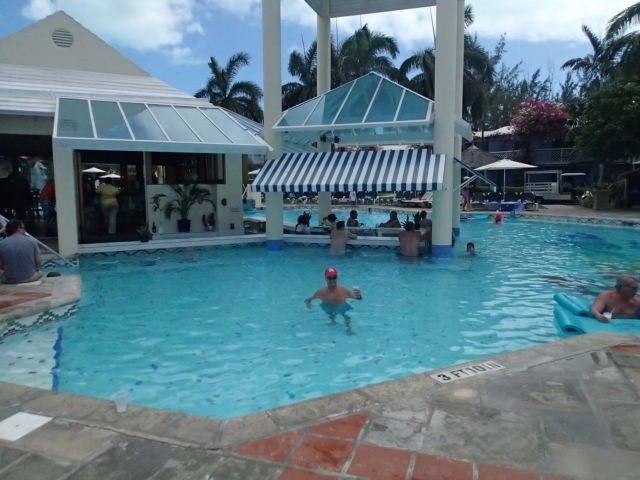 Tim enjoying one of the 5 swim up pool bars at Beaches all inclusive resort in the Turks and Caicos (yes, you read that right - 5 swim up pool bars!)
You just have to decide what is most important for you. For instance, if you like smaller resorts and small dive groups, than an all inclusive in the Caribbean with scuba diving may not be for you.
All inclusives generally tend to be bigger resorts, though there are exceptions of course. And if you go really high end, you can find much smaller all inclusive properties that cater to your every whim.
Water Sports and Diving at All Inclusive Resorts
Most all inclusives include non-motorized water sports in the package. This usually means Hobie Cats, sunfish, windsurfers, paddle boats, etc.
While most resorts offer scuba diving, you usually have to pay extra for it.
Many times, though, scuba diving resort courses are included. You may or may not have to pay for your dive, it all depends on the resort.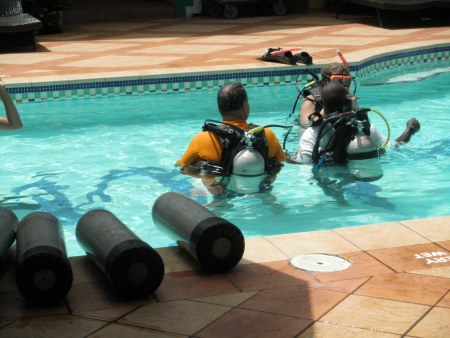 A scuba diving resort course at Sandals, Montego Bay, Jamaica
Two chains we stayed at that included scuba diving in the price were Breezes and Sandals/Beaches (Sandals and Beaches are owned by the same company).
You can read our detailed review of our stay at Sandals Grand Riviera in Jamaica here. We also have a detailed review of Sandals Montego Bay in Jamaica here.
The two other hotels in the chain that we stayed at that included scuba diving in the price were Beaches Turks and Caicos and Breezes Curacao (now branded a Sunscape hotel) (clicking on the links will take you to our affililate partner's site where you can read other people's reviews). I can recommend both of these hotels. We were happy with the food and accommodations.
Beaches is the higher end of the two, and if you can afford it I wouldn't hesitate to go. The third time we went to Turks and Caicos we did a tour of the Beaches property. All I can say is "Wow!". This resort has expanded BIG time and is now probably 3-4x the size of the property when we first stayed there.
It is still well run and the staff was very friendly and accommodating. It has a strong focus on families and children (complete with a pirate ship in the kid's area) and there were alot of families there when we went. If you are looking for something quiet, this probably isn't the resort for you.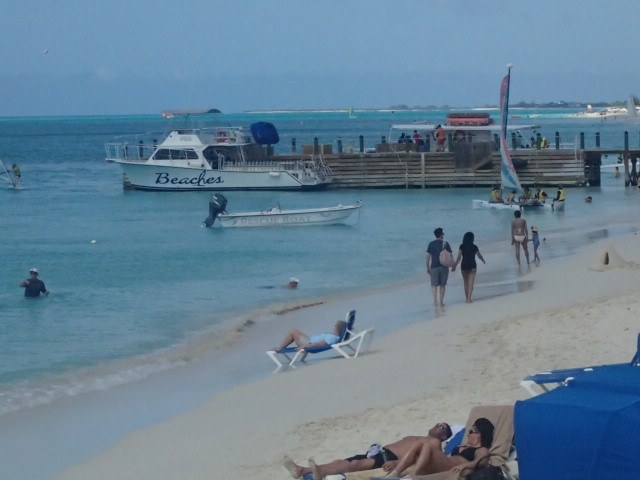 Dive boats at Beaches, Turks and Caicos. Diving is included here.
If you pay for your diving at the resort, our experience has been that prices are pretty much market prices. If you do multiple dives you can usually get a discount, but that is typically the case for non-resort dive shops too.
Popular All Inclusive Destinations in the Caribbean
Probably the most popular places (or at least those with the most resort choices) for all inclusive in the Caribbean with scuba diving are:
We've been to all of them and the Yucatan offers the best diving in our opinion. The first time we dove in the Dominican Republic, it was pretty horrendous. So on our recent trip to the DR, we had no intention of diving.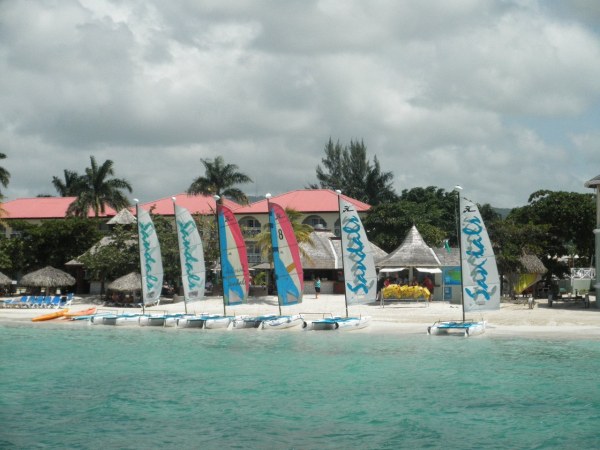 Hobie cats are included in the all-inclusive price at Sandals, Montego Bay, Jamaica 
A friend we were with, however, went diving and said it was pretty good. We went out the next day and it was much better than expected. Not great, but good. We were glad we went out.
While I didn't dive in Jamaica, my husband did. Where he first dove there, he said it was overfished and all his dives were pretty much disappointing. On our last trip to Jamaica, he said it was better than he remembered but it still wasn't great. So there is hope yet.
While I'm sure the Dominican and Jamaica have some very good diving, unfortunately we didn't get to experience it.
In addition to the above islands, we have also stayed at an all inclusive in the Caribbean with scuba diving in Antigua, Aruba, Curacao, Cozumel, Jamaica,  Riviera Maya (Mexico)  and the Bahamas.
Of the all inclusives we have been to in the Caribbean, Cozumel wins as far as diving. So if you asked me where to go for diving from the above list, I would recommend Cozumel if your primary criteria is scuba diving.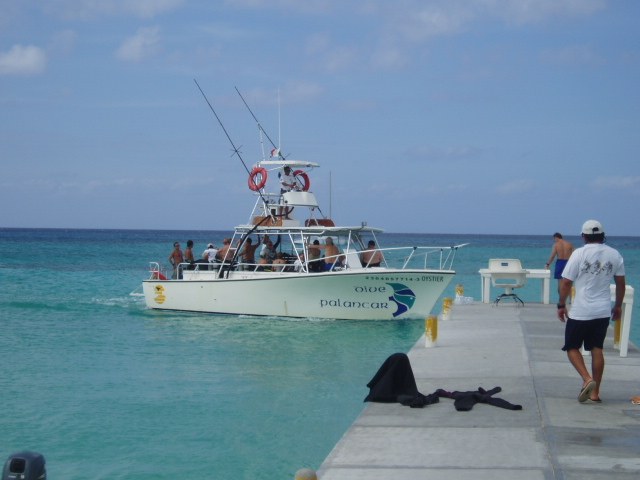 Getting ready to go out diving from our all-inclusive resort (Occidental Grande) in Cozumel, Mexico. Diving wasn't included in the price.

High End or Low End All Inclusive Resort?
There is an all inclusive in the Caribbean with scuba diving to fit every budget. We've done a range of prices on our trips. You just have to decide what you want.
What's more important to you? Would you rather have gourmet food and premium drinks or would you be happy with lower end offerings and more money in your wallet? The answer can be different for each trip.
Whichever you choose, go with an open mind. It's amazing how many people want Ritz-Carlton level service while paying Holiday Inn level prices. Sometimes I read reviews of the places we've been and find it hard to believe we stayed at the same place. Just my 2 cents (again).
No matter where you go and which level of service you choose, it is hard not to have a good time at an all inclusive in the Caribbean that has scuba diving. So pick a place, pack your scuba gear for flying and get going!
Have a great trip!
---
---
 Want to stay down longer and improve your buoyancy control and other diving skills? Our free report "Increase Your Bottom Time" along with our practical, weekly actionable tips will have you looking like a seasoned diver in no time. So come join us and see improvement on your very next dive!
(Click on the photo to join us now!)
---
---
Top of All Inclusive Caribbean Scuba Diving

Return to main Scuba Dive Vacations page