Curacao Diving:
Our Trip Review Plus Information on Location, Weather, Water Temperatures, Flights, Hotels and More
Curacao diving is pretty much hassle free. Most dive sites are either a short swim or boat ride from shore. No hour long boat rides here.
While Curacao doesn't attract as many divers as its sister island, Bonaire, it offers similar diving. There are good wall dives and wreck dives. With over 100 dive sites and more than 40 permanent moorings, there are plenty of sites to choose from and keep you busy (see below).
The Lay of the Land

Curacao is the largest of the ABC Islands (comprised of Aruba, Bonaire and Curacao) at 180 square miles. Obviously, still not big by any stretch of the imagination. It is about 40 miles long and a little under 10 miles wide at its widest point. 
Water view of Breezes Resort in Curacao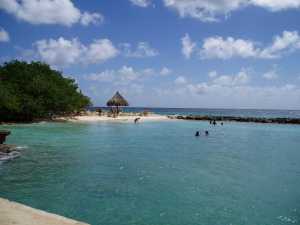 Curacao is an arid and somewhat hilly island with divi divi trees dotting its landscape. While it is not a green tropical island like many in the Caribbean, it can grow on you. The highest point is Mt. Christoffel at 1,250 feet, located in the northwest of the island.
The north coast is pretty rough with limestone cliffs on top of volcanic rock. High waves rolling in from the ocean and strong tradewinds characterize this side of the island. Not the best spot for Curacao diving.
Most of the diving is done on the south side of the island where the Curacao Underwater Marine Park is located. The park encompasses almost a third of the island's waters on the southern side, stretching for 12 1/2 miles west from East Point. There are about 30 dive sites located within the marine park. Take your pick for some good Curacao diving.
The south side of the island has small bays and inlets with some nice beaches toward the west end of the island. The southwest end of the island is home to the Banda Abao Underwater Park with about 20 dive and snorkeling sites. This park runs from West Point to the Cap St. Mary Lighthouse.
Willemstad, the capital is located on the southeastern end of the island on St. Anna Bay. Curacao has a population of about 140,00 and most reside near the capital.
Location
Curacao is located just 35 miles north of Venezuela, about a 3 hour plane ride from Miami. This is the southern most part of the Caribbean. Take a look at our Curacao maps page to see where it is located.
Their location puts the ABC islands out of the hurricane belt. Theoretically anyway. The islands do get the occasional tropical storm as they are brushed by hurricanes in the Caribbean.
Hurricane season for the Caribbean is June 1 through November 30.
Curacao was last affected in September 2007 when Hurrican Felix passed north of the island. Curacao saw some tropical force winds and had some flooding during that storm.
All in all though, it is a pretty safe bet if you are traveling during the hurricane season.
Flights to Curacao
Curacao is served by several airlines. You can find which airlines fly here, which have non stop flights to Curacao, where you can get connections and more on our flights to Curacao page.
(You might also want to check out our #1 tip for cheap airfare to the Caribbean as well as our other tips for cheap airfare to help make your trip more affordable.)
Hotels in Curacao
Curacao has quite a range of accommodations to choose from. Whether you want a small boutique hotel or an all inclusive resort, you should be able to find it on Curacao.
When we went to Curacao we stayed at the Breezes Curacao Hotel (this is now branded as Sunscape Curacao) which is a Curacao all inclusive resort. We went with a group of people so the all inclusive route was the way to go for us.
If you want more info on the all inclusive option, take a look at our page on all inclusive Caribbean vacations. Since we plan a big group trip every other year, we have quite a bit of experience with all inclusive resorts.
I actually prefer not to go this route, but with the size of the group we have it makes the most sense for us.
We arrived a couple days before the group, so we first stayed at the Chogogo Resort.
Unlike more typical hotels in Curacao, it is a bungalow resort with studios, apartments and individual bungalows.
It is great for families or those who like to have a kitchen on their holiday. While it is not right on the water, the public Jan Thiel Beach is a short walk away. We enjoyed this spot and would recommend it.
Breezes Curacao, of course, is a different experience. If you like the all inclusive route, Breezes Curacao is a good option.
While it is not a 5 star resort, it is fine and everyone enjoyed their stay. And if you are a scuba diver, one shore dive a day is included in the price. 
Whichever route you prefer, you are sure to find accommodations which suit your needs and budget. 

Weather
The weather doesn't vary much in Curacao. Good news for your Curacao diving. The average temperature year round is in the 80's. Winter temperatures have a high of 84-85F and cooling off to about 76-77 at night.
Summer
isn't much different with high temperatures in the 88-8F degree range and nighttime temperatures of 78-79F.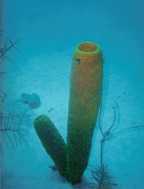 The main thing that characterizes Curacao's weather are the trade winds. They blow in constantly from the east and are the strongest from January through April. While they can cause some rough water, they are refreshing when you are sitting in the hot sun. The calmest times for Curacao diving is between September and December.
Curacao has very little rainfall, averaging only about 22 inches per year. Rainy season, such as it is, is from October to February. You will probably just have some short showers, not a deluge like you can get in other parts of the Caribbean.
Water Temperatures and Visibility
Water temperatures in Curacao are pleasant with an average of mid-70's F in the winter and warming up to the mid-80's in the summer. Like most other Caribbean destinations, if you get chilly, you will probably want to wear a 3mm wetsuit in the winter. A skin is probably sufficient for Curacao diving in the summer.
Visibility is usually excellent year round since the island gets little rainfall and has no rivers. Visibility usually averages in the 75-100 ft. range with visibility over 100 feet not uncommon.
Curacao Diving: Reefs and Rides
The island is surrounded by a coral reef, making Curacao diving an easy excursion. About 40 wall dive sites on Curacao are accessible from shore. While some of the beaches may be rocky, there are enough to choose from that you should be able to find some that suit your preference. For many of the shore dives, it is a 50-100 yard swim to reach the reef.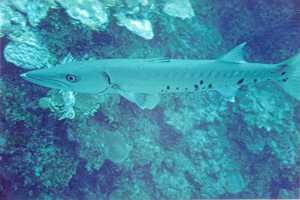 f you are doing boat dives on Curacao rather than shore dives, the rides are typically short (less than 20 minutes). Since you are so close to shore, many times you can go to land for your surface interval.
The shallow reef in Curacao starts at about 20 feet and goes down from there. Typically the reef goes down to about 50 feet or so and then there is another slope a few hundred feet from that.
You can rent a car and do your shore diving on your own. There are maps you can buy that give directions to the site and a description of the dive site. Many of the shore dives on Curacao are marked with a dive flag painted on a boulder. There is even a dive bus you can take to do your Curacao diving. I haven't tried them but it looks interesting.
---
Diving Included but no Site to be Found
As I wrote about above, one shore dive a day was included at Breezes so that was a definite bonus. Equipment was also included so there was no need to lug our stuff down to the island.

The diving off of the resort was good, not great. But you couldn't beat the price and ease.
A famous dive site called The Car Pile is located in front of Breezes. Cars, trucks, and earth moving equipment were sunk to create an added dimension to the reef area and special hiding places for sea life. When we did our dives, we only saw a car wreck. Guess we missed it. Don't you hate when that happens? Guess we will have to go back and try again.
---
Topside
View of the colorful capital of Curacao, Willemstad

The capital, Willemstad, is a good break from all that Curacao diving. The buildings along the water have been restored and are painted beautiful pastel colors. If you have ever seen any pictures of Curacao, you have probably seen Willemstad.
While there are the usual tourist traps, selling everything from T-shirts to trinkets, it is a pleasant place to walk around. Cruise ships stop here regularly so it can get crowded.
The city is divided in two sections, Punda and Otrobanda. The two sections are connected by the Queen Emma pontoon bridge, a 700 foot floating pedestrian bridge. It swings open up to 30 times a day to let ships through. It is worth the time to stay and watch this. Certainly something different.
Close to the bridge, on the Punda side is the Floating Market.
Boat market in Willemstad, Curacao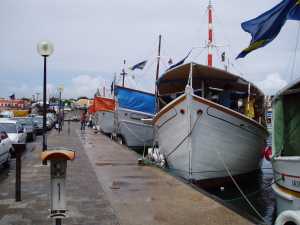 Schooners from Venezuela, Columbia and other islands dock here to sell their wares. Typical offerings include fruits, vegetables, fish, pottery, spices and much more.
It is a colorful site and makes some great picture opportunities.

So I hope you enjoy your Curacao diving vacation if your travel plans take you there. Colorful scenes both underwater and topside make it a pleasant trip.
---
---
---
 Want to stay down longer and improve your buoyancy control and other diving skills? Our free report "Increase Your Bottom Time" along with our practical, weekly actionable tips will have you looking like a seasoned diver in no time. So come join us and see improvement on your very next dive!
(Click on the photo to join us now!)
---
---