My #1 Tip for Cheap Airfare
to the Caribbean
Cheap airfare to the Caribbean? Is it possible?
Flying to the Caribbean can get very expensive. Especially if you go during the peak season. So how do we get cheap flights?
Note: DO NOT follow this advice or read any further if you do not pay off your credit card in full every month. This card charges a high interest rate.
So the amount you would have to pay in interest would probably end up being more than the money you saved on a flight. Repeat...Do not follow this advice if you do not pay off your credit card every month.
If you should not use this card, here are my other tips for getting cheap airfare.
My #1 Tip For Cheap Airfare to the Caribbean

Get a Capital One Venture Rewards Card.
It is that simple.
I used to use and recommend Citi American Airlines AAdvantage card because American Airlines used to be the major airline in the Caribbean.
However with flights being cut back and my recent experiences trying to redeem miles, I have switched cards.
We were trying to use our miles to fly to Grenada and the routing had us taking 2 days to get there. No thanks. We are not going halfway around the world here. Just to the Caribbean from NY.
That was the last straw for me and I decided to look around for other cards that would help me get cheap airfare to the Caribbean.
With the Capital One Venture card, I love the fact that you are not tied to any particular airline and you can use it to pay for any travel expense - not just airlines. You can use it for hotels, car rentals, etc. and more.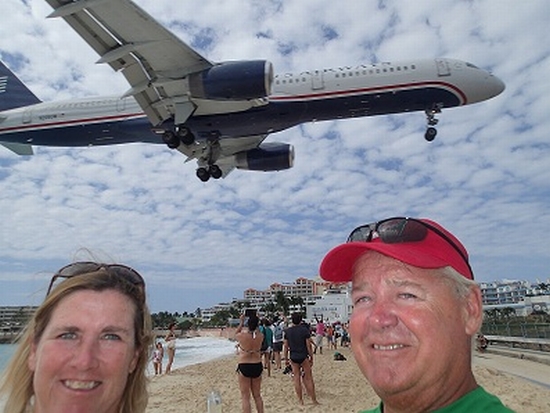 Watching the planes land in St. Martin in the Caribbean. It is a trip!

Here are some of the major features of the Capital One Ventures card:
This card does have a $95 annual fee but the fee is waived for the first year.
You can also earn a one-time bonus of 50,000 miles once you spend $3,000 on purchases within the first 3 months (their current offer, this changes fairly frequently). This is equal to $300 in credit.

I also like the way the redemption system works. To figure out how many points it would take to pay for an airfare, just add two zeros to the price.
So say, for instance, that the flight cost $900, the total number of points needed to purchase this ticket would be 90,000.
But don't forget, you are getting 2 points for every dollar spent. So you can earn that cheap airfare to the Caribbean even faster.

In fact, when we were looking into a flight recently it cost $856. To purchase this ticket on my old card, it would have cost me 35,000 - 50,000 miles depending on the flights I took. So I would have had to charge $35,000 or $50,000 to book the flight.
With the Capital One Venture card, I would have to charge $42,800 to have the points for this flight ($856 x 100 = 85,600/2 = 42,800). This is competitive plus I have the option of booking with any airline and on any flight.
It is more than worth it to me.
It is good to have miles, but if I can't redeem them what good are they? Citi and American have lost my business as far as charge cards go. There is no cheap airfare to the Caribbean if you can't book a reasonable flight schedule.
---
---
 Want to stay down longer and improve your buoyancy control and other diving skills? Our free report "Increase Your Bottom Time" along with our practical, weekly actionable tips will have you looking like a seasoned diver in no time. So come join us and see improvement on your very next dive!
(Click on the photo to join us now!)
---
---