Scuba Diving in Mexico:
Riviera Maya Scuba Diving Trip Report - February 2008
Although we have been scuba diving in Mexico several times, all our diving had been done off of Cozumel.
This time, we went with a group of 30 friends and went to the Barcelo Maya which is on strip known as the Riviera Maya (roughly the area along the coast between Playa del Carmen and Tulum - you can check out our Riviera Maya maps).

If you have read our page on all inclusive Caribbean scuba diving, you know we plan these trips every 2 years.
Of course, since we plan them, we go to a place that offers scuba diving. Hey, why not? Fringe benefits for the work.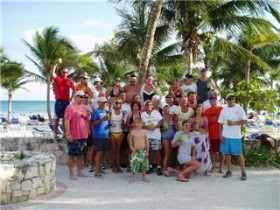 So off we were to our next adventure of scuba diving in Mexico. We didn't know what to expect but we were pleasantly surprised.
Not to mention the surprise of the strength of the currents during our diving, much more than drift diving in Cozumel. OK, on with the details of our latest Mexico scuba diving vacation.

Hotels On The Riviera Maya
As I mentioned above, we stayed at the Barcelo Maya at the Maya Beach Hotel for this trip. This resort is comprised of 5 different hotels next to each other on their own strip of beach.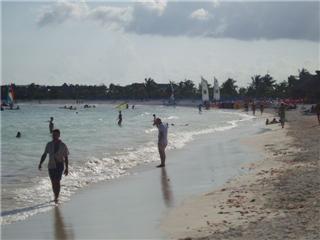 You can use the facilities, bars, grills, buffets at any of the hotels (you pay extra for sit-down meals at 3 of the other hotels). Needless to say, the place was huge.
It was the biggest resort we had ever been to, but it was fine.
We really have nothing to complain about - except maybe having to wait to get a drink (but tipping usually took care of that). The room was nice, the food very good and they had more than enough beach chairs. No getting up at 6 am to reserve a lounge.
All in all, I think everyone in the group was happy with the choice and I heard many positive reviews. At least they kept on saying, "You have raised the bar this time; where are we going next to top this resort?" So, no major complaints here.
Of course, there are lots of hotels and resorts in the Riviera Maya area - they basically line the beach from Playa del Carmen to Tulum.
And with good reason. Who can resist the white sand beaches and turquoise blue water? This stretch of coastline is home to some beautiful spots.
No matter what your preference is - from a smaller boutique type hotel to one of the mega all inclusive resorts, you can find it on the Mayan Riviera.
We have also stayed several times in Tulum, which I absolutely love. It has the most gorgeous stretch of beach and is a quiet and laid back area.

The Riviera Maya resorts here are smaller and some do not have electricity 24 hours yet since they are run on generators. It's a different experience than the Riviera Maya resorts located a bit further north. Both are nice and have advantages and disadvantages - it just depends on what your preference is.
Beach at Barcelo Maya Beach Resort in the Riviera Maya, Mexico. Not too shabby.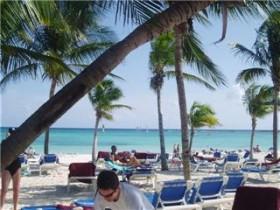 One place we stayed in Tulum that does have electricity 24 hours is the Cabanas Los Lirios Hotel. It is a nice, small hotel.
If you choose to stay here, try and get a top floor (well, there are only 2 floors anyway) room.
There buildings have huge palapa roofs so you get an even better feeling of spaciousness. The rooms are large and each has its own balcony or terrace.
The restaurant leaves a little to be desired but you can always walk down the beach to restaurants in other Riviera Maya hotels.
We have also stayed a few times at Cabanas Tulum. When we stayed there it did not have electricity 24 hours yet and was in need of some renovation.
However the price was right and the location is wonderful. It is right next to Los Lirios and the rooms at Cabanas Tulum open right onto the beach.
Cabanas Tulum has now been leased to another hotel group and has undergone renovation. I will say the place looks great and has gotten great reviews. Of course, it comes with a price. We used to pay about $50/night - now it is about $150-$200 night. There goes our cheap hotel in Tulum. Oh well.
Whatever your preference, there are tons of Mayan Riviera hotels to choose from - starting from before Playa del Carmen and ending at Tulum (you can take a look at our Riviera Maya maps to get a better feel for the location.)
Scuba Diving in Mexico:
Riviera Maya Scuba Vacation Details
We were in the Riviera Maya during early to mid-February and we had good weather. The temperature during the day was in the mid-80's and cooling down to high 70's during the night.

We had rain one day which pretty much lasted all day. Gave us an excuse to go bar-hopping to all the different bars in the 5 hotels of the Barcelo. It rained a couple of times at night and early morning but it was not big deal. All in all, the weather was fine.
The water temperature was in the low 80's and felt great - perfect for scuba diving in Mexico.
My husband and I just wore skins and were fine for the most part. One day we did 3 dives and got a little chilly at the end of the 3rd dive but nothing too bad.
Most people wore scuba diving wetsuits, probably 2 or 3mm while scuba diving in Mexico.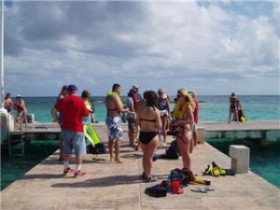 During this trip we dove with Dressel Divers which was the dive shop associated with the hotel. They were a busy but professional operation.
The employees were all friendly and knew their stuff. I will say that the divemasters did the most thorough check of everyone's equipment prior to diving that I recall seeing.
To the extent that they checked the dump valve was working on the BC's. Don't recall anyone ever checking my scuba diving equipment that thoroughly. One surprise while scuba diving in Mexico - Riviera Maya style.
We rented our equipment this time since we had traveled to other parts of Mexico prior to joining the group.
So no packing scuba gear for flying this trip.
While I prefer to have my own equipment, sometimes it just doesn't work out. The rental equipment was in good shape and we didn't have any problems with it - other than being given the wrong weights one day so be sure to check before you get on the boat.
During this trip scuba diving in Mexico, the dive boats were pretty much full to capacity the whole time. Since they were fairly narrow, it felt crowded at times.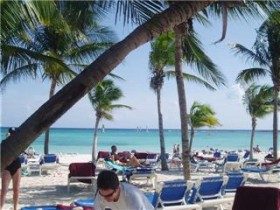 The good news is you are broken into groups and the most we had in any group at one time was 5 divers. So it was manageable. The boats didn't have a platform so all entries were backrolls.
Three of us split a family package which consisted of 12 dives (we did more but more on that later). If you pay cash, you get a 10% discount on everything so we paid cash. With the discount our dives cost $37 each.
I do have a little beef about the price of the rental equipment.
The dive shop said they charged the rental fee ($15 for the package) per dive. So if you did a 2 tank dive, you would pay $30 for the equipment for the day.
That's ridiculous.
I have never seen it charged that way before. The rental price is usually per day, regardless of how many dives you do. The shop, however, did say they would give us a deal since we purchased a dive package and only charge us $15/day for the equipment. Not a deal in my opinion, but whatever. I could live with that price.


Scuba Diving in Mexico:
Riviera Maya Dive Sites
Since we were with a large group of our friends, most of whom don't dive, we only did 5 dives during this trip.
The dive sites we went to during this trip were: Tortugas, Barracuda, Cavitas, Mamma Vina and Punta Piedra. If you are doing a 2 tank boat trip, the dive sites are about 20-30 minutes away from the resort.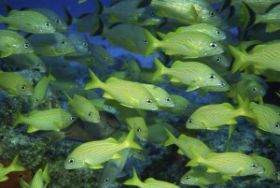 Our first dive was the Tortugas (turtles) and it is supposed to be one of the top sites in the Riviera Maya.
Our experience was quite different, though it wasn't really the fault of the dive shop.
All the dive we did were drift dives. And when I say drift dives, I mean drift dives.
The current here was much stronger than the currents we had in Cozumel (for more information: see our article on drift diving in Cozumel). You were pretty much flying here.
Which is fine and fun, except if someone can't get down.
On the first dive, one of the 5 divers was having problems with his ears during the descent. Long story short, by the time he was able to descend, we had drifted away from the site.
Meanwhile, the rest of us had been down for almost 15 minutes. Since we missed the site, the divemaster had us all surface and the boat towed us to shallower water (an experience in itself). We then went down again for a little while, but still not the spot. We did see a couple of turtles but it was pretty much a bust. Very disappointing.
To their credit, the dive shop did let us do a free dive that afternoon to make up for it.
We chose to go with our friends who had taken a scuba diving resort course that morning. We went to the dive site Cavitas - not a great spot for experienced divers.
Luckily the rest of our dives while scuba diving in Mexico were much better.
Mamma Vina was a wreck dive - a shrimp boat that was sunk in 1995. It is laying by itself on a sandy bottom in about 100 feet of water and has 3 levels.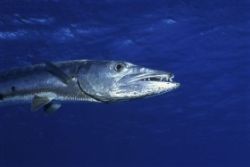 Our max depth was 88 feet.
There was a really strong current here and as you came around one side of the boat you had to hold onto a rope to keep your position. You could penetrate the wreck which was full of glass eyed sweepers. There were also a couple of green morays on the wreck.
We saw a big school of jacks, a ray, barracuda among other things. Even though I am not a huge fan of wrecks, I did enjoy this dive.
Another good dive we did was to Punta Piedra. Our max depth here was 47 feet.
It is finger reefs and as our divemaster said, "When we get to the end of one finger, we all get together and swim like hell to the next one."
And she wasn't kidding. The current was kicking.
On each finger, though, you could duck down under ledges which were filled with huge schools of fish. It was great playing with them. Two huge tarpon, probably about 5-6 feet in length were hanging around also. Massive. A really nice dive - and our longest at 56 minutes.
All in all we were very pleased with this new spot for scuba diving in Mexico. You don't read much about diving in the Riviera Maya - probably since it is so close to spectacular Cozumel. But I wouldn't hesitate to dive there again.
If you go the Riviera Maya, here are some books you might want to check out to help plan your trip (the Moon Handbook also includes the Riviera Maya):
Hope you too have a great dive trip if you go scuba diving in Mexico! 
---
---
 Want to stay down longer and improve your buoyancy control and other diving skills? Our free report "Increase Your Bottom Time" along with our practical, weekly actionable tips will have you looking like a seasoned diver in no time. So come join us and see improvement on your very next dive!
(Click on the photo to join us now!)
---
---