Aruba Scuba Diving Is Wreck Diving:
Our Dive Review - Plus Weather, Water Temperatures, Flights, Hotels And More
While the diving may not be on par with it's sister islands, Bonaire and Curacao, Aruba scuba diving can still put a smile on your face.
Aruba is famous for its wrecks and is consistently voted the best wreck diving in the Caribbean.
This is a great destination if you go with someone that is not a diver.
It is one of the most cosmopolitan Caribbean islands with lots of restaurants, casinos, high rises, etc.
Of course, for some people (like me) this can be a drawback. But as you'll see below, it does have alot going for it and the hundreds of thousands of tourists that come each year can't be all wrong.
Lay of the Land
Aruba is easy to explore at just 20 miles long and 6 miles wide. It's not a particularly beautiful island, with a desolate and scrubby interior.
Like it's sister island, Curacao, its landscape is dotted with divi divi trees and cacti.

The highest elevation on the island is Yamanota Hill at just 617 feet. It's located near the center of the island and you can visit it by car. The northeast coast is rugged with cliffs and pounding surf. Not exactly a great place for scuba diving in Aruba.
The real draw here is the southwest coast and its beautiful beaches.
Of the 3 ABC islands, Aruba has the best beaches. The most famous is arguably Palm Beach and Eagle Beach, which together stretch for seven miles. It's home to the majority of hotels on the island. When you see its beautiful powdery white sand, you'll know why. It's also where you'll leave from for most of your Aruba scuba diving.
Location
Aruba, along with Bonaire and Curacao, form the ABC islands. 
It is situated 15 miles off the coast of Venezuela and is about a 2 1/2 hour flight from Miami. Given its popularity with tourists, this is an easy island to get to with many direct flights from the US.
Maps of Aruba
But whether you are going to Aruba to dive or gamble or just hang out in the sun, an Aruba map comes in handy when you are making up an itinerary. The first couple of Aruba maps I have below are general maps for planning purposes.
The next Aruba map I have below is a satellite map. It shows the topography and is just plain fun to use! I could spend hours playing with these type of maps.
Just click on the arrows on the maps below to see the area of Aruba you are interested in.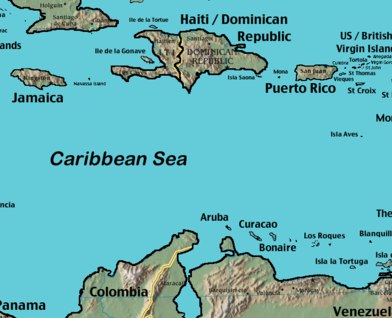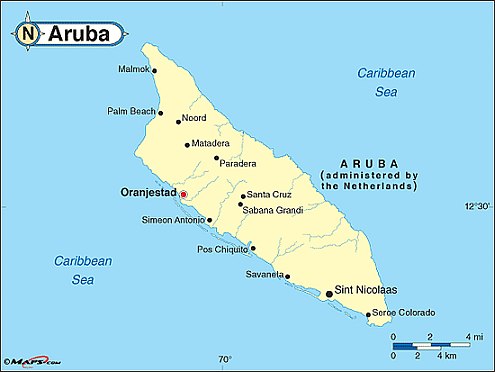 Here's the interactive map Aruba I talked about earlier. Again, just click on the arrows to zoom in. Try it, it's alot of fun. 

Flights to Aruba
For more info on getting to Aruba check out our page on flights to Aruba. You will find all the information you need to book a flight including airport info, which airlines fly directly to Aruba, flights from North America Europe and other points plus more.
Aruba Hotels
There are alot of Aruba resorts for you to choose from. You can stay in anything from a small guesthouse to one of the big all inclusive resorts in Aruba - complete with a casino.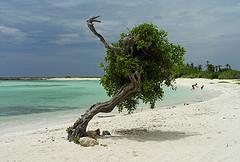 Which type of accommodation you choose is all about personal preference.
When we went to Aruba, we were with a large group so we stayed at the Tamarijn Aruba Beach Besort (link will open in a new window for Tripadvisor) an all inclusive resort in Aruba.   
Who wants to worry about who is buying the next drink?
Definitely one of the advantages of staying at an all inclusive.
As far as the Tamarijn goes, it was a nice hotel. It is a smaller 2 story resort with all the rooms pretty much right on the beach.
The beach had some damage from storms when we were there but our friends just returned and said it is much better now.
You are also allowed to used the facilities of its' sister resort, the Divi Aruba Beach Besort which is located right next door.
You can either walk over to the Divi or they have a tram running to shuttle people back and forth between these two Aruba resorts.
The Divi is a bit nicer and a little more "upscale" when compared to the Tamarijn (in my opinion, anyway). The Divi also has a bigger and nicer beach than the Tamarijn.
That being said, I wouldn't hesitate to go back to the Tamarijn if I was looking to stay at an ill inclusive hotel in Aruba. I liked the smaller and more intimate feel of the hotel when compared to some of the huge all inclusives you can find in the Caribbean.
Just don't expect a 5 star hotel (you get what you pay for after all).
And of course we also did some scuba diving in Aruba. I would recommend doing some diving, especially if you are into wreck diving. Aruba is the king of the wrecks.
And it's a good break from all that Aruba sun.
Most of the hotels in Aruba are located along Palm Beach and Eagle Beach on the west side of the island (the Tamarijn is just south of these beaches).
And once you see those beaches you will know why. They are absolutely beautiful and what we all come to the Caribbean for. 

Weather
Weather is a big draw in Aruba. Temperatures don't vary much between winter and summer with only a 4 degree (F) difference. Average temperature is a balmy 82F year round and there are constant tradewinds to keep you cool. Makes for some nice Aruba scuba diving.
The island has little humidity and only receives about 20 inches of rain per year. The rainiest months, such as they are, are November and December, but it usually rains in spurts, not a deluge like you can receive on some other Caribbean islands.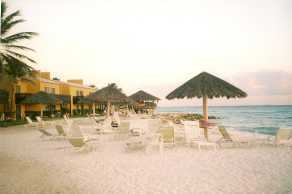 Water Temperature

Water temperature ranges from 78-80F in the winter and about 80-82F in the summer. In other words, it is perfect for some Aruba scuba diving - nice and comfortable.
If you usually don't get that cold, a skin or 3mm shorty should suffice. We just wore a dive skin and were fine but most
Aruba Scuba Diving

Most of the dive sites in Aruba are best accessed by boat. While a few spots are close enough to swim to, it's easy to get lost trying to find the cuts and channels without a local guide.
The vast majority of Aruba scuba diving sites are along the southwest coast of the island. The reef is located on the south end with many of the wrecks on the north end. Boat rides from shore to the sites are normally less than 15 minutes.
If you are staying toward the middle of the island and want to dive the north end, you may want to (have to) take a short van ride to the boat. This is what we did when we were staying at the Tamarijn Resort and dove the Antilla and Pedernales.
The best Aruba scuba diving is wreck diving. While there are walls and reefs, they are generally not as good as those on its sister islands of Bonaire and Curacao. On many of the dives you can check out both a wreck and a reef for the best of both worlds.
You can read more about diving here on our Aruba diving page.
Aruba is currently working to preserve its reefs and to maintain the quality of Aruba diving. Preservation and educational programs have been started, including a reef clean-up program. Dozens of mooring buoys have been installed to protect the reefs and a marine park has also been established. Hopefully it will help protect the underwater environment.
Topside Activities
Aruba attracts the most tourists of the ABC islands. In fact you sometimes feel like you're in Miami with all the North Americans and chain stores/restaurants they have here. This is one reason why it is not one of my favorite Caribbean islands.
Traveling to Aruba for scuba diving is a good bet if you are with a non-diver that loves the beach and gambling. Maybe they'll get lucky and hit the jackpot to help pay for the scuba dive vacation!
One of our favorite things to do after some Aruba scuba diving is, of course, to hang out on the beach. Trying our luck at the casinos is a close second.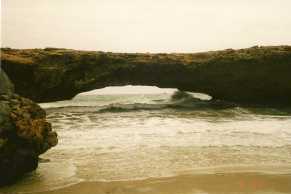 Unfortunately, Aruba's most famous attraction, the natural bridge, collapsed in 2005 from the same wave action that caused it. Luckily we were able to see it before it fell (that is it in the picture). There are other natural arches on the island you can visit, though they are not as large.
So go and have some fun exploring the wrecks galore. Depending on what you look for on an island, you may fall in love with Aruba. I know many people that have. I guess I'll have to go again and see if my opinion changes. That's one job I can handle! 

Here are some books you might want to take a look at to help plan your Aruba scuba diving vacation:
Here's to good Aruba scuba diving!
(For another site on all the details of planning your trip to Aruba and other things to do while you are there, check out this Aruba Guide.)
Return to Main Caribbean Diving Page

---
---
 Want to stay down longer and improve your buoyancy control and other diving skills? Our free report "Increase Your Bottom Time" along with our practical, weekly actionable tips will have you looking like a seasoned diver in no time. So come join us and see improvement on your very next dive!
(Click on the photo to join us now!)
---
---