Flights to Aruba:

There are many flights to Aruba since it is such a popular Caribbean destination. And understandably so with beautiful beaches, turquoise water, plentiful accommodations, casinos, etc.
If you are coming North America or Europe, many of the major airlines offer direct flights making it a relatively painless journey.
Even if you are coming from a smaller destination, you will probably only have to make one connection before arriving in Aruba. One of the benefits of going to a popular island.
Of course, even if you find good flights, you will want to make sure you get the cheapest airfare to Aruba. With all the competition, hopefully it will help your secure a good fare.

Aruba Airport
The international airport in Aruba is the Queen Beatrix International Airport (airport code: AUA) located in the capital of Oranjestad.

If you are departing from Aruba to the United States, you can clear U.S. Customs and Immigration right at the airport in Aruba. So you have one less thing to worry about when you arrive back in the states.
Departure tax for passengers going to the United States is $37.50 and is usually included in the price of your airline ticket. The departure tax for all other destinations if $34.25 (exept for Bonaire, tax is $9.00).

Aruba Flights from North America
If you are leaving from the United States, several airlines offer non-stop service. Some of these non-stop Aruba flights are seasonal though - operating only during the peak travel season (roughly mid-December to mid-April). So be sure to take this into account when planning your trip.

Aruba airport.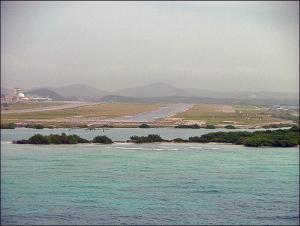 The following direct flights are offered during the peak travel season:
Delta offers non-stop flights from both New York City (JFK) and Atlanta (airport code ATL).
American also offers direct flights to Aruba from Boston (BOS), New York and Miami (MIA).
Continental flies non-stop from Newark (EWR) and Houston. 
United offers flights from Chicago and Washington while Spirit Airlines departs from Ft. Lauderdale to Aruba.
JetBlue has daily departures from New York (JFK) with a bit less frequent service from Boston.
If you departing from Canada, you can catch a flight from Toronto (YYZ) on Air Canada or Skyservice.


Flights to Aruba from Europe
As with
flights to Aruba
from the United States, flights from Europe are also seasonal with many flights only operating during the peak season.
If you are leaving from Europe, your best bet for a non-stop flight is from the UK or the Netherlands.
KLM and Martinair offer several flights from Amsterdam. First Choice has departures from Gatwick, Manchester and Birmingham.


Aruba Flights from Other Points
You can also find flights to Aruba from South America, which really isn't that far as Aruba is located right off the coast of Venezuela.
You can find several departures from Venezuela, Colombia and Panama. Airlines that fly these routes include Avior, Tiara Air, Aserca, Avianca, Copa and Venezolana.
You can also fly to Aruba from its sister islands of Bonaire and Curacao. From Curacao, Dutch Antilles Express, Insel Air and Tiara Air offer several flights daily.
Flights from Bonaire to Aruba are operated several times daily by American Eagle and 5 times a week by Tiara Air.


I hope this helps you find the best price on flights to Aruba. Let us know how it goes - we would love to hear from you. Have a great trip.

You might also find our other pages on Aruba helpful when planning your trip:
Aruba Scuba Diving and General Aruba Info
Photo of airport by Jeffrey Beall. Thanks!


Return to Main Caribbean Diving Page
Return to Scuba Diving Home
---
---
 Want to stay down longer and improve your buoyancy control and other diving skills? Our free report "Increase Your Bottom Time" along with our practical, weekly actionable tips will have you looking like a seasoned diver in no time. So come join us and see improvement on your very next dive!
(Click on the photo to join us now!)
---
---