Scuba Family Vacations -
Making Fun Memories
So you're wondering what to do and where to go on your next family vacation? Scuba family vacations are a fun option for the whole family.
Watching families on dive vacations always makes me smile because the kids are so enthusiastic and excited (usually!). It's contagious. Wish I had that opportunity when I was a kid.
If your kids have never dove before, it might help to get toys, CD's, movies, etc. that focus on the sea and marine life. Having them interested before they go will make it easier for you.
Snorkeling is also a good way to start them off. They can get a feel for both the water and the equipment.
(For some tips on how to choose snorkeling equipment for your child, take a look at our page on kids snorkel gear.)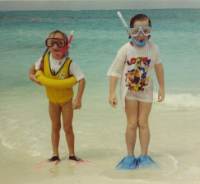 My 2 nieces years ago (where does the time go?). So funny and cute.
Even if your child (or your spouse!) has never dove before, you can still go on a scuba family vacation. Many places offer resort courses that your child can participate in. Age requirements vary so check your resort's policy. You usually have to be in the 10-12 year old range to take the course.
There are lots of resorts and destinations to choose from for your scuba dive vacation. You probably want to choose a resort that has some diversions for the kids when they are not diving (anything from windsurfing to tennis to big chess).
If you choose the all inclusive option, there is bound to be some activities your child will like.
Some of our group of kids having fun on the banana boat.
If you pick a resort that offers a kids club, most likely there will be lots of families staying at the resort. Making it more likely your child will find someone to hang out with.
One resort chain that we have been to that is great for families is Beaches. They even have Elmo and friends. I will warn you, though, Beaches is not a budget option. We went to Beaches Turks and Caicos and only have good things to say about it.
You can make your family dive vacation more economical by choosing a resort that lets kids stay free. Many resorts offer the the option that a child stays free with 2 adults in the room.

A typical cut-off age is 12 or under. I have seen resorts, though, where the cut off age was as high as 16. My sister was very happy to not have to pay for one child. It saves quite a bit of money.
As far as economical airfare, you can find my #1 tip for cheap airfare to the Caribbean here. I also listed other tips for saving on airfare here.
My niece and nephew with their palm fronds hats.
One site I found that looks like a great opportunity for scuba family vacations is Kids Sea Camp. I have no personal experience with them but it looks like a great option. If anyone has traveled with them before, I would love to hear your experience.
No matter what you choose, I hope you have a fun time on all your family vacations.


Here's to great family diving memories.


Return to main Scuba Diving Vacations page
---
---
 Want to stay down longer and improve your buoyancy control and other diving skills? Our free report "Increase Your Bottom Time" along with our practical, weekly actionable tips will have you looking like a seasoned diver in no time. So come join us and see improvement on your very next dive!
(Click on the photo to join us now!)
---
---