Scuba Diving Wet Suit Care:
Protect Your Investment
Proper wet suit care can help protect your investment and give you many warm dives.
A scuba diving wet suit can be pricey, anywhere from $50 to $800+ for some custom made suits. So what care will protect this investment?
Luckily it is pretty easy and straightforward. However, do realize that all wetsuits will eventually start to shrink and stiffen somewhat no matter what type of wet suit care you practice. But you can prolong inevitable.
(Take a look at our wetsuit buyers guide for a complete list of all our pages and information on wetsuits including our picks for best wetsuits at different price points.)
Wet Suit Care
Rinse - As soon as you are finished diving for the day, immediately rinse your wetsuit in fresh water. Most dive operators have a rinse tank for this purpose.
Salt water can cause neoprene to lose its flexibility. Not to mention the nasty smell an unrinsed wet suit can have.
Soak - When you get back home, or better yet, back to the hotel, soak your wetsuit for about 15 minutes. You can also use a special wet suit shampoo at this stage (baby shampoo is said to work just as well). You should shampoo your suit every once in a while for best results.
Hang to dry - If you have a specially made hanger for wetsuits, this is ideal. A basic plastic will work but do not use the thin wire hangers as these can rust and start to degrade the neoprene in the shoulders. You want to thoroughly dry your wetsuit before storing it. Otherwise, nasty things will start appearing and smelling. Avoid that at all costs.
Inspect for Damage - Before you store your scuba diving wet suit for the next dive vacation, check for any rips or tears. They are much easier to fix while small (see for repair tips).
Store Properly - Wet suit care also includes the proper storage of your suit. Ideally it should be stored flat or hung on a special wetsuit hanger or a sturdy hanger. Do not crumple it up and shove it in a drawer. This can cause the wetsuit to crease and lose some of its insulation effectiveness.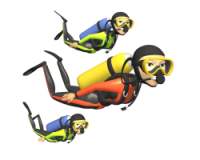 Tidbits - Do not store or dry your scuba diving wetsuit in direct sunlight. Also, do not use aerosol spray near your wetsuit as this can degrade the neoprene. The same goes for car exhaust so the garage is not the place to store your wetsuit. And last but not least, do not put a wetsuit in the dryer. I know it sounds obvious, but people have actually done this. You've been warned.
So there you have it, the basics of wet suit care. May your wetsuit last forever (or however long is practical).
For more information, check out our other pages on wetsuits:
Scuba Diving Wetsuits Introduction //How to Buy a Wetsuit //How to Put on a Scuba Diving Wetsuit //Scuba Diving Wetsuit Repair Guide //Wetsuit Material Guide //Guide to Wetsuit Sizes and Fit //Wetsuit Thickness Guide //Best 3mm Wetsuits - High End or Top End//Best 3mm Wetsuits - Mid-range or inexpensive//Cheap Wetsuits - Men//Cheap Wetsuits - Women  
---
---
 Want to stay down longer and improve your buoyancy control and other diving skills? Our free report "Increase Your Bottom Time" along with our practical, weekly actionable tips will have you looking like a seasoned diver in no time. So come join us and see improvement on your very next dive!
(Click on the photo to join us now!)
---
---