Wet Suit Sizes:
Does This Thing Really Fit?
Wet suit sizes can be tricky. Especially since you probably won't think the wetsuit fits you when you first try it on. 
To make it easier to find the correct size, I wish I could give you a wetsuit size chart. However, you would probably come back screaming that your suit didn't fit correctly.
I know it sounds like a copout, but all manufacturers have their own wetsuit size chart.
To get the correct wetsuit sizing, you need to follow the size chart of the brand you are buying.
To make wetsuit sizing and fitting a bit easier, many manufacturers have a small and tall version of each size.
For instance, O'Neill offers a medium (5'9" - 5'11"), medium small (5'6 1/2"- 5 8 1/2") and medium tall size (6'1" - 6'3") in the medium size for men's wetsuits. That way you don't have to go up (or down) a size - and get a wetsuit that is too big (or small) for you.
Even if that is your starting point, you need to know if that wetsuits fits you properly. Let's find out:
(For more information, take a look at our free wetsuit buyers guide for a complete list of all our pages on wetsuits. You might find the page on putting on a wetsuit especially helpful.)
Wetsuit Fit
I do know one thing - if you haven't worn a wetsuit before you will think you have the wrong wet suit size on.
Scuba diving wetsuits feel snug on you and you will probably feel that you have a reduced range of motion. This is normal.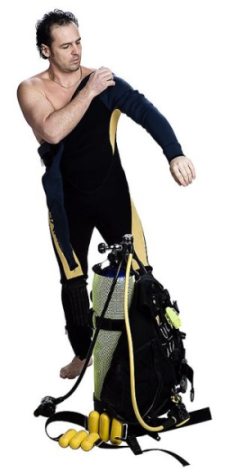 Of course, the wetsuit fit shouldn't be so tight that you have trouble breathing or your movements are overly restricted.
You also don't want your wetsuit fit to be too loose.
This would let water flow freely through the suit and you would lose all the benefits of the trapped water being warmed by your body. In this case, it wouldn't matter if you had on a 10mm scuba diving wetsuit, you would get cold.
So getting the correct size is key.
For a correct wetsuit fit, your wrists and ankles should be snug. This is an area where water can easily seep in so these should not have gaps. The neck should also be snug but remember, you need to breathe! Not too tight.
There should not be any large gaps in the underarm or crotch area.
You will, however, probably have a gap at the small of the back. This isn't unusual and you can always have it altered if it bothers you too much.
Isn't figuring out wet suit sizes fun?
It will be easier to move underwater since the suit will absorb water and stretch.
 Unfortunately, retailers don't have a dunk tank to let you try it out. So go with the wetsuit fit that you think is snug enough (probably a little too snug) without being overly restrictive.
One option is to rent a wetsuit on your next dive vacation. That way you will get to try on and dive in a couple of different wet suit sizes and determine which is best for you.
Hopefully this wet suit sizes guide helped you find your perfect fit.
For more information, check out our other pages on wetsuits:
Scuba Diving Wetsuits Introduction //How to Buy a Wetsuit //How to Put on a Wetsuit //Repair Guide // Care and Maintenance //Material Guide // Thickness Guide
We have also chosen the best wetsuits at different price points. You can see our picks here: 
Best 3mm Wetsuits - High End or Top End//Best 3mm Wetsuits - Mid-range or inexpensive//Cheap Men's Suits //Cheap Women's Suits 
---
---
 Want to stay down longer and improve your buoyancy control and other diving skills? Our free report "Increase Your Bottom Time" along with our practical, weekly actionable tips will have you looking like a seasoned diver in no time. So come join us and see improvement on your very next dive!
(Click on the photo to join us now!)
---
---