Discount Wetsuits for Women:
Best Cheap Wetsuits for Women
Whether you are female or male, you can find discount wetsuits to keep you warm.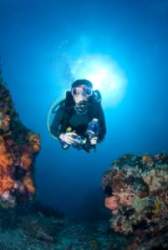 You will have to make some compromises, of course, as the price will not get you all the features of a high end wetsuit. There will probably be differences in the quality of the neoprene and the stiching and/or seams on the discount wetsuit versus the high end suit.
For instance, an inexpensive wetsuit may have a lower quality neoprene than the expensive wet suit. That is not to say it won't keep you warm but it may not last as long or be as effective (all neoprene loses its insulating quality over time).
A discount wetsuit will probably have a different method of stitching together the seams. A cheaper wetsuit may use overlock stitch rather than the higher quality blind stitch. You can find all the details on these stitches in the guide below.
(For more details, see free wetsuit buying guide here. You can also find our picks for best cheap wetsuits for men here.)
So there are compromises you may have to make but your wallet will thank your for it! We have a couple of choices for you to check out, both discount wetsuits with prices well under $100.
We looked high and low on the internet for cheap wetsuits that received top ratings and reviews from the vast majority of users. There is alot of junk out there, but if most people had a good experience with these cheaper wet suits, chances are that you will too.
---
Discount Wetsuits For Women
---
Choice #1:

Our first pick is a model by well known manufacturer Henderson via their Neosport line. This is a shorty model that is made of 3mm neoprene and has flat lock stitching. It gets high marks from users for comfort, ease of getting on and off and ability to dry quickly.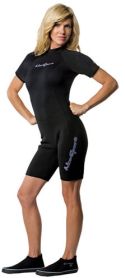 User reviews include:
"This 3mm shortie is true to size, and proved ideal on a warm water dive trip to Belize."
"Got this shorty for diving in Cozumel. ...couldn't have asked for anything more. Received it right before my trip, tried it on and it fit perfectly. I couldn't have been any happier."
"I wanted to get a shorty for an upcoming Caribbean diving trip but didn't want to spend a lot of $$ as I will only dive the tropics once a year. I was really surpised at the quality and value of this shorty for such a low price!!"
---
Choice #2:

Our next pick is a full wetsuit by Neosport if you want more coverage. This is a 3/2mm wetsuit with the thicker neoprene on the torso and the thinner 2mm on the legs and arms for ease of movement. It also has kneepads for extra protection and flat lock seams.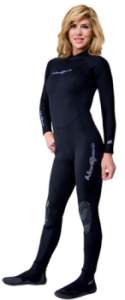 It gets high ratings from users for comfort and ease of use. User reviews include:
"We dove in Cozumel 5 days straight and loved the suit. It was a great purchase and would recommend to anyone...even friends!"
"Product feels true to size. Comfortable diving with good movement. I have worn this in water temps of 70's to 80's and it has been comfortable. I would recommend this product to others."
"Great wetsuit for the money! It has been great to use both of the coast of NC for the summer and early fall dives, in addition to a great exposure suit for warmer water diving in the Keys and Caribbean.
---
Hopefully one of these discount wetsuits will work for you. They should keep you warm during your next scuba dive and leave some money left over for some other fun things.
For all our picks for best scuba diving and snorkeling gear, click here.
Have a great warm dive!
---
---
 Want to stay down longer and improve your buoyancy control and other diving skills? Our free report "Increase Your Bottom Time" along with our practical, weekly actionable tips will have you looking like a seasoned diver in no time. So come join us and see improvement on your very next dive!
(Click on the photo to join us now!)
---
---