Choosing The Best Diving BC For You
A scuba diving BC can make your life a whole lot easier. Without it we'd be hard-pressed to maintain our neutral buoyancy so easily.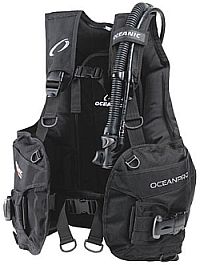 Can you imagine diving without a BC? I know I can't and luckily we don't have to.
So how do we choose the right one? Since your basic recreational dive BCD is not high tech, it's pretty straightforward.
Just decide what attributes are important to you and fit your style of diving and you are well on your way to getting that perfect diving BCD.
Before choosing that BC, here are some major features to consider:
(For more information on BC's, read our free Scuba BCD Buyers Guide.)
Features to Consider
Before Buying a Diving BC
Comfort


This is probably the most important thing to consider before buying your scuba bcd. BCs are a great thing, but we want them to be comfortable.

If you've ever worn a BC that didn't fit right, you probably had to think about it and/or adjust way too much during your dive. It takes some of the pleasure out of the dive.

I've had rental BC's that were both too big and too small. Neither one was good experience. That fit makes a difference to your dive.

Try the BC on. How does it feel? Is there enough room under the arms? Does it feel constricting?

Is the BC too big? If it is too large, it will be moving all over once you are underwater.

I had this experience once and it is not fun. You are constantly adjusting the BC, moving the tank from the right to the left, from the left to the right - you get the idea.

Inflate the BC. Does it feel too tight? You want the diving BC to be comfortable when fully inflated also. Or at least not feeling like you can't breathe. Many people have the BCD almost fully inflated when at the surface so take this into consideration.

Ideally the BCD should fit like a good jacket. Not too tight across the shoulders, under the arms or around the waist.


Weight Integration


Should you buy a dive BC that has a weight integrated system? With this system, you do not have to wear the traditional weight belt.

While it is a personal preference, I would get a BC with this option. You can always opt to wear a weight belt if the need arises.

My dive BC does not have a weight integrated system. However, on one of my dive vacations, the rental BC I used was weight integrated. I absolutely loved it. Didn't have to worry about the weight belt or any of the weights sliding around. My next diving BC will definitely be one that has this option.

If you do buy one with this option, make sure the weight can be released easily in case of an emergency. In addition, make sure it will not be easy to accidentally dislodge the weight. That'll have you rocketing to the surface.

Another good option is a weight system that can accommodate both soft lead packets and solid lead weights. This is especially important if you travel so you will be able to use whatever weights the dive shop has. Otherwise, you'll be back to wearing that weightbelt.

How much weight will the BC hold? Is this enough for you and the type of diving you do?

Of course, a scuba dive BC with this option is a bit more expensive - what else is new? Personally, I think it is worth it but it is your choice.


Air Dumps


While not a requirement, a BC that has more than one air dump is a nice convenience. If you have one located near the shoulder and one near the bottom of the BC, for instance, you will be able to release air no matter what position you are in.


Lift


Lift capacity is typically determined by floating an inflated BC and adding weight to it until it sinks. An average lift capacity for a BC is in the 30-40 lbs. range.

For the average warm water recreational diver, lift is really not that important. All basic dive BC's will have more than enough lift for the average diver.

Lift is important for cave, wreck, technical, etc. diving where the diver is carrying extra gear, probably more than one tank and whatever else they need.


Pockets/Buckles/Rings


Are the pockets in a good place and easy to access when you have the BC on?

It's also a good idea to check that all the buckles are easy to use and work properly.

Most diving BC's will have enough rings to attach your gear, but you might as well check anyway. Not a vital component since you can fix it.


Hopefully these points will help make choosing that diving BC a bit easier. Just think about the way you dive and what features are most important to you. But don't forget - make sure it is comfortable above all else!
Take a look at our free Buoyancy Compensator Guide including recommendations for best BCD or check out our BC Store for all the scuba diving BCD's we have available.
Looking for other scuba equipment and accessories? Check out our picks for best scuba gear.
Have a great comfortable dive.
---
---
 Want to stay down longer and improve your buoyancy control and other diving skills? Our free report "Increase Your Bottom Time" along with our practical, weekly actionable tips will have you looking like a seasoned diver in no time. So come join us and see improvement on your very next dive!
(Click on the photo to join us now!)
---
---