Buoyancy Compensator:
Care and Maintenance Tips
The modern buoyancy compensator was a great invention.
While it sometimes can get cumbersome uptop, once you're underwater it lets you float along easily and comfortably.
There's nothing like floating along effortlessly and seeing all the great sites below. And that's why we are all diving, isn't it?
As you know, though, a dive bc can be a sizable investment. So if you do have one or are thinking about purchasing one, you will want to protect that investment.
Luckily, the care and maintenance of your scuba diving bcd is pretty easy and straightforward.
(For more information on BC's, read our Scuba BCD Buyers Guide.)
Follow these tips and your buoyancy compensator should last you for years to come:
Steps for Dive BC Care and Maintenance
Wash the Outside:

After every dive, rinse your bc in fresh warm water. The best is in a tub of water. Many dive shops have a rinse tank, so you should make use of it. Dump the BC in the rinse tank and slosh it around for a while to get the sand, salt, etc. off the material.

If you don't have access to a rinse tank, you can do the same in a bathtub. A rinse with a hose is not as good, but it will do if you can't give it a tub rinse.

Rinse the Inside

Saltwater can get into your BC while you are diving. If you let the saltwater dry out inside your dive bc, it will start to degrade the material.

After you have rinsed the outside, fill the inside of your scuba diving bcd with fresh water through the oral inflation hose. Fill the air bladders about a third full and slosh the water around inside fairly vigorously. Move the BC upside down, slosh the water and repeat. Basically you want the water to touch and rinse all the material inside the BCD.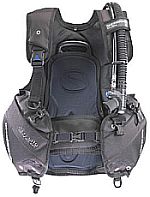 Once you have finished rinsing, put the BC upside down with all the water on the side of the BC with the inflator hose. Open the valve and let the water drain out while you are squeezing the BC. You should do this a couple of times.

If the water is still not clear you should repeat the process again. Some people also use the taste test here - taste the water coming out of the buoyancy compensator. If it tastes salty - rinse and repeat.

Work the Buttons:

Depress the oral inflation buttons and power inflation buttons to make sure they move freely. You should do this both in the rinse tank and outside the tank. If they seem sticky, there may be sand or corrosion hindering the movement. If you rinse it and they still seem sticky, you should have them checked out.

The last thing you want is to have the power inflation button stick and rocket you to the top. This actually happened to a friend of ours while they were scuba diving in Cozumel. Luckily, they were OK and didn't end up with the bends. So check those buttons.

Check for Leaks:

Partially inflate your BCD and put it in the rinse tank. Move the BCD around and put a little pressure on it. See if you can see any bubbles escaping.

Dry It:

Partially inflate your BC and hang it to dry in the shade. We hang it upside down for a while anyway to let all the water collect near the hose. We then open the hose and let the water drain out. Partially inflate the buoyancy compensator again and let dry.

Give It a Onceover:

Take a quick look to see if there are any loose threads, seams or tears. I caught the waistband on my dive BC starting to tear after a quick inspection. Easier to take care of then before the tear became too big or caused a problem underwater.

Store Properly:

Ideally, your Buoyancy compensator should be stored partially inflated in a cool dry place. Like your scuba diving wetsuits, your scuba diving BC should be stored away from car exhaust, fumes, sunlight, etc.
So there you have it, all the steps for care and maintenance of your buoyancy compensator. While it may seem like alot reading it, it is pretty quick and easy. Try it and you'll see. It will pay off in many dives for years to come.
Come on, you know it's worth it. You can do it.
You may want to take a look at our BC Guide for more information including our recommendations for best buoyancy compensators here.
Looking for other scuba equipment and accessories? Check out our picks for best scuba diving equipment here.
Have a nice, comfortable dive!
---
---
 Want to stay down longer and improve your buoyancy control and other diving skills? Our free report "Increase Your Bottom Time" along with our practical, weekly actionable tips will have you looking like a seasoned diver in no time. So come join us and see improvement on your very next dive!
(Click on the photo to join us now!)
---
---