Flights to Grand Cayman:
Airlines, Airport and Airfare Information
Flights to Grand Cayman are fairly numerous. There are several airlines that fly directly into Grand Cayman so you should have some choices.
Airfares can get pricey, especially during the high season, so you will probably have to do some searching to find the cheap seats (everything is relative of course).
Grand Cayman Airport
The airport in Grand Cayman is the
Owen Roberts International Airport
.
Owen Roberts International is located one mile outside of George Town, the capital city of Grand Cayman. Owen Roberts International Airport is one of the largest in the Caribbean and offers direct flights from/to the United States, Canada and (sometimes) Europe, along with other Caribbean destinations.
The airport code for Owen Roberts International is GCM.


Flights to Grand Cayman from the United States and Canada

Owen Roberts International offers many nonstop flights to various cities in the U.S. and Canada. There are many airlines that fly to and from the United States to Grand Cayman and a couple that run from Canada to Grand Cayman, although some airlines do run only seasonally.
American Airlines offers flights to and from Grand Cayman and Miami (MIA) Airport. American has direct flights numerous times daily.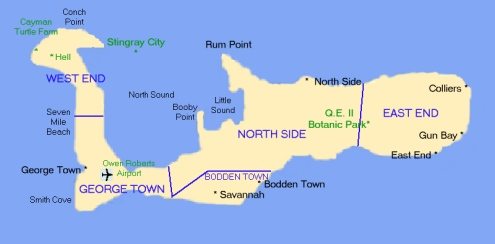 Cayman Airways is the national flag carrier and services many U.S. and international cities. Cayman Airways has a few direct trips to Miami everyday and services flights to New York (JFK) three times a week (Monday, Thursday, Sunday) and Tampa (TPA), which runs five times a week (everyday except Monday and Tuesday).
Cayman Airways will also be operating seasonal direct flights to Grand Cayman from Washington, DC and Chicago, IL. Both routes will operate twice weekly beginning at the end of November for the Chicago flights and mid-December for the Dulles (DC) flights.
Continental Airlines has year-round direct flights from Houston. The Houston- Grand Cayman trip is made once a week on Saturdays.
Delta Airlines provides a year-round flight service from Atlanta (ATL) to Grand Cayman on Saturdays only.
US Airways offers a nonstop flight from Charlotte (CLT) to Grand Cayman. This service is provided once daily.
Air Canada has a year-round service from Toronto (YYZ) to Grand Cayman on Sundays every week.


Flights to Grand Cayman from Europe
Unfortunately there are currently no direct flights from Europe to Grand Cayman. In order to get to Grand Cayman, European travelers can take British Airways to Nassau, the capital city of The Bahamas.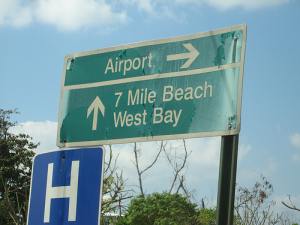 These flights depart Europe through London (Heathrow) Airport.
British Airways then offers a direct flight from Nassau (NAS) to Grand Cayman five times a week, everyday except Monday and Wednesday. This is the most convenient way to travel for Europeans; with the flight being in the afternoon so all connecting flights have time to get ready for the direct flight to Grand Cayman.


Flights to Grand Cayman from Other Points
Cayman Airways
is the primary carrier for nearby islands and the fellow Cayman Islands - Cayman Brac and Little Cayman. There are daily flights to and from Cayman Brac at least three times a day, and flights to and from Little Cayman no less than two times a day.
A service to Kingston, Jamaica is provided at least two times a day and a there is a flight to Montego Bay that is provided also.
There are three direct flights to Havana, on Wednesdays, Fridays and Saturdays.
Islena Airlines provides flights to and from La Ceiba, Honduras to Grand Cayman.


For general information on Grand Cayman, check out our page on Grand Cayman travel information.
Photo by gdbg12. Thanks!
Top of Flights to Grand Cayman

Return to Scuba Diving Home