Grand Cayman Diving
Our Scuba Review Plus Information on Location, Weather,
Water Temperatures, Flights, Hotels And More
Grand Cayman diving is world famous - and rightly so. It offers fantastic wall diving, an abundance of marine life and great visibility. And with 150+ dive sites to choose from, there is plenty to keep you busy.
It is one of those locations that you mention to a diver and they will instantly recognize it. And there is a good chance they may have even been there themselves.
It makes the bucket list of many a scuba diver. If it is on yours, we hope you will be able to dive there and enjoy it as much as we do.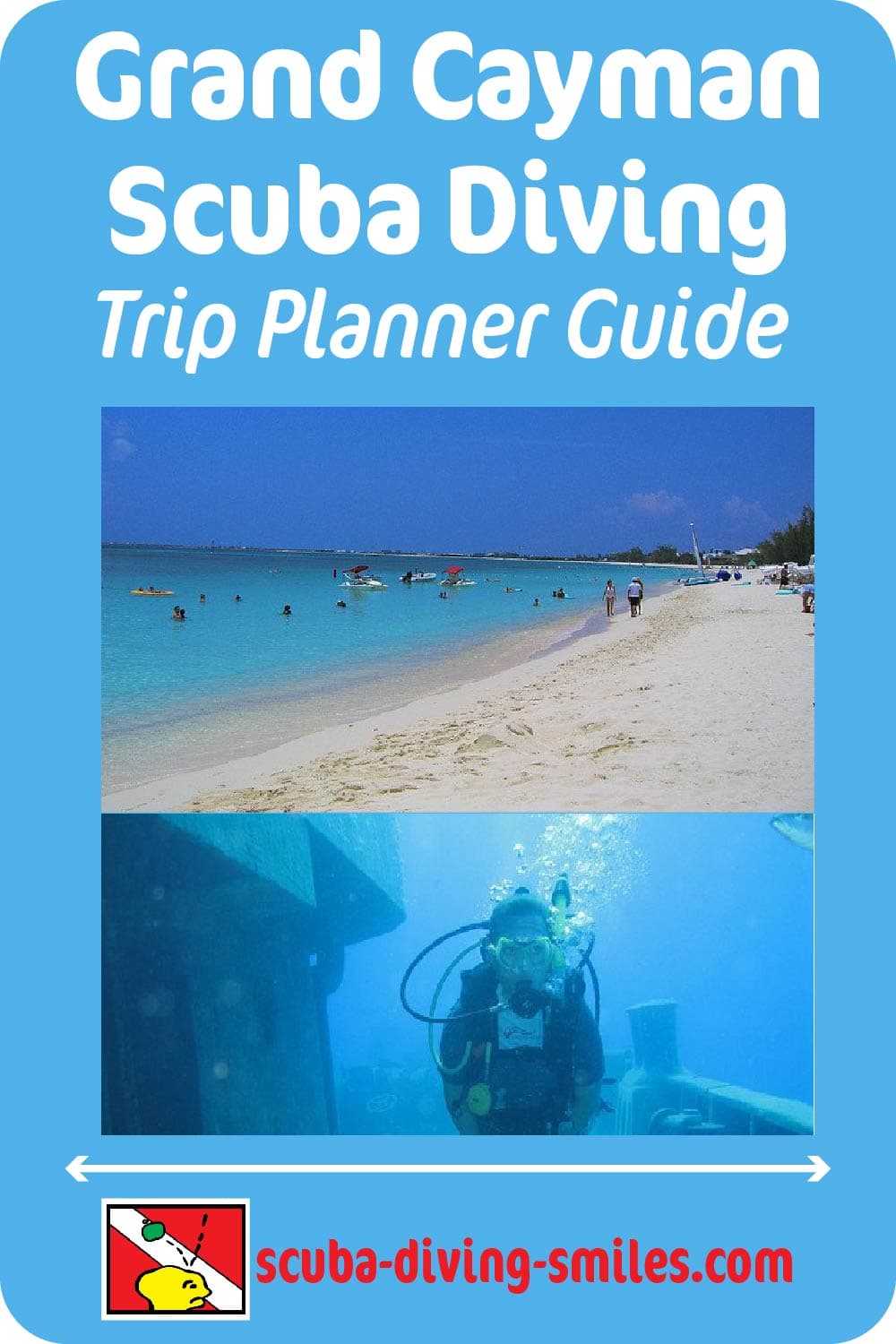 We've been to Grand Cayman a few times and each time we leave we say we have to come back. It makes our list of top dive destinations.
We will warn you, however, popularity has its price.
Similar to Cozumel, dive boats can be cattle operations - particularly when the cruise ships are in.
So call around and ask the max number of divers an operator will take. It should help make your Grand Cayman diving a more pleasurable experience.
With that being said, let's start planning that next scuba diving vacation.
Lay of the Land
Grand Cayman is the largest of the 3 islands that comprise the Cayman Islands (the other 2 are Cayman Brac and Little Cayman; read our review of Cayman Brac here and a dive trip review of Little Cayman here).
Still, it is only 22 miles long by about 8 miles wide. The island is flat with the highest point only about 60 feet above sea level.
Grand Cayman is, by far, the most developed of the 3 Cayman Islands with a range of accommodations, restaurants, clubs and lots of dive operators.
Most of the activity is centered around the capital, Georgetown, and the spectacular Seven Mile Beach on the island's west side.
The east end of the island is just the opposite and is sometimes referred to as "the last frontier."
View of downtown Georgetown, Grand Cayman. There is also a modern section with high rise buildings.

We have stayed on both Seven Mile Beach and the East End. Diving was really good at both spots but the topside experience is very different.
You would never know you were on the same island.
So which is better?
It really depends on what you're in the mood for and how much activity you want topside after you have finished your Grand Cayman diving for the day.
If you want quiet and isolation, go for the East End. If you're in more of a party and socializing mood, Seven Mile Beach and the west side of the island would fit the bill.
Location
Grand Cayman is in the Western Caribbean and is less than 500 miles south of Miami. It lies about 200 miles northwest of Jamaica and 150 miles south of Cuba.
You can check out the location of the islands on our page of Cayman Islands maps. For Grand Cayman specifically, take a look at our Grand Cayman maps.
Flights to Grand Cayman

Grand Cayman is a short 1 1/2 hour plane ride away from Miami. Given its popularity and short distance from the US mainland, there are several non-stops flights to whisk you away.
You can find out all the details on our flights to Grand Cayman page.
(You might want to check out our #1 tip for cheap airfare to the Caribbean as well as our other tips for cheap airfare to help make your trip more affordable.)
Grand Cayman Resorts
There are lots of Grand Cayman resorts to choose from. Most are located on the beautiful Seven Mile beach. And why not? It is an absolutely gorgeous stretch of sand and is hard to beat.
There are a couple of Grand Cayman hotels located on the more remote East End of the island also.

We have stayed on both ends of the island. 

Which is better? 
It really depends on what you're in the mood for and how much activity you want topside. If you want quiet and isolation, go for the East End. If you're in more of a party and socializing mood, Seven Mile Beach and the west side of the island would fit the bill.

When we stayed on Seven Mile Beach, we stayed at Marriott Grand Cayman Beach Resort. It occupies a gorgeous spot on Seven Mile Beach (of course, a bad spot is hard to come by).

We had a great time there and can recommend it. There are watersports activities right there along with pretty much anything you need.

I won't say it is the cheapest place to stay but we got a good deal and were happy with the accommodations. One of those Grand Cayman resorts we would be glad to return to anytime.

The second time we stayed on Grand Cayman we stayed on the East End at Morritts Tortuga Club.

This was pretty much a scuba diving vacation with a group of friends. Plus my friend had a timeshare we could use for only the transfer fee. So how could it be bad?

This was a different type of Grand Cayman lodging than we had at the Marriott since we stayed in a 2 bedroom condo. The accommodations were very nice and we enjoyed our stay here.

But as I said before, if you want some nightlife or some action, I wouldn't recommend this location since there is not alot in the area. The drive to Seven Mile Beach is fairly long so it's not like you are a 15 minute drive away from the action.

If it's restaurants, action and nightlife you are after, stay on - or at least closer to - Seven Mile Beach.

Those are the two Grand Cayman resorts we have personal experience with. A women I used to work with stayed at the Westin Casuarina Resort several times and always raved about it. 

Another Grand Cayman hotel I have heard great things about was the Ritz Carlton. Of course, how could the Ritz be bad? It's out of my price range but if you can afford it, go for it!
But no matter where you stay, you are in Grand Cayman - how bad can it be?
Another option would be to go the rental route.
Besides other hotels/resorts there are some good options for renting a house or a condo during your dive vacation.
Airbnb has quite a few good looking listings. We use Airbnb all the time (both as guests and hosts) when we travel and absolutely love it. We love getting an apartment/house with a kitchen so we can at least have a refrigerator and have breakfast before we go diving. Depending on how long we are staying we will cook quite a few meals also.
If you go this route, it could end up saving you a fair amount of money. Not to mention how much more comfortable you are in an apartment or house versus a hotel room.
If you want to check them out, you can use this link for $40 in Airbnb travel credit when you sign up (for new accounts only). I will get $20 credit if you complete a trip - so thanks if you use it :). It doesn't change the price you pay.
I haven't had a bad experience yet and I wish the same for you if you use them!
Weather
Temperatures are pleasant all year round on Grand Cayman. In the summer expect a high in the 90F range during the day with temperatures falling to a low in the low 80's at night. 
In winter, it is milder with daytime highs in the high 70's to low 80's. It cools off at night during the winter to around the high 60's to low 70's.
Sounds perfect for some Grand Cayman diving doesn't it?
Tim feeding the stingrays at Stingray City off of Grand Cayman.

The rainy season is from May to November with the beginning (May/June) and end (October/November) of the this period typically seeing the most rain.
February and March are usually the driest months. Absent a tropical depression/hurricane, rain usually comes in bursts of a couple hours so your whole day shouldn't be ruined.
Hurricane season
in the Caribbean is from June 1 to November 30. Grand Cayman is in the hurricane belt and has been hit by a few major hurricanes. The most active months are in the fall - September through November. The last major hurricane to hit the islands was Hurricane Paloma in September 2008.
Water Temperature
Water temperature is pleasant year round averaging 80-82F in the summer and 77-80F in the winter.
We don't tend to get cold when diving so we are usually comfortable in just a skin during our Grand Cayman diving trips. If you tend to get cold, a shorty 1.5mm would probably be sufficient.
Grand Cayman Diving

Grand Cayman is surrounded by four walls - meaning that you are never far away from a dive site.
If you are diving off of Seven Mile Beach, boat rides are usually around 10-15 minutes or less. One of the pleasure of Grand Cayman diving. If you are diving off the East End, it is not much different.
Grand Cayman has more than 150 dive sites to choose from. Diving is obviously an industry here and the top attraction for alot of the tourists. (You can find our review of Grand Cayman's top dive sites here.)

Thus the possibility for the cattle boat operation mentioned above.
Still, even if you are on a cattle boat, I think the diving is still worth it.
Diving on the USS Kittiwake off of Grand Cayman. It is a top attraction and lies on a sandy bottom in 62 feet of water.

Off the shoreline you first have a sandy area leading to a fringing reef. Then you come to a spur and groove system (alternating channels of sand and patch reef).
After that comes the walls - the reason why most people want to do some Grand Cayman diving in the first place. The walls off of Grand Cayman usually start at about 50-60 feet or so and go on forever (or so it seems).
The West Wall, which runs parallel to Seven Mile Beach, sees the most action primarily due to its location. Of course, easy access to the dive sites, great visibility and lots of sites to choose from doesn't hurt.
The North and South walls offer a little more advanced diving and probably offer the best bet for BIG fish siting (hammerheads, etc.).
The East Wall is the least explored but offers some great diving too and has plenty of dive sites to explore.
Grand Cayman is one of our all time favorite places to dive. Given its easy access to dive sites, visibility, healthy reefs, fantastic walls and topside choice between developed and semi-deserted, Grand Cayman diving is hard to beat.

Topside
Topside, to us, is all about the beach.
Seven Mile Beach is one of the top beaches in the Caribbean and we leave lots of footprints on it after our diving is done for the day.
Sure, there are other things to do on Grand Cayman, such as go to Hell and send a postcard, tour the botanical gardens or visit the turtle farm. But we have yet to tear ourselves away from the beach and visit these places. Maybe next time.

If you go, we hope you enjoy Grand Cayman diving as much as we do.
If you have been, what did you think of the diving? Did you dive Sting Ray City? Let us know in the comment section below!
Here are some books you might want to check out to help you plan your Grand Cayman diving trip:
---
---
Here's wishing you some great Grand Cayman diving!
For more information, you can find our Overview of Scuba Diving in the Cayman Islands here.
---
---
 Want to stay down longer and improve your buoyancy control and other diving skills? Our free report "Increase Your Bottom Time" along with our practical, weekly actionable tips will have you looking like a seasoned diver in no time. So come join us and see improvement on your very next dive!
(Click on the photo to join us now!)
---
---
Seven mile beach, Kittiwake and Georgetown photos by neepster, Curtis and Renee and James Willamor. Thanks!